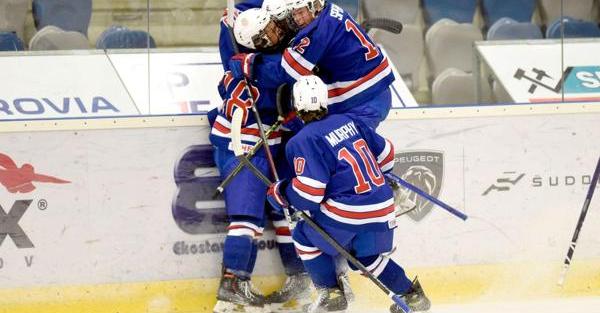 CHOMUTOV, Czechia – Sam Spehar (Chaska, Minn.) tallied a pair of goals and added an assist to help lift the U.S Under-17 Men's Select Team to a 5-3 win over Slovakia in the opening contest of the 2023 Five Nations Tournament at Rocknet Arena on Friday.
"I think it's a really good start for our team," said Scott Paluch (Chicago, Ill.), head coach of the U.S Under-17 Men's Select Team. "We got out of the gate really quickly; our quickness and pursuit of the puck was fantastic. We were able to score to four goals to get the lead then were able to settle in. Anthony Alessi (Lockport, N.Y.) was terrific in goal."
Blake Fiddler (Frisco, Texas) opened the scoring with a wrist shot from the slot 1:29 into the game. Less than a minute later, Spehar added a goal from the edge of the crease with an assist from Cooper Simpson (Shakopee, Minn.). Minutes later, Chase Jette (Lake Forest, Ill.) added to the tally on a hard drive to the net to give Team USA a three-goal lead.
Spehar netted his second goal of the game on the power play at 12:37 in the first period, giving the U.S. a 4-0 lead. Danny Klaers (Mount, Minn.) and Cooper Dennis (Ithaca, N.Y.) assisted on the play.
GAME PHOTOS
Slovakia got on the board at 7:03 in the second period with a power-play goal from Lukáš Tomka. At the midway mark of the period, Vladimír Dravecká made it a 4-2 game, scoring on a shot from the blue line.
The U.S took a 5-2 lead on the power play when Ben Kevan (Fairfield, Calif.) redirected a shot from Carter Murphy (Woodlands, Texas) at 5:05 in the final frame with a helper from Spehar.
Two minutes later, Slovakia scored to make it a 5-3 game, in what would prove to be the final tally of the contest.
NOTES: Chase Jette (Lake Forest, Ill.) was named Team USA's player of the game… Slovakia outshot Team USA 33-27… Netminder Anthony Alessi (Lockport, N.Y.) made 24 saves in the win… Team USA will take on Switzerland on Sunday, August 6. Puck drop is set for 9:00 a.m. ET.
(USA Hockey Photos)