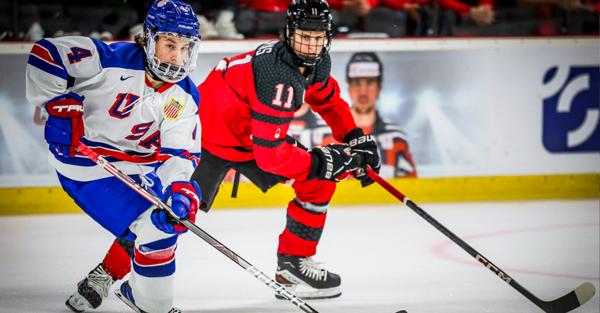 TRENČÍN, Slovakia – The U.S Under-18 Men's Select Team fell to Canada, 7-2, in the 2023 Hlinka Gretzky Cup semifinals on Friday at Pavol Demitra Ice Hockey Stadium.
"Credit to Canada for capitalizing on our undisciplined play," said Luke Strand (Eau Claire, Wis.) head coach of the U.S Under-18 Men's Select Team. "They are a tough team to chase the game against. We need to be ready to play for our country tomorrow."
Midway through the first period, Canada skated into the U.S. zone on a two-on-one, but Caleb Heil (Victoria, Minn.) made a lunging save to keep the game scoreless.
The U.S. took a 1-0 lead with a power play goal from Will Zellers (Maple Grove, Minn.) at 8:13 in the first period. Canada dumped the puck in behind the U.S. net, where it was collected by Heil before he fired a stretch pass to Zellers on the far blue line, who lined up a shot while skating in on goal to beat the goaltender five-hole.
Canada evened the score on the power play minutes later off a Maxim Massé one-timer from the slot.
GAME PHOTOS
Trevor Connelly (Tustin, Calif.) responded with a power-play goal at 13:54 in the first period. Mac Swanson (Anchorage, Alaska) gathered the puck along the boards in the offensive zone and sent a pass to Eero Butella (Chicago, Ill.) on the goal line. He found Connelly at the top of the far circle where he lined up a wrist shot and picked the top corner to give Team USA a 2-1 lead.
At 3:37 in the second period, Canada tied the score at 2-2 after Malcom Spence tipped a shot in from the net front.
Canada took its first lead of the game just past the seven-minute mark in the second period when Berkly Catton scored on a 5-on-3 power play. Porter Martone added to Canada's tally minutes later to go up 4-2.
Canada added three goals in the third period for a final score of 7-2.
NOTES: Tory Pitner (El Cerrito, Calif.) was named Team USA's Player of the Game… Team USA will face Finland in the third-place game on Saturday, Aug. 5. Puck drop is set for 11:00 a.m. ET on NHL Network.
(USA Hockey Photos)