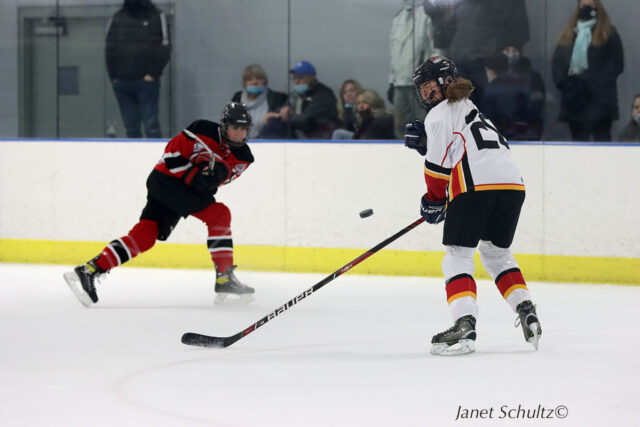 By Janet Schultz, NYHOL
(Here is my first look at the upcoming hockey season at the women's collegiate level. This article focuses on WNY but I will be posting other sections in the upcoming days.)
Women's ice hockey became the 21st sport in the State University of New York Athletic Conference (SUNYAC) beginning with the upcoming season.
SUNYAC absorbed the Northeast Women's Ice Hockey League which has operated as a single-sport NCAA DIII conference since 2017-18. The league evolved from the former ECAC West conference.
There are five core members of SUNYAC including Buffalo State, Cortland, Oswego, Plattsburgh and Potsdam. Canton and Morrisville will be associate members of SUNYAC. The schedule, which was set by the NEWHL, will remain as planned through 2027.
The NEWHL ceased operations on June 30 and SUNYAC took over July 1.
Now a look at women's collegiate hockey in New York State at this point of the year.
Buffalo State
Rachel Grampp served last season as interim coach, one season as assistant and on April 27 was named Head Coach of the Bengals. She led the team to a six-game improvement in her first full season at the helm. Prior to coming to Buffalo she was an assistant coach at Canton. Grampp was known to us in WNY as a Williamsville native and an outstanding player for Elmira College, where she earned United Collegiate Hockey Conference (UCHC) Defensive Player of the Year and American Hockey Coaches Association (AHCA) Academic All-American honors as a senior. During her time, the Soaring Eagles earned national runner-up finishes twice, and reached the NCAA Championships in all four seasons.
The Bengals are looking to improve their 7-18-0 overall record.
Rochester Institute of Technology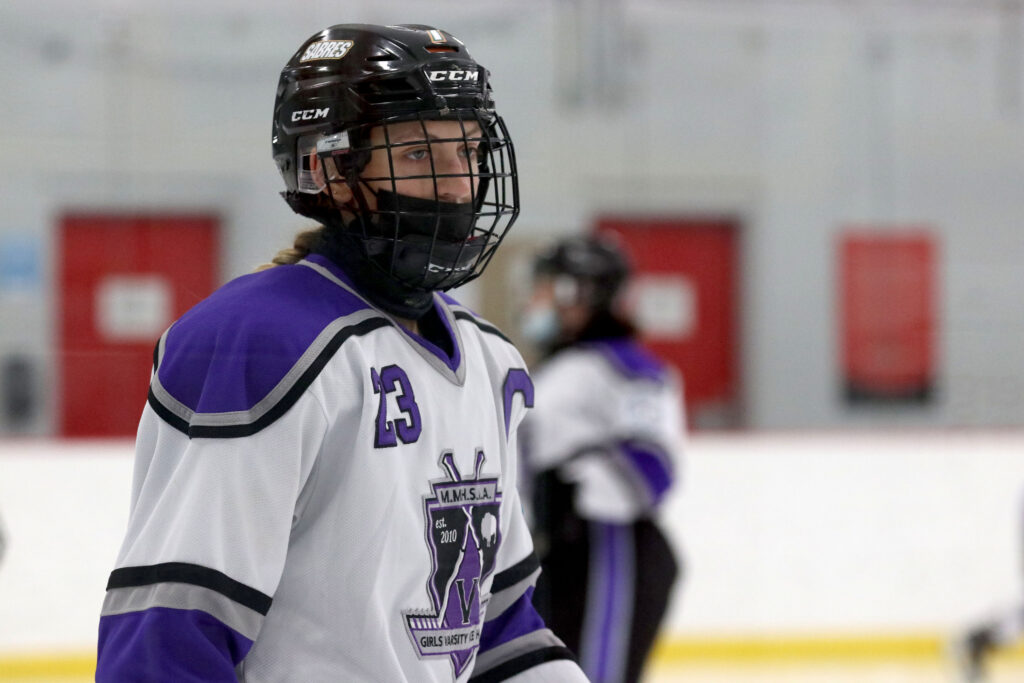 Celeste Brown returns for her fourth season as Head Coach to the CHA RIT Tigers. While last season was not a winning season, 21 players were named to the 2022-23 CHA All Academic Team, including Clarence native and Monsignor Martin (WNYGVIH) player Camryn Brownschidle( above as a member of MMAA); Plattsburg's Ella Fesette from Northwood Prep and Williamsville's Emma Roland who also played in the WNYGVIH with Williamsville. 
RIT opens their 2023-24 season Saturday and Sunday, September 23and 24 with non-league games against RPI in Troy, NY. After playing one more weekend on the road, they will return to face Minnesota at home on Friday and Saturday, October 6 and 7.
The Tigers are coming off a 4-26-2 overall record.
Tickets for both men's and women's hockey are on sale now at www.rittickets.com or by calling the RIT Ticket Office at 585-475-2516.
Nazareth College
Head Coach Chris Baudo returns for his fifth season with the Golden Flyers. He as named 2023 Rochester Area Coach of the Year by the Rochester Press Club after posting a 22-6-1 overall record.
Nazareth lost 3-1 to Hamilton College in the first round of the NCAA tournament. However, the Golden Flyers brought home honors for their season including:
Defenseman Julia Holmes being named a second team CCM/AHCA Division III All-American and the first-ever Nazareth women's hockey player to earn an All-American award in the five-year history of the program.
Holmes was then named United States College Hockey Online (USCHO) Division III Women's Hockey All-America team as a second team selection.
That was followed by The United Collegiate Hockey Conference (UCHC)naming its 2022-23 Women's All-Academic Team and the Nazareth University Women's Hockey team received a conference-high 23 selections to the squad. The honorees included Delaney Carle, Kate Cascio, Gabriella DeMeo, Audrey Donahue, Zoe Dupuis, Abby Flanagan, Ali Fujiyoshi, Sydney Gurlea, Emili Haratani, McKinley Hoff, Julia Holmes, Alexis Jone, Morgan Leuenberger, Abbey Luth, Ivey Lyden, Sophia Nortz, Maïka Paquin, Maggie Pfalzgraf, Corsica Skibinski, Sydney Swanson, Nikolle Van Stralen, Ally Watrous and Makenna Wiljanen.
In addition Nikolle Van Stralen, was named the 2022-23 Empire 8 Conference Co-Woman of the Year. This award honors a senior female student-athlete who has distinguished herself throughout her collegiate career in the areas of academic achievement, athletics excellence, service and leadership.
Nazareth will open their season with an exhibition game against William Smith at the Iceplex in Rochester on Saturday, October 21 at 2 p.m. Their regular season will open October 31 against Cortland at the Iceplex.
Hilbert
Last season was the Inaugural Year for Hilbert as they posted a 0-18-0 record and playing as an independent.
They have most recently announced that Earl Utter will serve as the new Head Coach. Utter has had experience in starting a pair of first year DIII programs. A native of Rochester, Utter most recently served as the Wilkes University women's head coach, where he began building his roster in 2017 in anticipation of their first season of NCAA competition in 2018-19.  The Colonels went 5-17-1 in 2019-20, his second season before Covid-19 interrupted his program's progression the following year.  Utter coached four All-MAC (Middle Atlantic Conference) selections and 19 UCHC All-Academic honorees during his four seasons behind the Colonels bench.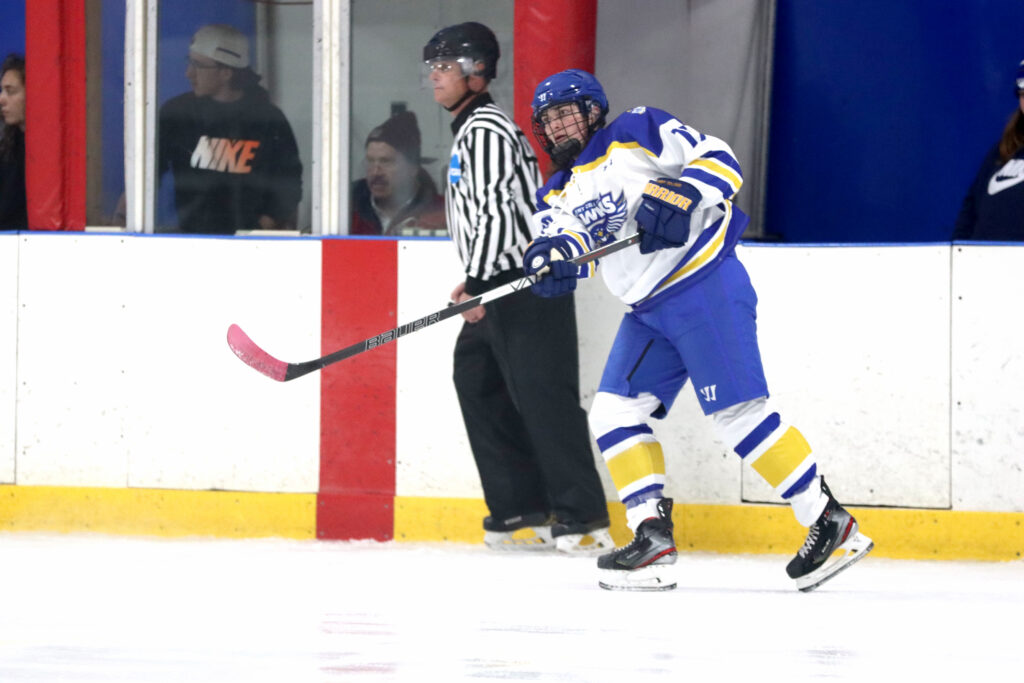 Prior to Wilkes he was the women's head coach at Cortland State for nine seasons prior and guided them to two straight ECAC West playoff appearances in 2014-15 and 2015-16.
The Women's Ice Hockey season was filled with many challenges for a first-year program, however the group, under Former Coach Cole Klubeck 's leadership was able to lay a strong foundation for the future of the Hawks program. The group battled against established hockey programs, and all of their contests were played on back-to-back days with limited recovery in between. The Hawks understand the grind and they will be ready for what the future holds, as they presented their 2022-23 awards.
Coaches Award: Jewely Monford. Jewely is a quality human being who wants the best for everyone around her. During the season, she gave it her all in net for the Hawks, starting five of the 13 games she played between the pipes. She was also involved on campus with work study job in the Admissions Office.
Most Improved Player Award: Mia Bouchard. Mia's improvement as a student-athlete from the fall semester to now, both on and off the ice, helped establish a strong standard for all players in the program moving forward. She appeared in 16 games and was credited with one assist as a forward.
Most Valuable Player Award: Abby MacNeil. Abby's speed, hands and hockey IQ quickly made her a target for opponents whenever she stepped on the ice. Abby goes down in the record book as scoring the first Hilbert NCAA goal in program history against Alvernia, October 28th. The center is primed for a break-out sophomore campaign with more help arriving for the team next season.
University of Buffalo
UB went 8-7-2 in the ACHA D2 conference. Sierra Dominick led the scoring with 18 goals and 11 assists for 29 points and Annika Balk had 13 goals and 7 assists.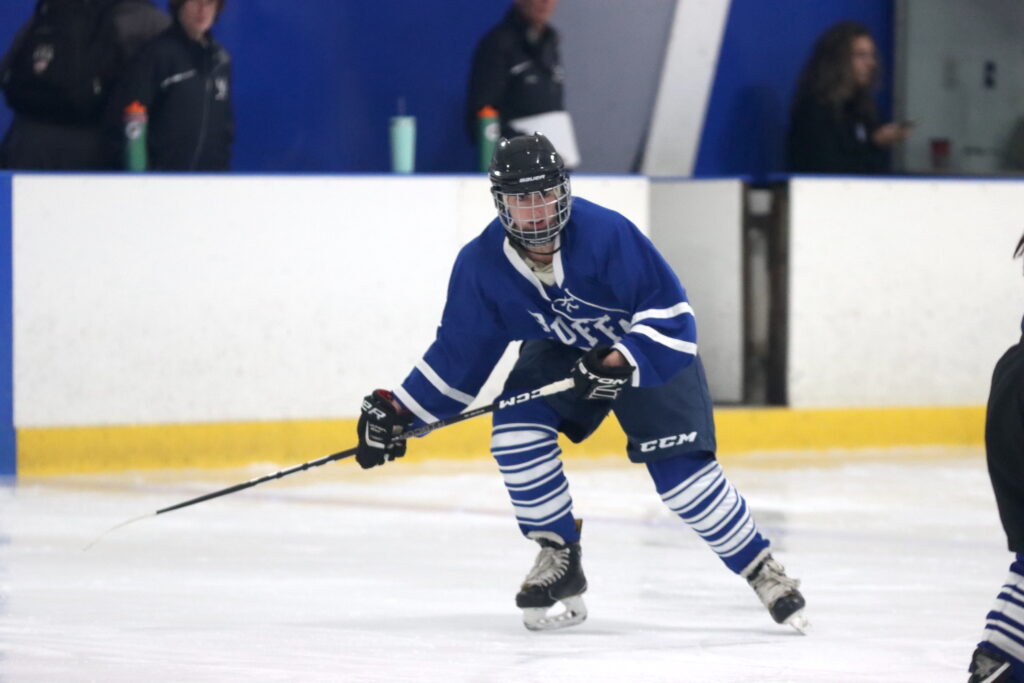 In goal is a familiar name to WNYGVIH, Isabella Battaglia who played in 10 games with a 4-4-2 record. Backing her up was Cassandra Vaccaro playing in 7 games and posting a 4-3 record.
Niagara University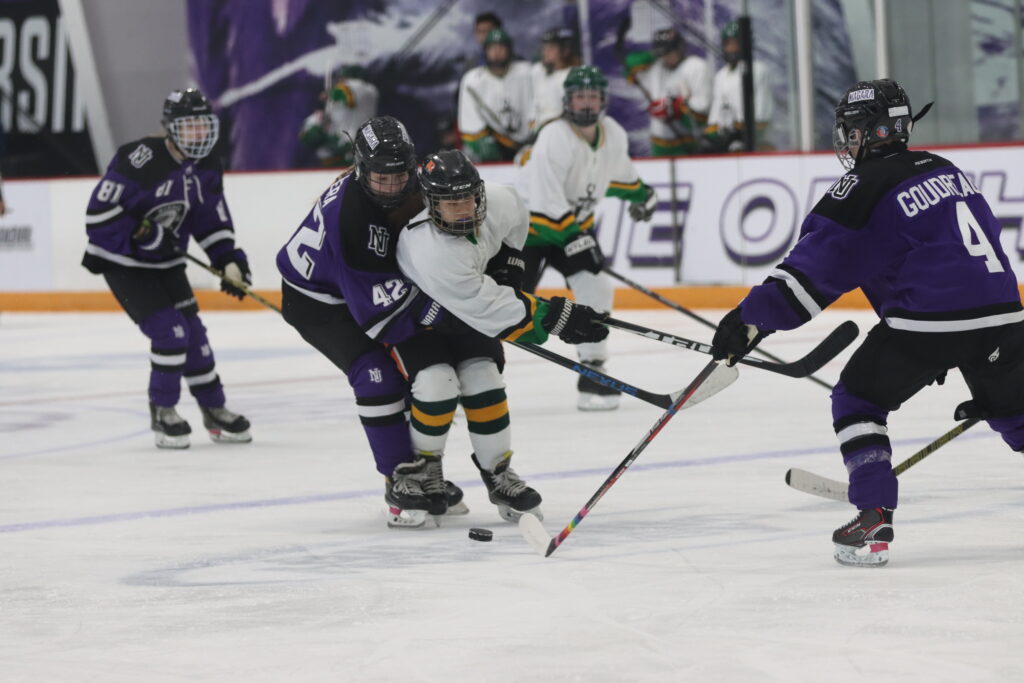 NU came up a winner taking the their first national championship at the ACHA College Hockey East Championship at the D2 level. They posted a 14-3-2 record under Head Coach Anna Quattro
In 2023-24 Niagara will be fielding both an ACHA D1 women's team, as well as an ACHA D2 team. Quattro will be coaching the D1 team and Morgan Haettich will be coaching the D2 team.
"We have players joining us from all over North America for this (D1) team including British Columbia, Alberta, Nova Scotia, Ontario (NY) and Virginia. We look to have another successful season with them," said Coach Quattro.
"We are also fielding a second team, an ACHA D2 women's team. This team is also comprised of recruited players from North America, including British Columbia," continued Quattro.
The D1 team will open with a exhibition game against the Barrie Jr. Sharks on September 23. They will then open their season on the road at Miami Ohio on September 30. Their first home game will be October 20 against the Indiana Tech Warriors at 8 p.m.
The D2 program will open at Cortland's ACHA team on October 1 and their home opener will be against Robert Morris (ACHA D2) on October 13 at 7:30 p.m.
Attention Coaches/Managers and SID's: Please make sure to include [email protected] on your email list so we receive your press releases. Also share our website www.nyhockeyonline.com and our Facebook and Twitter accounts under NY Hockey Online with your players/families as we cover all hockey in New York State; especially WNY at all levels.