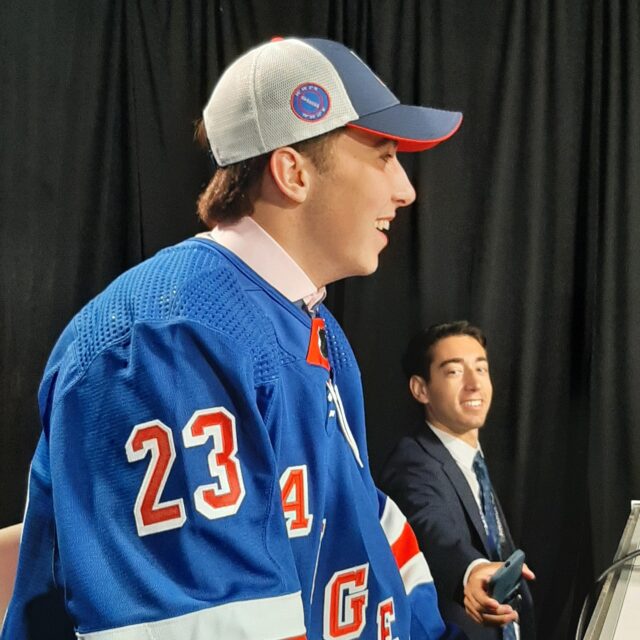 (Drew Fortescue Photo)
By Warren Kozireski —
After grabbing Gabriel Perreault with their first-round selection in the 2023 NHL Draft, the New York Rangers added to the stable with four more selections on Day Two.
Defense was the focus in the third and fifth rounds while they selected forwards with their final two picks.
U.S. National Team Development Program defenseman Drew Fortescue was their third-round choice—90th overall. The 6'1", 176 lb. Pearl River native will now need to switch allegiances from the Islanders to the Rangers after being taken.
"Actually, grew up an Islander fan, but not anymore," Fortescue said. "I have a bout 40-50 people here to support me and…being close to home is pretty awesome and I'll have all those people that are here be able to watch my games hopefully some day in the future.
"I'm a two-way defenseman; someone who is hard to play against, someone who does a good job breaking the puck out to his forwards and I think I have a little offense to bring.
"MSG is a special place and I hope to play their someday—I'm excited."
Boston College bound, Fortescue had 25 assists over 62 games and added three points in seven games at the WJC-18 while being a +9 plus/minus.
The Rangers stayed with defense in the fifth round with 6'3", 200 lb. Swedish blueliner Rasmus Larsson. The 19-year-old had a breakout campaign with Vasteras IK 20 scoring 16 goals and 34 points in 50 games. He is committed to play at Northern Michigan in 2024-25.
Size was then the goal in two forwards over the final two rounds.
6'7", 205 lb. Oshawa (OHL) center Dylan Roobroeck was their sixth-round pick after he registered 53 points over 68 games with 60 penalty minutes.
2025-26 Western Michigan commit Ty Henricks was their final selection in the seventh round. 6'4", 205 lb. left wing netted 19 points over 47 games split between Fargo and Muskegon in the USHL.
(Photo By Koz, NY Hockey OnLine)