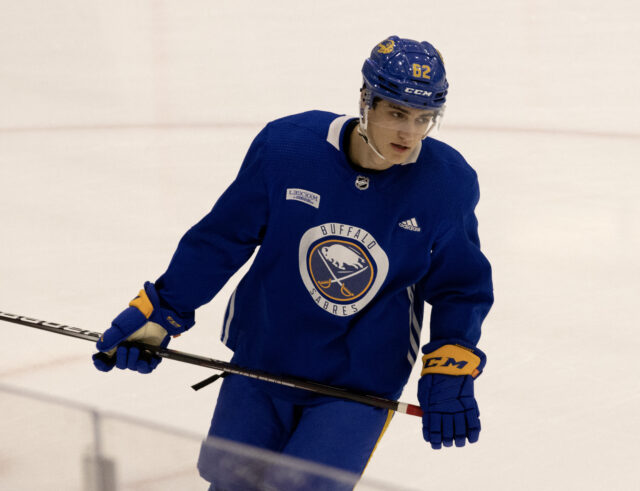 BY RANDY SCHULTZ –
Growing up and playing hockey in the Western New York area, Gavin McCarthy skated more than a couple of times on the rinks at LECOM Harborcenter in downtown Buffalo.
But when he hit the ice on Sunday, July 2 as a member of the Buffalo Sabres and participating in their development camp, McCarthy admitted it was a different feeling.
"It's an amazing feeling just being out there, competing with these guys," commented the Clarence Center native. "Such high level players with familiar faces out there.
"Familiar coaches too. It's been a very surreal feeling for me."
Facing the Western New York media group for the first time at the development camp, the 18 year-old McCarthy had a continuous smile on his face throughout the session.
So having skated in this rink many times over the years, what makes this visit any different?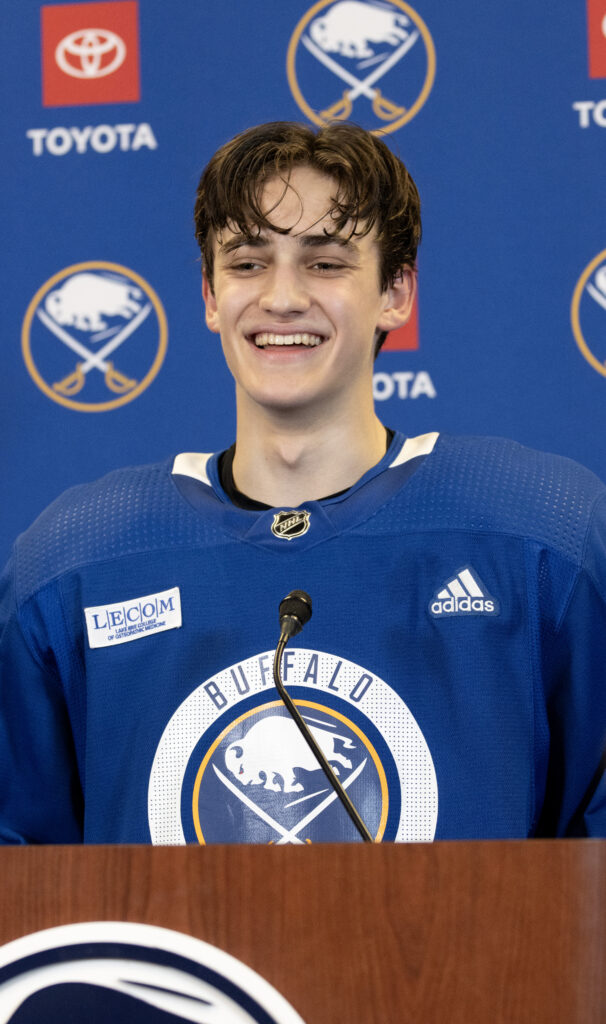 "This is a new chapter for me," stated the 6-1, 185-pound defenseman. "Being able to put on this NHL (Sabres) jersey is so exciting.
"Being in this rink again is an amazing feeling. So I think it is a new chapter for me. Being in the National Hockey League, it is what we dream of.
"It's definitely a new chapter."
What were McCarthy's thoughts with the hockey drills he has had to go through during his first two days of the development camp?
"Coach Tim Kennedy ran the practice the first day," commented McCarthy, who played three seasons with the Buffalo Jr. Sabres and two more with the Muskegon Lumberjacks of the USHL. "He was my coach for my 16U year.
"I had definitely done a couple of those drills before. To complete out there on the ice has been amazing."
The day after the development camp ends, McCarthy will be on his way to Boston, MA where he will begin his studies at Boston University and in the fall continue his studies as well as begin his collegiate hockey career.
"My older brother has been my mentor in helping me get ready for college, both with the academics and hockey," said McCarthy, who was selected in the 3rd round, the 86th player taken overall, by the Sabres in this year's NHL Draft. "He's given me advice on how to handle the school and hockey parts of college."
McCarthy also said that it was a special feeling having his family and friends in attendance at the development camp for the first two days.
"I think it's pretty cool wearing this jersey and we all grew up watching the Sabres," commented McCarthy, who also spent time as a player with the USA U17 team. "Just for me to wear this jersey and having them (his family) come and watch me is definitely an amazing feeling."
For now, McCarthy is looking at completing the Sabres development camp and then playing hockey at Boston U.
"I think we should have an amazing team there," concluded the young defenseman. "We should have some good battles there.
"I'm looking forward to it."
(Photos by Janet Schultz Photography, NY Hockey OnLine)