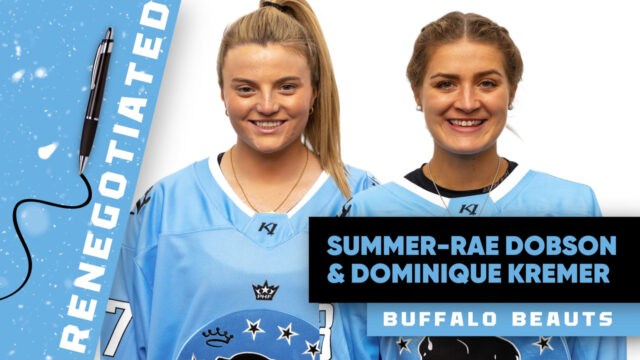 BUFFALO – Key pieces to the Buffalo Beauts roster are now guaranteed to be back for the 2023-24 Premier Hockey Federation season. Defender and team captain Dominique Kremer and forward Summer-Rae Dobson renegotiated the second years of their two-year contracts with the team. Kremer and Dobson were originally signed to two-year deals back on May 2, 2022 and July 20, 2022 respectively. Kremer was the first player in PHF history to sign a two-year contract. Terms of the renegotiated deals will not be disclosed.
"I am super pumped to get back to the grind in Buffalo," said Kremer. "It's really time to turn things around for the Beauts, and I'm excited to be a part of that. I can't wait to prove all of the naysayers wrong this year."
Kremer is entering into her fourth season with the Beauts. She was named the team's captain back on September 22, 2022. Kremer went 1-9-10 for scoring in 23 games last season. In 49 PHF regular season games – all with the Beauts – Kremer has gone 7-14-21 for scoring in her career. She was the PHF's Defender of the Year for the 2021-22 season and has been selected as an All-Star for both the 2022 and 2023 All-Star Games. Most recently, the 25-year-old from Napoleonville, LA was named the First-Star for the league's annual Fans' 3 Stars Award.
"While the Beauts have struggled over the past couple of years, a solid foundation has been laid," said Kremer. "I believe that this foundation will help lead this team to success. Every woman that signs on to be part of this organization understands that it will be an uphill battle, and I don't think that level of commitment and determination will be matched by any of our opponents."
Dobson made a splash with the Beauts as a rookie last season and garnered a reputation as one of the most physical players in the PHF. She went 4-7-11 for scoring in 24 games, tying for third on the team in points. In turn, the 23-year-old from Huntsville, Ontario was voted by her teammates as the Beauts' Rookie of the Year for the 2022-23 season.
"I'm so excited for this upcoming season and for what our team has in store," said Dobson. "My mindset moving into this offseason is very motivating from the outcome of last season. We as a team are going to come back better than ever and make a run for that Isobel Cup."
Prior to turning pro, Dobson played 162 NCAA games during a five-year collegiate career that was primarily played for Mercyhurst from the 2017-18 season through 2020-21. She played her fifth and final season with the University of Connecticut during the 2021-22 campaign. Across her 162 games, Dobson scored 51 goals, 57 assists and 108 points.
"I am really glad that we could get both Dom's and Summer's contracts renegotiated ahead of the upcoming season," said Beauts GM Nate Oliver. "Our whole point in signing them to two-year deals last offseason was because we believe that they are paramount to the Beauts' success. Both players are the epitome of the notion that we need to be a team this season that will not accept being out-worked and certainly never being out-cared. That is the mindset that we as a team need to have and buy into right from the get-go. Dom and Summer exude that."
The Beauts look forward to announcing more player signings in the coming weeks as roster building continues ahead of the 2023-24 PHF season.