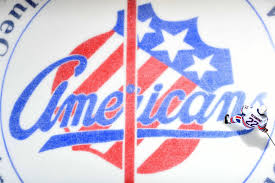 BY WARREN KOZIRESKI —
Hershey scored four times over the final ten minutes of regulation to overcome a 2-0 deficit and defeat Rochester 4-2 to take a 3-to-1 lead in their best-of-seven conference final series. Game five is in Hershey Wednesday and Game Six, if necessary, is back in Rochester Friday night.
Linus Weissbach scored in both the first and second periods to stake the Amerks to a 2-0 lead. The first was a backdoor rebound of a Filip Cederqvist shot while the second was a perfect redirection of a Matt Bartkowski shot.
"I stuck around the net more; we talked as a team to go to the net-front a little more—we need to win those battles at both net-fronts and, if we do that more, I think we'll put some more goals in," Weissbach said.
But Hershey began their comeback at 10:06 of the third period and tied the game just 2:05 later on goals from defensemen Lucas Johnasen and Logan Day respectively.
Mason Morelli chipped in what would prove to be the game-winner at 15:27 and added an empty-netter in the final minute.
"It's tough to see it end that way, but we just need to regroup and come back," Weissbach said.
"That one kicks—just a lack of composure with the puck there in some big moments," Rochester head coach Seth Appert said. "Both of their goals to tie it we had pucks on our stick—one in the defensive zone and one in the offensive zone—and I think we just made immature decisions with it which led to them getting chances and those chances went in.
"It was more puck decisions that put us in uncomfortable positions more than anything else."This marks the second time in this year's playoffs the Amerks have found themselves on the brink of elimination. In the first round they trailed Syracuse 2-to-0 before rebounding to win the best-of-five series.