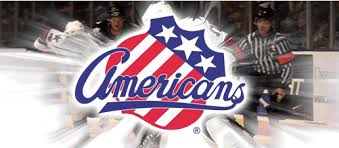 BY WARREN KOZIRESKI —
Rochester fell behind 2-0 and 3-1 in Game Three of their best-of-seven conference final series with Hershey and never recovered in a 4-2 loss giving the Bears a 2-1 lead with Game Four Monday at 6pm in Rochester.
Hershey scored just past the midway point of the first period and added a power play goal early in the second before rookie defenseman Zach Metsa, who won a national championship with Quinnipiac University in April and was signed to an AHL deal the following week, scored his first professional playoff goal off a Hershey player in front to cut the lead in half.
"I was just shooting for chaos and it hit one of their guys in front," Metsa said.
Two-and-a-half minutes later Hershey retook their two-goal advantage into the second period locker room but, in the third, Sean Malone put a rebound just under crossbar for his third of the playoffs at 7:36 to cut the lead to 3-2 Hershey.
But the Bears scored an empty-net goal with 43 seconds remaining to seal the victory.
Rochester changed their forward lines late in the second period in an attempt to balance out their players with size playing with their smaller ones.
"I thought the second and third (periods) that we did a lot of good things," Rochester head coach Seth Appert said. "The way the game is being officiated, we have to scored how we scored because it's tackle football out there…and we've scored a lot of goals this year that way, so I'm not worried about that."
"It's playoff hockey; well maybe a little different in this league compared to the NHL games I've watched at least, but you need to fight through it," Malone said. "Keep playing our game and I think we'll come out on the other side next time."B