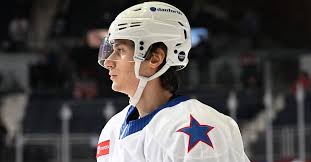 By Warren Kozireski —
During this rookie 2022-23 season, Bufalo Sabres 2021 second round draft pick Aleksandr Kisakov scored three goals with one assist over his first 11 North American professional games.
Then the rookie only managed three more goals and one additional assist over the final 37 games.
Fast forward to 2023-24 and the 5'10", 160 lb. right wing has three goals with two assists in his first five games, but he is hoping a second year of acclimating to a new country and language and his offseason program will help him continue to produce.
"I was younger (last year) and this year I feel more confidence, Kisakov said in late October. "Last year every day I was at the gym and now it's helping me. In every league, my first year was not good but my second year was much, much better."
Kisakov weighed in around 158 lb. a year ago and is in the 160+ range as of the start of this season.
October 25 against Charlotte playing on a line with Lukas Rousek and Justin Richards, Kisakov scored the tying goal late in the third period to help the Amerks overcome a 3-1 deficit and win. The fact he scored standing to the side of the net was a stark difference from one year ago when he was more of a perimeter player.
"Kisakov probably wouldn't have been on the ice with five minutes to go (a year ago) because…that play started with a d-zone faceoff and now I trust Kisa in all facets, Rochester head coach Seth Appert said.
"We talked a lot as management/player development staff last year down the stretch and I felt strongly and so did everybody else that he reached a certain point that the games were becoming a detriment to him because he wasn't strong enough, he was getting worn down and we needed to take some games away to train him.
"His stick and his mind were really good at this level, but the body wasn't ready. And we knew that—we brought him over here too early, and we did that intentionally. But the work that he did with Nick Craven (Strength & Conditioning Coach)…the last two or three months of the season as he wasn't playing as much or at all set him up to have a great summer, which then set him up to have a successful start to this season.
"He's never going to be a physical force and that's okay, but when it's your turn to go in and get a piece of a man on the forecheck…he's doing a really good job of that and being rewarded for going to hard areas."
The just turned 21-year-old (Nov. 1) is from Solikamsk, Russia, located over 1,000 miles east of Moscow. After being drafted by the Sabres, he recorded a teaming-leading 56 points (26+30) in 51 games with Dynamo Moscow (MHL) and made his Kontinental Hockey League (KHL) debut with Dynamo Moscow, appearing in four games in 2021-22. In 2020-21, he finished second in the MHL with a career-high 36 goals and 73 points.
"Last year was tough for me…too much games every day. I like my progression and it's already good for me. I just keep working and we'll see. I have more confidence.
"Last year was my first year in North America…it's different hockey and much different than in Russia. There we have bigger rinks and ice."
But when asked if he felt at any time last year that he should have stayed home to play another season in Russia, Kisakov responded with an emphatic "No."
The second year Kisakov is off to a similar start to his rookie year in 2022-23, but he hopes to build on his second-season-in-the-same-league success he's had to this point in his career.
(Rochester Amerks Photo)