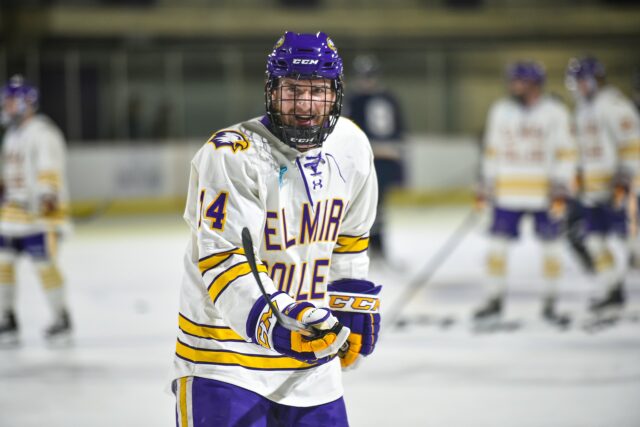 By Warren Kozireski —
23-year-old Bailey Krawczyk played everywhere but his hometown from when he was 15 years old until he turned 20. The Syracuse Jr. Stars, Westchester Express, Buffalo Jr. Sabres and Rochester Monarchs were his jerseys over a five-year period.
Then he headed back home to Elmira to play for the Soaring Eagles.
"I'm definitely grateful for it and I don't take it for granted so I just try to make the best of my role in every situation and super-grateful that I get that amount of ice time with this team," Krawczyk said.
It was back in Westchester as a 16-year-old that he began showing signs of the player he would become, scoring 32 goals and 78 points in 62 games. A solid year with the Jr. Sabres followed with a combined 86 points in 95 games.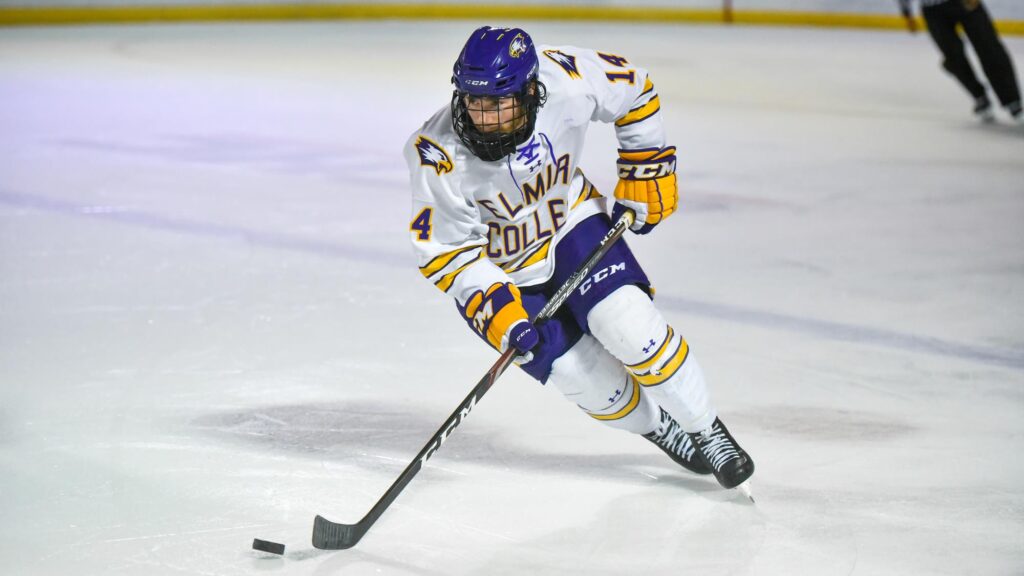 Following two more seasons with the Rochester Monarchs, he entered Elmira College as a 20-year-old freshman for the pandemic shortened 2020-21 campaign and had solid sophomore and junior seasons scoring 42 points in 52 games.
"Bailey is just a 200-foot player, and he always seems to score the big goal when we need it," 15-year Elmira head coach Aaron Saul said. "He's very reliable at both ends of the ice and him being an Elmira kid makes it even more special.
"He does it all and he's been on the power play and killing penalties pretty much his whole career. He's a very underrated player…he's a player that goes unnoticed, but certainly not by his teammates."
Krawczyk is now in his fourth season as a senior playing third line center through the early contests this season, but has a fifth year of eligibility that he will take advantage of to start a Master's program in 2024-25.
His career highlight to this point is the triple overtime game-winner he scored as a freshman in the conference playoff semi-finals at Utica to help the Soaring Eagles to their first UCHC championship.
The Business/Finance major wants to play hockey as long as he can but doesn't want to rush thinking post hockey.
"I haven't really thought that far down the road, but we'll see what happens when we get there. The dream is to pursue hockey for as long as I can after (college), whether that's playing or coaching or something along those lines. But just to have the Business & Finance in my back pocket is always something good.
"I'm more of a small-town guy, so I don't know if Wall St. would suit me so well."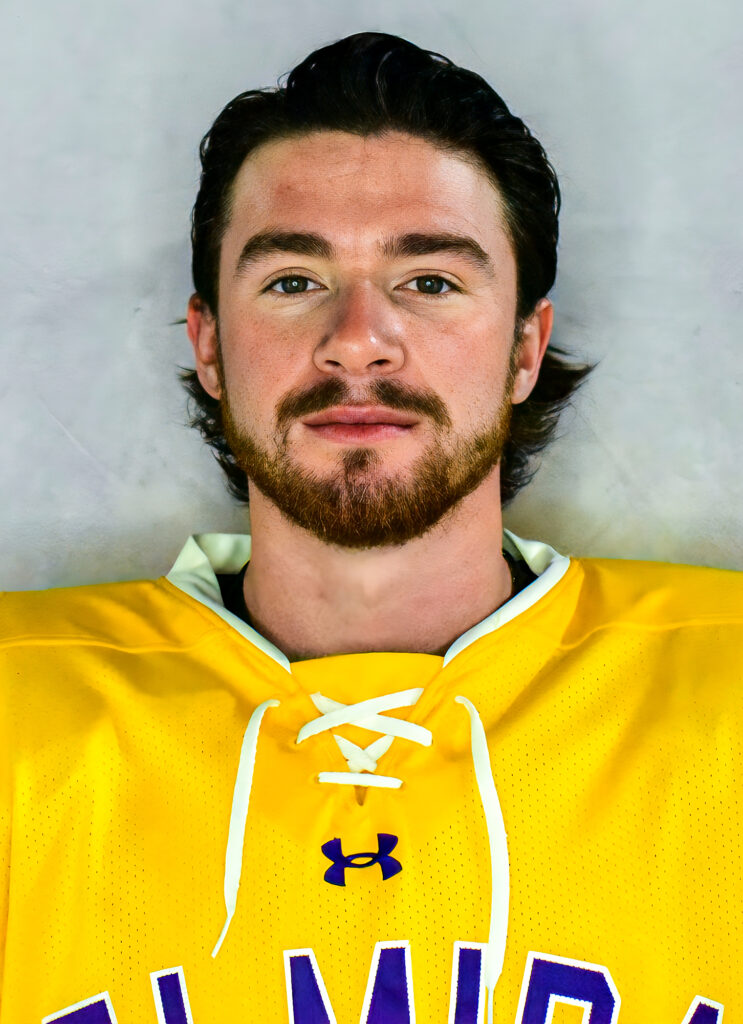 From his various roles on the ice, to helping new teammates learn shortcuts to the rink or to various destinations around the Elmira community, Krawczyk isn't unaware of his role as local poster boy for Elmira youth hockey programs.
"It's been amazing and the best opportunity and moments in my life," Krawczyk said. "Growing up and coming to all the games and now seeing all my family and friends still in the same spots where we sat growing up and being able to put on that jersey every night is something I'm super grateful for and I don't take a moment for granted, that's for sure."
(Photos provided by Elmira College Men's Hockey)