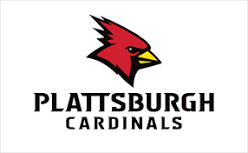 PLATTSBURGH, N.Y. – After returning to the top of the State University of New York Athletic Conference (SUNYAC) for their 24th SUNYAC title in program history last year, the goal remains the same for the Plattsburgh State men's ice hockey team, with aspirations to go even deeper into the NCAA Tournament in the 2023-24 season.
Heading into the season, the team is ranked seventh in the USCHO.com Division III Men's Preseason Poll, accumulating 193 points boasting the highest ranking amongst its SUNYAC counterparts. They were also selected as the top team in the SUNYAC Preseason Coaches poll.

Led by head coach Steve Moffat, Plattsburgh State went 20-6-2 (12-3-1) last season, earning the No. 2 seed in the SUNYAC Tournament. The team defeated the third-seeded and No. 11 ranked Geneseo Knights in a rout at home in semifinal playoff action and then defeated No. 11 ranked Oswego State on the road to win the SUNYAC title. The team's season came to a close in the NCAA Tournament first round, where they fell to No. 9 Norwich 2-1 in overtime. After two exhibition games this fall under his belt, Moffat is eager to get the upcoming year started with his team.

"We are excited for the upcoming season. The players have been working hard on and off the ice and the newcomers are fitting in well. We have had good leadership, and the group is looking forward to playing."

Goaltenders

The Cardinals return two goaltenders for the 2023-24 season, with SUNYAC Tournament Most Valuable Player Eli Shiller (Toronto, Ontario/Wellington Dukes) returning for his sophomore campaign after also earning All-SUNYAC Rookie team and USCHO All-Rookie team honors. Shiller set program records for goals against average (1.38) and save percentage (.946) in his inaugural collegiate campaign. He will be joined by returning junior Jacob Hearne (Ennismore, Ontario/Toronto Jr. Canadiens), who posted an 8-0-1 record in 11 games last year in goal.
First-year goalie Dominik Bovan (Bratislava, Slovakia/Boston Jr. Bruins) is the lone newcomer to the goaltending group in 2023-24, providing much-needed depth to an already talented positional group.

Defensemen

Despite losing two All-SUNYAC defenders from last season, the Cardinals should still have an excellent group anchoring the blue line in 2023-24. Headlining the returning group for the Cardinals this year is junior defenseman Jack Ring (Hingham, Mass./Northeast Generals) who earned All-SUNYAC second-team honors last year and contributed 17 points and a +/- mark of 17. Graduate student Ryan Hogg (Duncan, British Columbia/Islanders Hockey Club) also returns for Plattsburgh, helping to keep experience in the defensive unit.

Other returners to the defense include senior Kevin Weaver-Vitale (Toronto, Ontario/Markham Royals) and sophomores Spencer Bellina (Medina, Ohia/Chippewa Steel) and Brannon Butler (Toronto, Ontario/Boston Advantage).

New arrivals to the blue line include two transfers, as Lonan Bulger (Yellowknife, Northwest Territories/Hobart College) comes to Plattsburgh from the defending national champs Hobart and Ryan Poorman (Phoenixville, Pa./Norwich University) crosses the lake from Norwich to join the Cards in 2023-24. Two first-years round out the defensive group in 2023-24, as Simon Singher (Saint-Jean-sur-Richelieu, Quebec/Navan Grads) and Sam D'Amico (St. Catharines, Ontario/Georgetown Raiders) will play their debut collegiate seasons in Plattsburgh.

Forwards

All-SUNYAC second-teamer Bennett Stockdale (Ottawa, Ontario/University of Alabama in Huntsville) will lead an experienced and gifted offensive unit in 2023-24, returning after leading the team in goals (15) and points (26) in 2022-23. He will have plenty of experience beside him with senior Paul Bryer (Clarkston, Mich./Islanders Hockey Club) and graduate student Adam Tretowicz (Baldwinsville, N.Y./Buffalo Jr. Sabres), who had 20 points and 17 points respectively last year. Junior Luk Jirousek (Whitehorse, Yukon/Alberni Valley Bulldogs) also returns after a nine-goal, eight-assist campaign last year.

Seniors Ryan Butler (Kelowna, British Columbia/Adrian College), Thomas Maia (Mississauga, Ontario/Nanaimo Clippers), and Trey Thomas (Williams Lake, British Columbia/Brooks Bandits) are also back for their final campaigns, adding to an already robust offensive group for the 2023-24 season. Juniors Jake Lanyi (North Salem, N.Y./Connecticut Jr. Rangers) and Jagger Benson (Lynnfield, Mass./Cranbrook Bucks) also return, with Joshua Belgrave (Burlington, Ontario/Burlington Cougars), Ryan Bonfield (Kemptville, Ontario/Brockville Braves), Colin Callanan (Stony Point, N.Y./New York Apple Core), and Riley Sutherland (Burlington, Ontario/St. Michael's Buzzers) rounding out the group of returning forwards.
Aaron Catron (Middletown, Del./Philadelphia Little Flyers) and Tio D'Addario (Montreal, Quebec/Navan Grads) join the offensive unit in 2023-24 as the lone newcomers to the unit.

Schedule

The Cardinals open the regular season at Saint Anselm College on Oct. 27 before hosting Castleton University on Oct. 28. SUNYAC play begins with a game at SUNY Morrisville on Nov. 1, and Plattsburgh State entertains SUNY Geneseo (Nov. 10), SUNY Brockport (Nov. 11) and SUNY Potsdam (Nov. 17) before hosting the LayerEight Shootout from Nov. 24-25. The Cardinals' first game at the tournament will be against St. Olaf College on Nov. 24, and they will square off with either Norwich University or Middlebury College on Nov. 25. The 2023 portion of their schedule finishes up with home games against SUNY Cortland (Dec. 1) and rival Oswego State (Dec. 2) and road contests at Buffalo State (Dec. 8) and Fredonia (Dec. 9).

The Cardinals ring in the New Year by hosting the Comfort Inn Complex Winter Classic from Jan. 5-6, taking on Rivier University on Jan. 5 before hosting either Nazareth University or Albertus Magnus College on Jan. 6. Plattsburgh State then entertains Middlebury on Jan. 12 before visiting Williams College on Jan. 13. SUNYAC action resumes with a home game against Morrisville on Jan. 20 and a pair of games at Geneseo (Jan. 26) and Brockport (Jan. 27), while a home contest versus Norwich on Jan. 31 marks a rematch of last year's NCAA Division III Tournament first-round game that the Cadets won in overtime. Following road games at Potsdam (Feb. 3), Cortland (Feb. 9), and Oswego (Feb. 10), Plattsburgh State closes out the regular season at home against Buffalo State (Feb. 16) and Fredonia (Feb. 17).

"We have a great non-conference schedule that includes two tournaments, the Layer Eight Shootout over Thanksgiving Weekend and the Best Western Winter Classic on January 5th and 6th. The guys always look forward to the SUNYAC schedule as well, we have so many great rivalries and the intensity is unmatched."