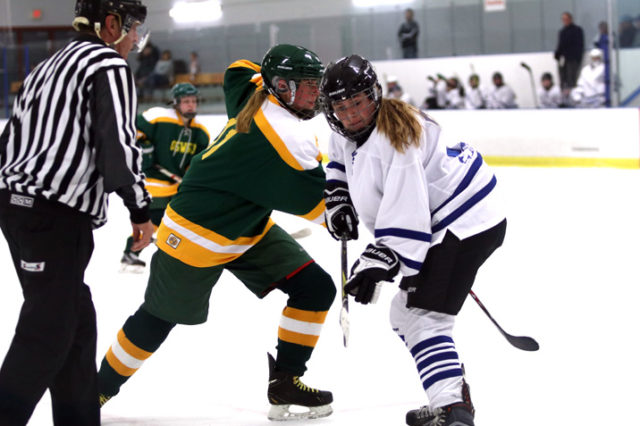 Women's Hockey–West
Two major tournaments highlighted October has the 2018-19 hockey season is underway for Girls hockey.
The Buffalo Regals Girls U17AA team took home a championship from the Buffalo Inferno Tournament.
Also taking championships were the Oswego Buccaneers in the 14UT3 division; the Selects Academy from Bishop Kearney in the 19UT1 division and the Rochester Edge in the 19UT2 Ice division in the Rochester Fire On Ice Tournament.
On the NWHL side, the Buffalo Beauts opened with a two-game win over Connecticut and then lost to the Minnesota Whitecaps, in their Inaugural Season. The Beauts are back in action November 17 and 18 at Boston and then return home on December 8 against Connecticut.
Talking about Inaugural Season, women's hockey has grown in the Rochester area with the addition of Nazereth College, who will be playing in the United Collegiate Hockey Conference (UCHC) which includes New York rivals Elmira and Utica. Chris Baudo has been named head coach. He was former Director and Head Coach of the Selects Academy at Bishop Kearney High School. The Hamilton College graduate played four season there and is a native of Pittsford.
In their first outings Taylor Hudon was named UCHC Rookie of the Week after she helped Nazareth to a pair of victories and scoring the historical first goal for the team in the first period of a game against Anna Maria.
The Buffalo State Bengals opened at home against Oswego on November 9. They opened their season, under Interim Head Coach Jim Fowler, with a win and tie over Canton and then a loss and win over Potsdam.
Lila Toczek scored the first goal of the new season with an assist from Emma Ruggiero, who also had a goal. Bri Gawronski stopped all 25 shots in the 3-0 victory over Canton.
RIT, also under new Head Coach Chad Davis, are 1-6-3 as they began their season. Davis announced that Hannah McGowan will serve as his assistant coach. McGowan played two seasons with the NWHL Buffalo Beauts, winning the Isobel Cup. She coached with Davis at Adrian College in 2017-18, where she played four seasons scoring 100 points. The Redford, Michigan native has a bachelor's degree in business administration with a minor in sports management.
RIT's Terra Lanteigne was named CHA Goaltender of the Month for October after a 2.07 GAA and .929 save percentage in the eight games of the season. She was also the CHA Goaltender of the Week for October 1 and 22.
Kendall Cornine was named CHA Player of the week for October 7 after helping the Tigers with 3 goals and 1 assist against St. Cloud.
The University of Buffalo Lady Bulldogs are on a winning streak once again this season with seven wins as they head in November. Maddie Norton has 16 goals and 4 assists; Frangelica Bautz has 2 goals and 9 assists; Mamie Talty, 4 goals/6assists and Alexis Peters, 3 goals/6 assists.
In goal this season are MacKenna Walp and Finely Vanhouten who have .951 and .952 save percentages, respectively.
A big ninth season for the WNY Girls Varsity Ice Hockey League with Frontier/Lakeshore/Orchard Park looking to defend their trifecta of championships including the Section, League and New York State titles. Also the League welcomes the combined schools of Starpoint, Niagara-Wheatfield and North Tonawanda as they form the Niagara County High School Team.
The season will begin with a non-league game November 21 with Ithaca coming to town to take on Willismville at 4:30 p.m. at the Northtown Ice Center.
The season's League opener will find the Niagara County team hosting Monsignor Martin at 5:30 p.m. at Hockey Outlet, Niagara Falls Blvd. The full schedule can be found at http://www.wnygirlshockey.com/schedule.html
The Niagara County team is looking for additional funding to help players with their hockey fees. A Go Fund Me account has been set up at https://www.gofundme.com/niagaracountygirlshshockey  It seems not all the funding is in place and may have detered girls from trying out. The team is also hopeful that Lewiston-Porter will join in next season.
Several girls who have graduated and played in the WNYGVIH have found spots in the college ranks and  Meghan Fonfara has joined the NWHL Buffalo Beauts this season. Among those at the College level, playing this season, are Sirena Fitzery at Utica College; Leah Czerwinski, Oswego; Mikaela Ditonto, Oswego; Maddie Kromer, Oliva Smith, Megan Reukauf, Hannah Gallivan, Rose Quattro, Bri Gawronski, all at Buffalo State; Kaitlin Drew-Mead , Holly Schmelzer at Plattsburgh and Grace Simmons Southern Maine University. (I am still trying to pull a list together, so if I omitted several I apologize and let me know who they are).
Women's Hockey -East
With Buffalo's Ellis Smith (Niagara Jr. Purple Eagles) the only blue liner returning to the Manhattanville team, the Valiants are looking for their 20th consecutive post season trip. Also returning to the line up is Mamoroneck's Nicole Mensi, a senior who is the leading scorer with 16 goals in the past three years.
Zoey Pellowitz showed her scoring ability by placing fourth in scoring and Rose Pijaca set a program single season record between the pipes for saves and minutes played.
Amanda Sabia has her first career hat trick and was named MAC Player of the Week for November 5. Pellowitz's contributions to the first week win with an unassisted goal and several assists had her being named UCHC Player of the Week for November 6.
Union had their first win with a 3-2 over Lindenwood and come into November with a 2-8-1 record.
RPI's Louisa Selander was named ECAC Goaltender of the Week for October 15 as she led the Engineers to a 1-1 weekend split with Robert Morris. RPI is 2-5 as they move to November.
Women's Hockey – Central
Cortland has hired Samathan Fallon as an assistant coach as they begin their season. She served as Head Coach for Adrian College's ACHA team from January 2017 to May 2018. She is a graduate of the University of Massachusetts at Boston.
Following a 3-2 win and a 3-0 shutout over Neumann College Victoria Gibson was named NEWHL Goaltender of the Week (October 28).
Elmira's Katie Granato was named UCHA Player of the Week and Stephanie Martin was named UCHA Goaltender of the Week (October 30). Granato had 3 goals in a 4-2 win over Norwich where she scored 16 seconds into the game, the fastest goal in a season opener in Elmira's history. Martin made her college debut with 22 saves, including an 11 save third period.
On November 6 Eliza Beaudin was named UCHA Rookie of the Week for her two goals in a sweep of Neumann College.
The Syracuse Orange are 4-6 overall with Amherst native Maddie Welch making 18 saves in a 1-0 victory over Penn State. Her sister plays at Penn State.
Amonda Hoppner was named CHA Plyaer of the Week and Lauren Bellefontaine, Rookie of the Week for October 22 after Hoppner had 4 points in a win over Lindenwood and Belletontaine had a goal and 2 assists in the two-game series. It was her first multi-point game in her career.
On November 5 Marielle McHale was named CHA Rookie of the Week for her first career goal at Penn State in the 5-2 win; she had a goal and assist through the Orange's ten-game start this season.
The Utica Pioneers are in their 18th season with a 4-0 record. The Pioneers welcome freshman Ali McFadden from Potsdam and Sirena Fitzery of Hamburg/Buffalo Bisons and the NYS Girls High School Champions Frontier/Lakeshore/Orchard Park.
Colgate's Shae Labbe was named ECAC Player of the Week and Liz Aubry, ECAC Goalie of the Week after Labbe scored 3 goals in a pair of wins over Ohio State and Aubry had a 38-save weekend over Ohio.
NEWHL honors went to Oswego's Eryn Stewart after she had her first career hat trick in a 10-1 victory over Kings College. She was named Player of the Week for October 29. Joining her with honors was Avery Webster, named Rookie of the Week, with 2 goals and 2 assists in the win at Kings. It was her first collegiate goal and she made it half way through the first period.
Joining Oswego this season from Akwesasne, NY is Bailey Thomas who played for the HTI Stars and Rachel Farmer who played her past two collegiate seasons between the pipes at Cortland and comes from Grand Island.
The Big Red of Cornell are well represented at the Four Nations Cup with Coach Dough Derraugh serving as an assistant coach, Player Kristin O'Neill playing along side Micah Zandee-Hart and Jamie Bourbonnais.
With a 4 win start Marlene Boissonnault has  been named ECAC Goalie of the Week for October 29. Boissonnault had her first career shutout against Dartmouth and in three games had 69 saves on 72 shots.
Hamilton College opens November 17 at home to William Smith.
William Smith has been picked second in the UCHC Coaches poll as they beat Salve Regina in a doubleheader. Gina Scibetta was named to the D3 Hockey.Com National Team for the week of November 1. She had a team-high 7 points in a 2-0-0 weekend.
Morrisville is 3-1 as they start their season. Jessica Ujcik of Munich, Germany, was named CHC Player of the Week after leading the Mustangs to a sweep of Castleton with 5 goals and 3 assists, including a hat trick in game 2. Honorable mention went to Maddison Devlin with 4 goals and 2 assists.
Women's Hockey – North
The Potsdam Bears began their season with a 4-1 win over St. Michaels with Niagara Falls native Alexis Clark (Buffalo Bisons) scoring twice. Junior Forward Miranda Kolb (Watertown) also scored.
They lost 3-1 in the second game, after missing All-Conference and the Team Captain to a soccer game.
The Bears moved on to beat Buffalo State 6-1 with Clark and Kolb each having an goal and they beat Buffalo State in game two 3-1.
Plattsburgh began its season on a winning note and several honors for their efforts.
Courtney Moriarity was named NEWHL Player of the Week for November 6, her sixth career honor, after posting 5 points on 4 goals/1 assist in the opener vs Cortland.
Kassi Abbot was named Goaltender of the Week, her fifth career honor, after a pair of shutouts against Cortland.
Rookie of the Week honors went to Hanna Rose of Chaumont NY and the Northwood School with a goal and 2 assists against Cortland.
Clarkson continues its winning history boasting a 9-1 record, with their only loss thus far coming to tghe hands of St. Lawrence.
ECAC honors went to Kelly Mariani, Player of the Week and Kassidy Sauve, Goaltender of the Week. Mariani scored the first goal in the 5-1 victory over Bemidji.
Sauve, who transferred in from Ohio State, made 61 saves in the two-game sweep over Bemidji.
Loren Gabel scored her 150th career point in the 4-3 victory over Robert Morris. She rewrote the history of Clarkson hockey as the All-Time Leading Scorer with her 81st career goal, breaking Cayley Mercer's '17  record. She received ECAC Player of the Week, ECAC Player of the Month (October), and the Hockey Commissioner's Association (HCA) honors.
Morgan Helgeson received ECAC Rookie of the Year honors.
TT Cianfarano, Oswego, was named NCAA Second Star of the Week for her most productive weekend as the nations top scorer with 3 goals and 4 assists.
St. Lawrence is 6-5-1 as they begin the season and welcome Ithaca's Grace Smith.
Canton has 16 players returning to the lineup as they are picked to finish fifth in the CHC preseason poll.
Sarah Kosnaskie was named CHC Rookie of the Week as she helped lead the Roos to a 3-0 win overt Salve Regina and had her first career goal as a rookie.
The Roos welcome Freshmen Jayde Dukette from Tupper Lake/Hoosac Prep and Lilly Cullen from Churchville/Rochester Monarchs.
Women's Hockey – General
Send all your women's hockey news including youth, collegiate, high school, to Janet Schultz, [email protected] and let us know if you have an event, tournament or anything you feel you need help publicizing.