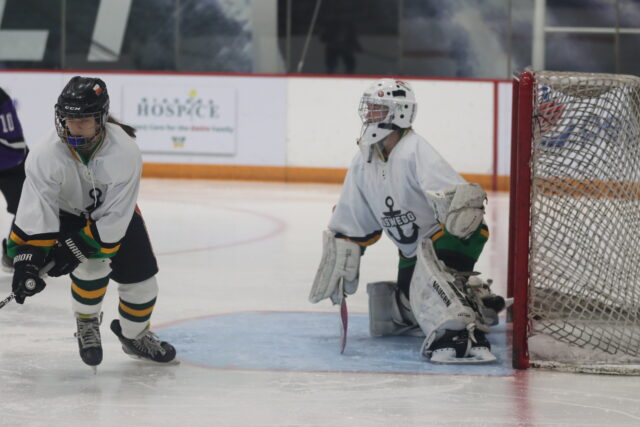 By Janet Schultz, NYHOL
Collegiate Womens Hockey/Central
Cortland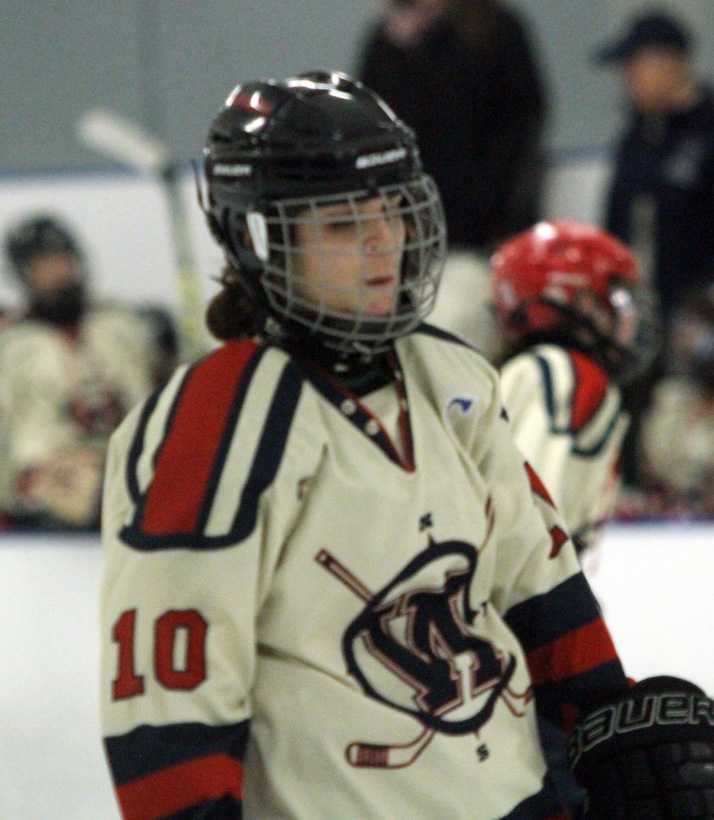 Amanda Gaffney when she played for Williamsville High School
The Red Dragons went 20-7-0 under eight-year Head Coach Rick Filighera. The best Oswego in the NEWHL semi-finals 2-1 in two overtimes and then lost to SUNY Plattsburgh 0-2 in the Championship.
Six Red Dragons were honored by the ACHA including Dany Donegan, Cicero/Syracuse Nationals; Amanda Gaffney, Williamsville/Amherst Nights and WNYGVIH's Williamsville HS team; Jillian Hlasnick, Olean, Niagara Jr. Purple Eagles and her sister, Mia, also with the NJPE.
Others named to the All American Scholars List were Johna Ezzart and Jayden Kelley.
Cortland opens play on October 22 against William Smith in an exhibition game at 3 p.m. in Geneva and then they travel to Stephenson College for a double-header on October 27/28.
Their home opener is a two day contest against Canton on November 10 at 7 p.m. and November 22 at 3 p.m.
Elmira
Greg Haney/Elmira Photo
The Soaring Eagles recorded a 21-6-0 season and open the 2023-24 season with two exhibition games before the Utica University Kickoff Hockey Tournament on October 27 and 28. Their home opener on November 10 is an NEHC league game against Salem State University at 6 p.m.
Four New Yorkers are on this season's roster including McKenzie Schmidt of Baldwinsville/Syracuse Valley Eagles; Lexi Hoffman, Bellmore/Portledge School; Mandy McCormick, Elmira/Hill School and Sophie Compeau, Potsdam/Syracuse Valley Eagles.
This will be the first season for Greg Haney, who previously coached Potsdam State University's women's ice hockey team.
Buffalo native Erin Gehen will be in her third season as the Associate Director of Athletics for Elmira and sixth as a volunteer coach for the Soaring Eagles women's ice hockey team. Gehen played for the WNYGVIH League with Hamburg/Eden/West Seneca, where she is the All-Time Leading scorer; and then for the Buffalo State Bengals. She also played professional ice hockey with the Buffalo Beauts.
Syracuse
Five Orange were named to the AHCA All American Scholars list including Sarah Thompson, Hannah Johnson, Tatum White, Gabrielle Doughtery and Charlotte Hallett.
Syracuse will open at Waterbury and then head home against Merrimack at 6 p.m. on October 6.
Head Coach Britni Smith, in her second season, threw out the first pitch, along with fellow coaches Lynn Farquher (Field Hockey) and Bakeer Ganesharatnam I(Volleyball) at the Syracuse Mets game recently. They were part of the Women's In Sports Night celebration.
Utica
The Utica Pioneers will host the Utica University Kickoff Tournament October 27-28. They then travel to Lebanon Valley to open the UCHC season. Their home opener will be November 10 and 11 against Wilkes University at 7 p.m. and 2 p.m. respectively.
Coach Dave Clausen is in his 21st season, the only head coach in the history of the program.
Erica Sloan, Potsdam/St. Lawrence Steel, was among the six Utica players named to the AHCA All American Scholars list. Others were Tess Barrett, Kelsey Elliott, Maddie Esposito, Haley Modlen and Georgiana Santullo.
Utica comes off a 22-3-3 record, losing the UCHC Championship game 3-2 in two overtimes to Nazareth College.
Colgate University
Colgate took the ECAC Championship after they beat Clarkson University 8-2 and posting a 32-6-2 record. They moved on to the NCAA National Tournament, losing 4-2 to Wisconsin.
Head Coach Greg Fargo led the Raiders to 32 wins for the third time in his tenure and posted a historical record with the Raiders being named in the Top 10 in the DCU/USCHO.com and USA Today polls for the entire 2022-23 season.
They open this season with an exhibition game against St. Lawrence on September 23; have several non-league games from September 29 through October 27 and then host their home opener on November 3 against Brown.
Colgate welcomes freshmen Kaia Malachino, Madeline Palumbo; Avery Pickering, Sydney Morrow, Ella Belfry, Emma Pais and Jaimee Spring.
Five Raiders were named to the AHCA All American Scholars List including Maggie MacEachern, Averill McCombs, Annaha Mettler and Sammy Smigliani.
Oswego
Taylor Hudon, Rhyea Zamlak and Rachel Brase were named to the ACHA All American Scholars List. Hudon is from Alex Bay and played for Nazareth College prior to Colgate and Brase comes from Spencerport and Spencerport High School.
Oswego lost the NEWHL Championship to Cortland in the semi-finals, 2-1 after two overtimes.
They will open at Elmira on October 14 and the Pink the Rink at their game against the London Jr. Devilettes on October 21. Teal Day will be celebrated on October 28 with a game against William Smith at 3 p.m.
Cornell
Cornell welcomes freshmen Piper Grober (Durham West Jr. Lightning), Abby Thibodeau (Burlington Barracudas), Beatrice Perron-Ray (Stanstead College), Karel Prefontaine (Team Canada U18 and Stanstead College0 and Annelies Bergman (Oakland AAA and Team USA U18.)
Jessica Campbell '14 has been named an assistant coach with the Coachella Valley Firebirds. She is the first woman to be named an assistant coach in the AHL.
Former Colgate Raider Katie Chan joins Cornell women's ice hockey. Chan previously took the ice for the reigning ECAC Hockey champion Raiders, where she accounted for 38 points on 16 goals and 22 assists in 79 career games. She was named as ECAC Hockey Rookie of the week during the 2021-22 season, and also a apart of the ECAC All-Academic Team in the same year. Chan will add forward depth to a young and talented Big Red group led by Coach Doug Derraugh, which finished second in the Ivy-League and fifth in the ECAC Hockey standings this past season.
The Big Red will open against the University of Toronto on September 24 at home.
Hamilton
Hamilton is coming off a winning season with a lot to look forward to.
They hosted and beat Nazareth College 3-1 in the first round of the NCAA Division III Championships.
That took them to Adrian College for the quarterfinals, where they won 2-0. Moving on to the semi-finals they faced Amherst College, They lost 2-0, ending their season.
Named to the AHCA All American Scholars List were Lake Placid native Lydia Bullock, Syracuse's Nancy Loh and Bobi Roca (Connecticut).
Head Coach Emily McNamara was appointed in 2012 and has recorded a 113-8-21 through 2021-22. She was named 2017 NESCAC Coach of the Year.
William Smith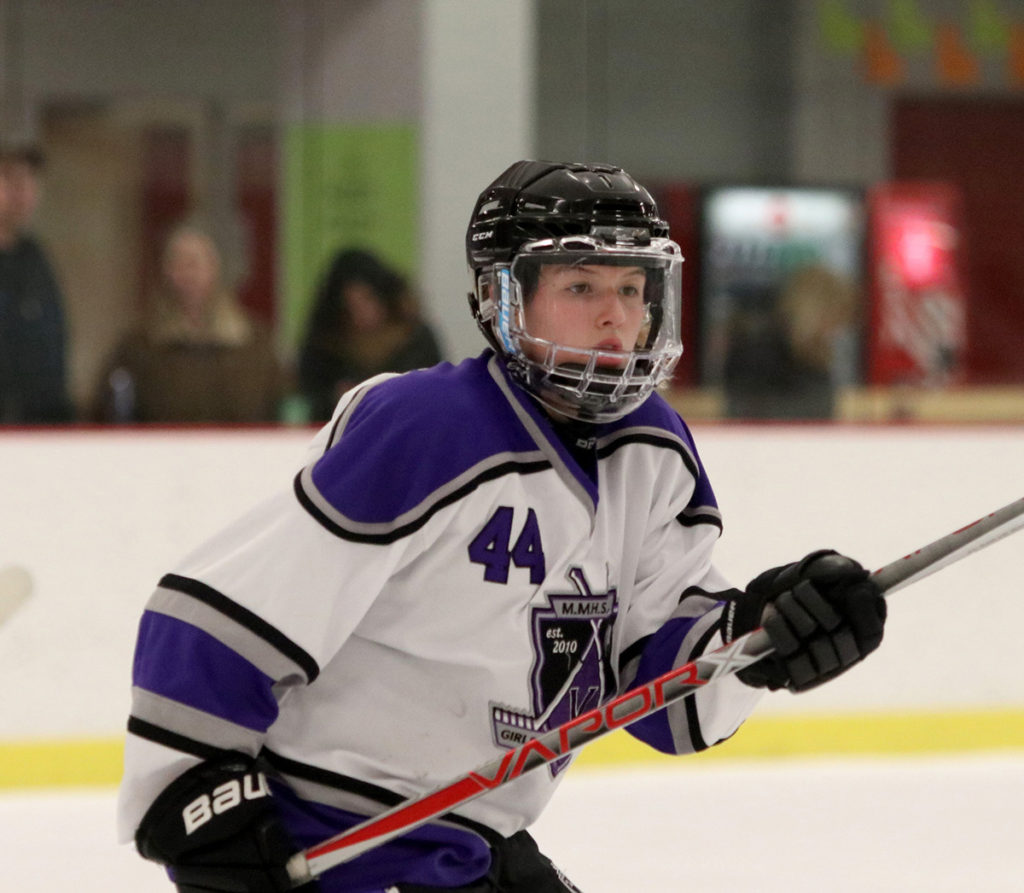 The Herons headed to the New England Hockey Conference (NEHC) tournament and beat Castleton 5-0 in the quarters. They moved to face Elmira in the semis, losing 4-3 and closing out their season 12-13-1.
Eight players were named AHCA All American Scholars including New Yorkers Izzy Friedman (Buffalo/Monsignor Martin/Buffalo Bisons and Kayla Ketchabaw (Rye/Greenwich Academy). Also named Brittany Foster, Sydney Foster, Tiffany Foster, Fiona Galleher and Kelly Howe.
Morrisville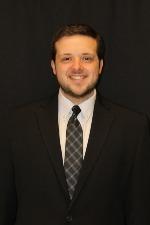 John Briggs/Morrisville Photo
John Briggs was named Morrisville Head Coach after serving at SUNY Cortland two seasons as an assistant coach. He was an assistant coach with the Richland Rockies Womens Ice Hockey Team as well as the 16U Boys and 18U boys Skyland Kings. He played junior hockey in New Jersey and semi-pro in Scotland. He is also an assistant golf coach at the Skaneateles Country Club.
Matthew Chan was named Strength and Conditioning Coach for Morrisville and Monica Cahill was named an assistant coach after playing four years at Cortland.
Morrisville will take to the ice with a home opener against Cortland (SUNYAC) on November 3 at 7 p.m.
Around New York Notes:
…Buffalo State Women's Ice Hockey opens their 2023-24 season with a home game against Stevenson on October 19 at 7 p.m. and then Hilbert on October 20, 3 p.m. at home.
…Rochester Institute of Technology opens September 23/24 at RPI and then home against Minnesota at 6 p.m. on October 6.
…Nazareth opens with a 2 p.m. exhibition game on October 21 vs William Smith.
…Nikolle Van Stralen was named Empire 8 Conference Woman of the Year. The award honors a senior who distinguishes herself in academic achievement, athletic excellence, leadership and service.
…The University of Buffalo ACHA D2 womens ice hockey team will play at Cortland at 6 p.m. on December 8 and at Brockport at 7 p.m. on December 9.
…Niagara University will be icing two women's ACHA teams this season. WD2 will begin October 1 at Cortland, October 27/28 at University of Delaware and November 3 at Brockport.
…NU's ACHA D1 team will play Indiana at Cornerstone Arena in Lockport at 3 p.m. on October 1.
…Hilbert has named Earl Utter the Head Coach. Utter is a Rochester native who recently coached for Wilkes and prior to that was head coach at Cortland for nine years. He played at Morrisville.
…Congratulations to Buffalo State Bengals Women's Ice Hockey Head Coach Rachel Grampp on her marriage.
…Congratulations to Assistant Coach Chelsea Hausberger on her marriage. Chelsie coaches for the FFLOP team in the WNYGVIH Association.