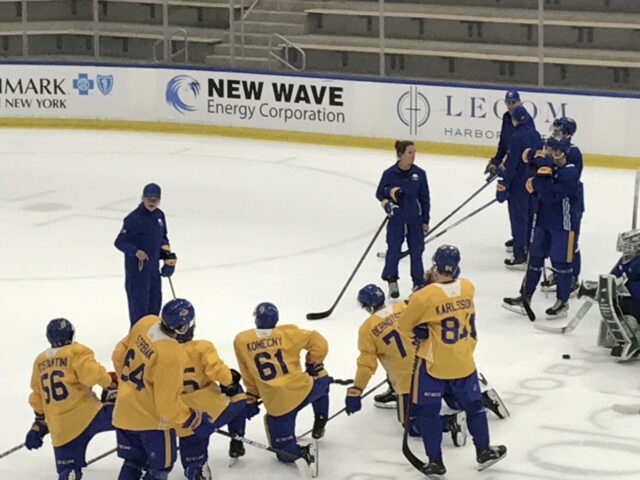 BY RANDY SCHULTZ –
"Surreal."
It has been defined as a happening that is "dream-like." It is also the term that Shelly Picard and Chelsea Walkland used several times as they explained what it felt like being a part of the Buffalo Sabres development camp coaching staff.
Picard and Walkland were two of the three guest coaches (the other being Troy Thibodeau, an assistant coach at Dartmouth College) the Sabres chose to be a part of the four-day development camp held at LECOM Harborcenter in downtown Buffalo.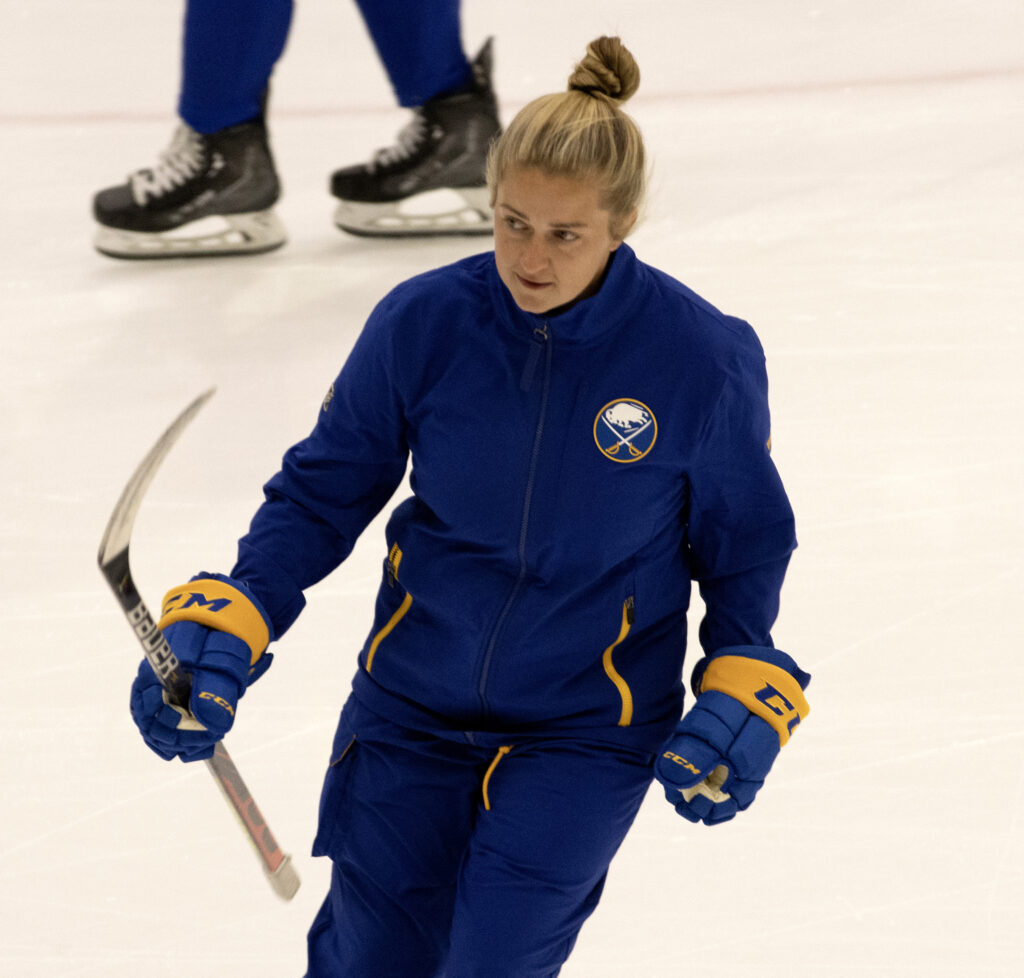 (Walkland on ice)
The opportunity to coach at the development camp was made possible for the guest coaches by the NHL Coaches' Association as part of its initiative to increase diversity in the league.
Picard and Walkland also heard about the opportunity after participating in the NHLCA's Female Coaches Development Program, which aims to support female coaches in several areas including skills development, leadership strategies, communication tactics, networking, and career advancement opportunities.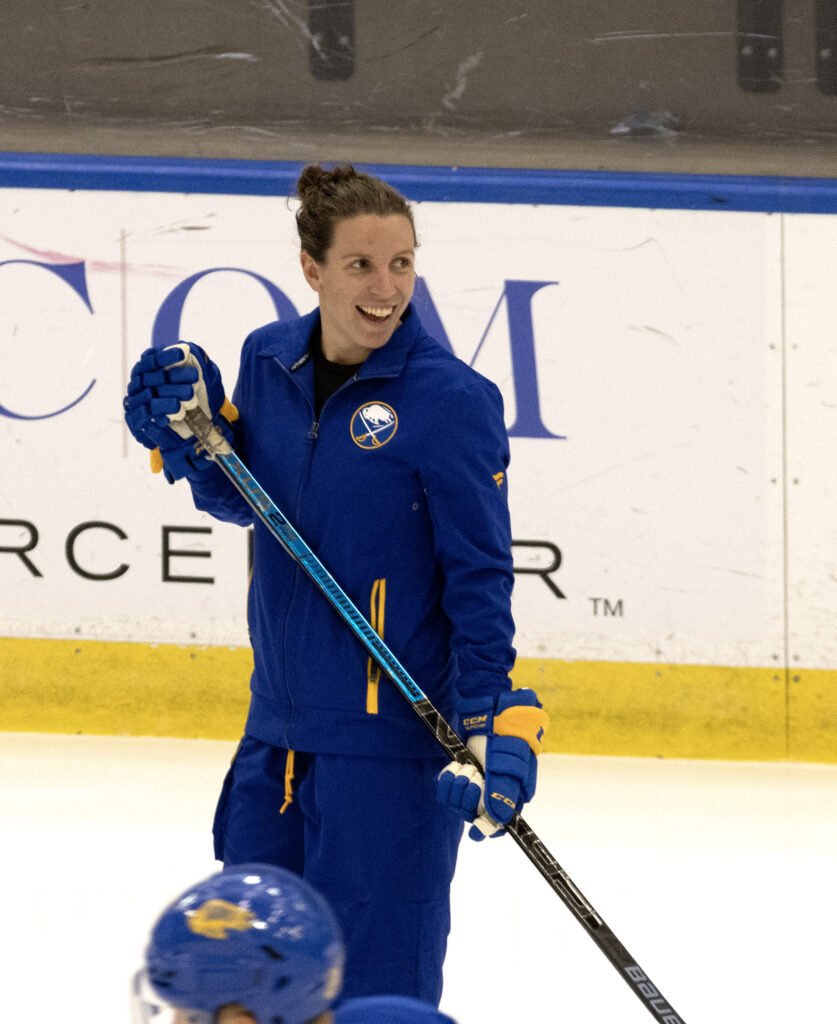 (Picard on ice)
Picard is an assistant coach with the Long Island University Women's Hockey Team. She also played defense for the U.S. Women's National Ice Hockey Team, winning a silver medal in the Olympics and played on four IIHF World Championship teams.
Picard also played college hockey for the Harvard Crimson and pro hockey for the Metropolitan Riveters. She also served as deputy commissioner of the National Women's Hockey League from 2019 to 2021.
Walkland, a native of Pittsford, is currently as assistant coach for the Colgate University women's ice hockey team and has helped lead the team to three straight ECAC Hockey Championships and three NCAA Tournament appearances. She was recently named head coach of the U.S. Collegiate Select Team.
She played her college hockey at Robert Morris. Prior to her arrival at Colgate Walkland was an assistant coach with RIT, Oswego and Robert Morris.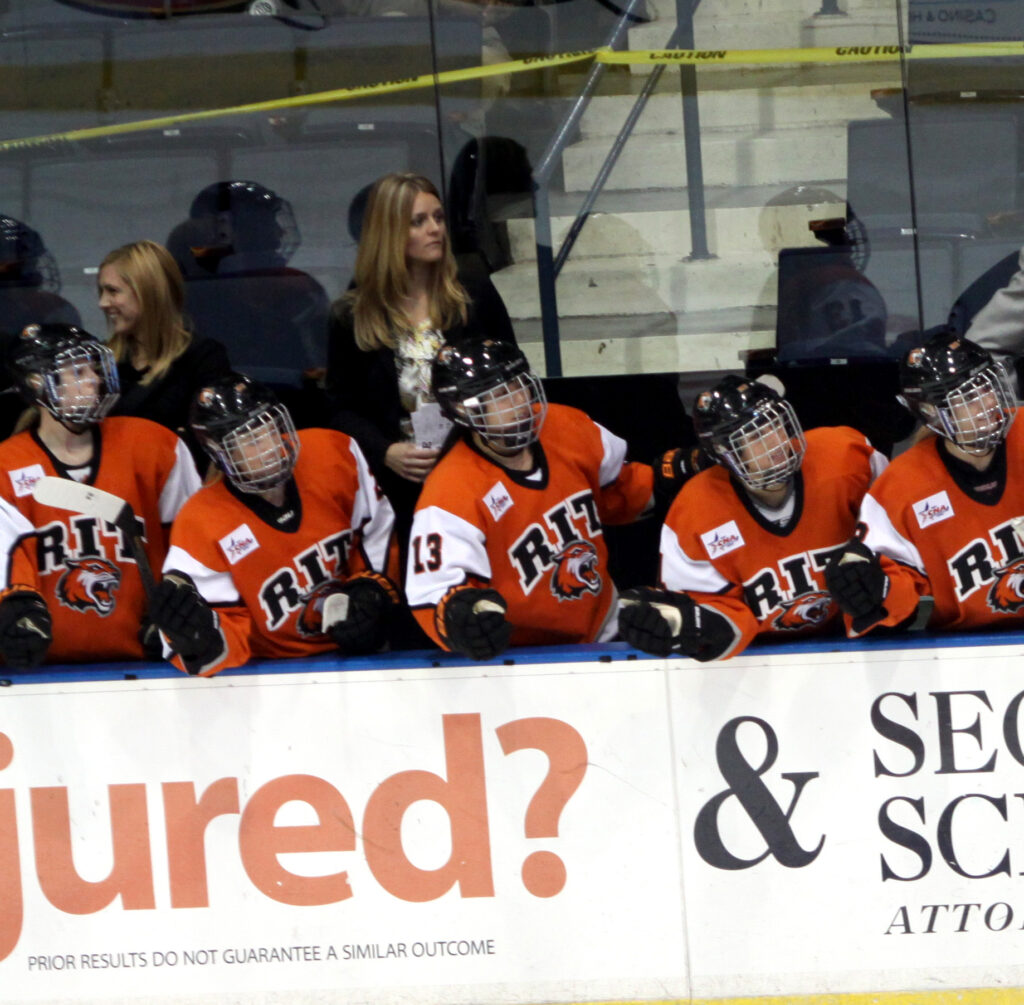 (Walkland behind the RIT bench)
Interestingly, none of the guest coaches were selected based solely on their credentials. Sabres head coach, Don Granato, explained.
"The NHL Coaches Association had contacted us during the hockey season and wanted to know if we were interested," recalled Granato. "We wanted to know what the process was.
"We wanted to be a part of the process to the point where we wanted to select who was coming to the camp. Candidates actually had to go through an interview process with us.
"We wanted to make sure the candidates were excited about the opportunity to be in Buffalo with the Sabres. We didn't want coaches simply assigned to us.
"I think the coaches we selected did an exceptional job and fit in quite well."
It was the phone call from Sabres director of development, Adam Mair, to Walkland that caught the Colgate assistant hockey coach by surprise. She wondered why Mair would be calling her.
"To me, this whole thing has been surreal," said Walkland. "I grew up in Rochester, New York.
"My family are Sabres fans as well as Rochester Amerks fans. So to be invited to this organization and see just how first class and how welcoming it's been, I'd say pretty surreal.
"I keep having to pinch myself when I kind of look around it and take it all in."
Picard totally agreed with Walkland's comments.
"'Surreal' is the perfect word," added Picard. "It could be at breakfast, or just chat hockey or dinner.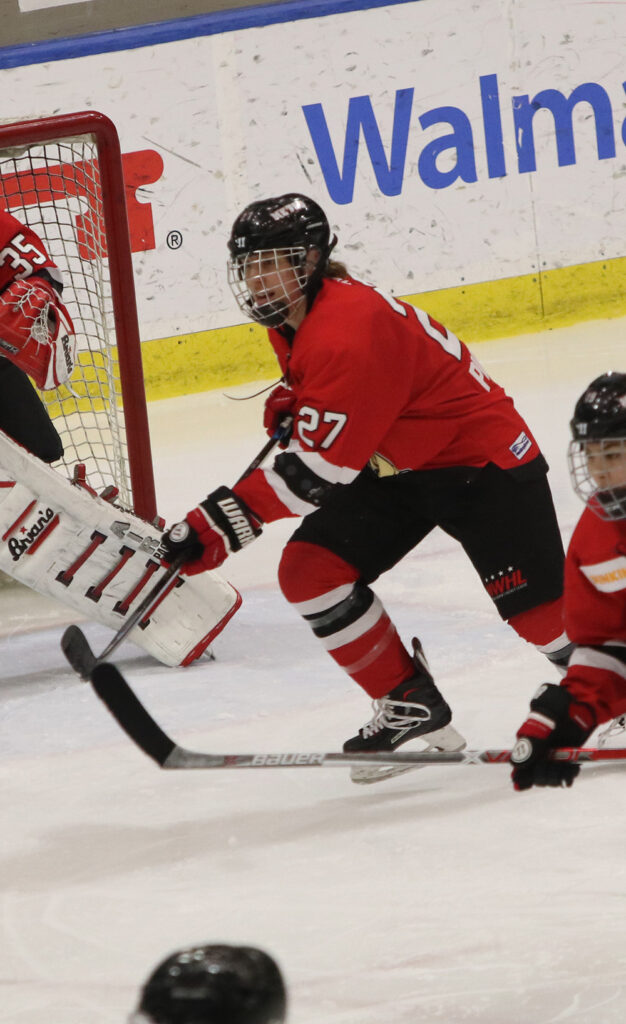 (Picard during her playing days)
'Just sitting in a room, seeing all the people and listening to what they have to say. Just talking to these hockey people. It's just been an incredible experience.
"After I first heard about this opportunity, I thought no way, I wasn't expecting anything from it whatsoever.
"To get to be a part of this, I've learned so much. And having little girls in the stands watching us out there on the ice coaching, that can be powerful as well."
Walkland summed up the situation.
"It was a two-way street," concluded Walkland. "We learned a lot on the ice, as well as off of it.
"We were treated very well here. We were all treated with respect.
"It's just so evident that everyone that's part of this program just loves hockey so much. We love being on the ice and I think it comes through with the energy that the players are bringing and everything like that.
 "We have learned a lot that we will be able to take back to our respective hockey teams. This has been a great experience for all of us."
(Photos by Janet Schultz Photography, NY Hockey OnLine)