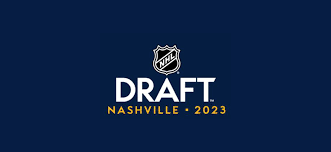 By Warren Kozireski —
Buffalo selected seven more times on day two of the 2023 NHL Entry Draft in Nashville and added four defensemen, two forwards and a goaltender to their prospect pipeline.
Swedish center Anton Wahlberg was their first choice in the second round 39th overall. The 6'3", 192 lb. just turned 18-year-old had 27 points in 32 games with Malmo and added 16 points over 21 games competing in international tournaments last season.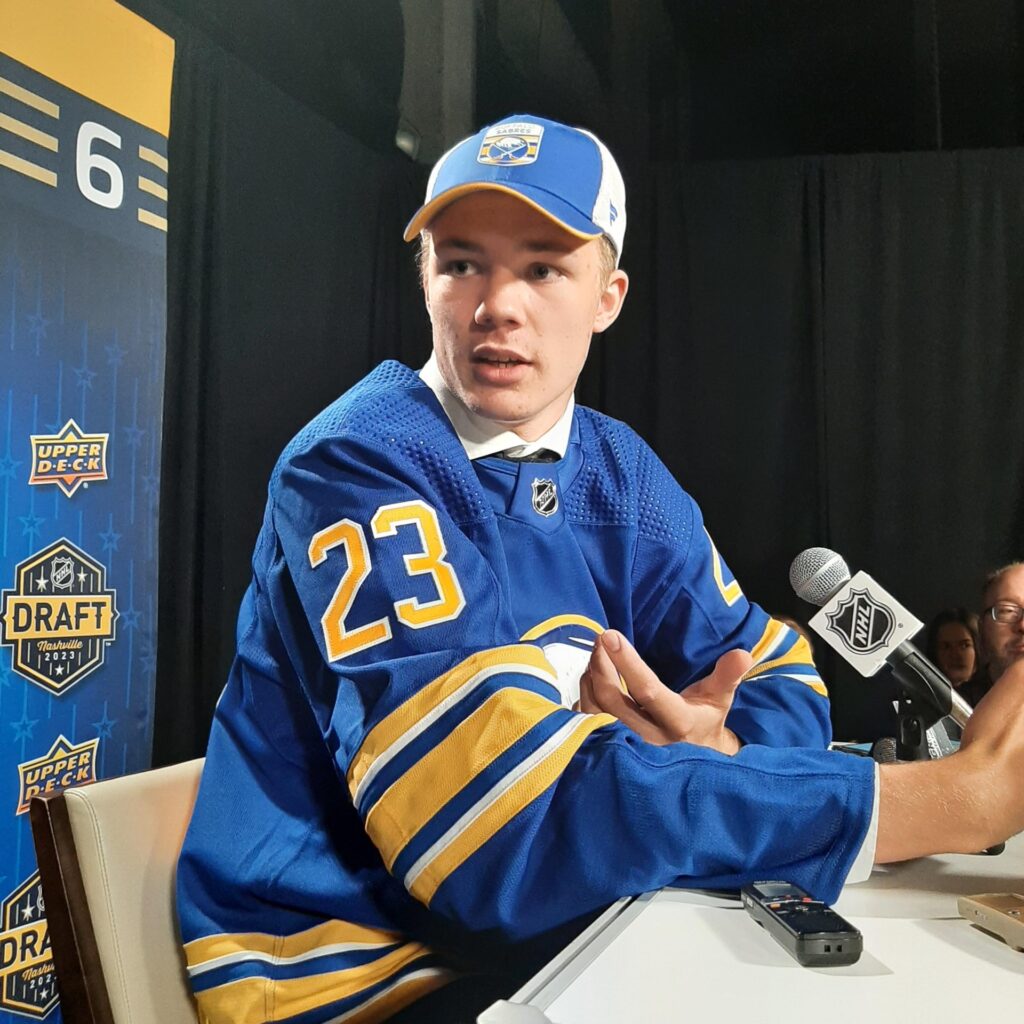 "It was amazing; everything you work for, every single day your whole life you dream about this and to hear your name is so cool," Wahlberg said. "I'm a two-way forward/center—I can play both positions—I carry the puck with pace and speed and a bit crafty.
"I have one more year in Sweden and then talk with the Sabres and see what the best option is for me."
Buffalo selected defensemen in the second, third, sixth and seventh rounds—all with size.
Right-shot Maxim Strbak went with their second, second rounder 45th overall. The 6'2, 198 lb. came to North America to play for Sioux Falls in the USHL where he tallied 18 points over 46 games and is committed to Michigan State this fall.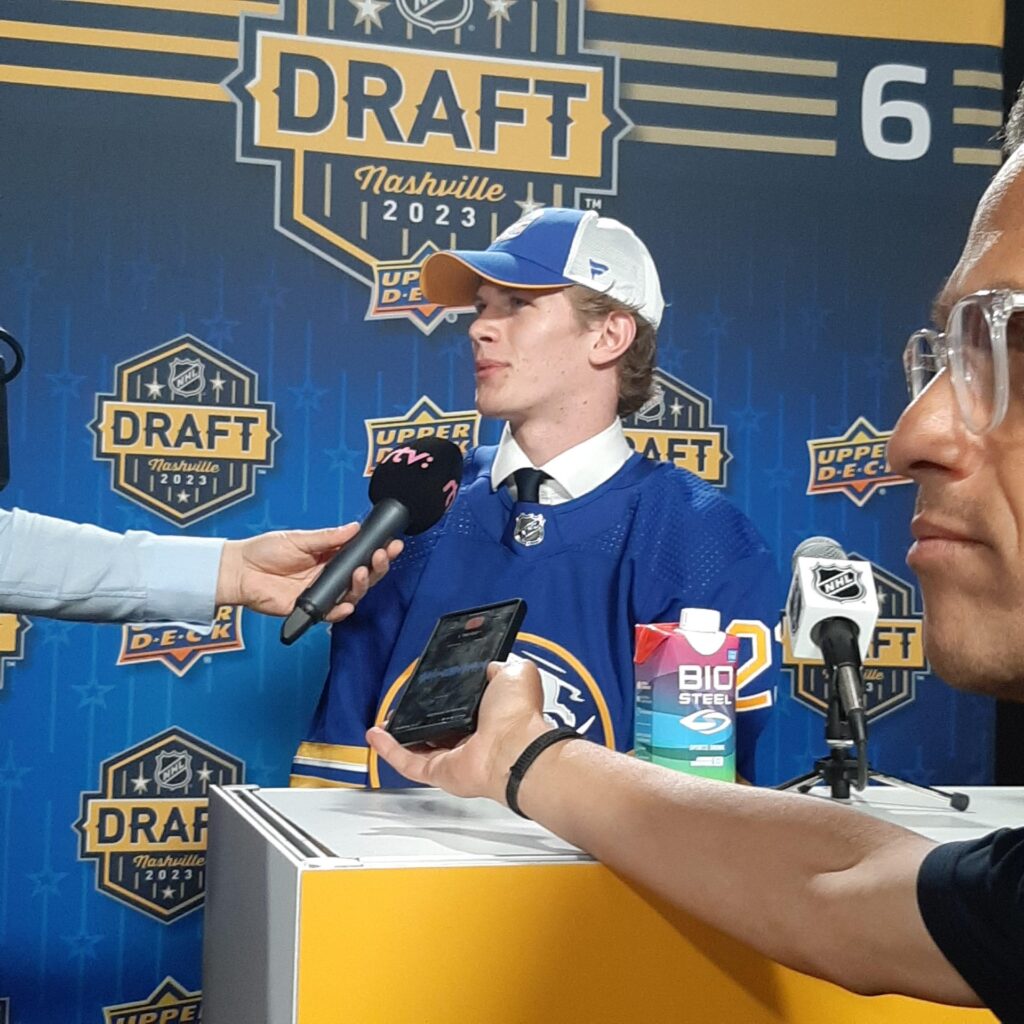 "So much emotion right now; it's an incredible time and dream come true for sure," Strbak said. "I try to be a two-way defenseman but more of a shut-down defenseman right now. I like to kill plays and gain momentum from that and if there's a chance to support the rush then I always happy to do so."
Local product and right shot Gavin McCarthy (Clarence Center) was taken in the third round. The 6'1", 185 lb. Boston University-bound blueliner was with Muskegon for his second season and doubled his production from year one with 27 points in 42 games after a knee injury in December.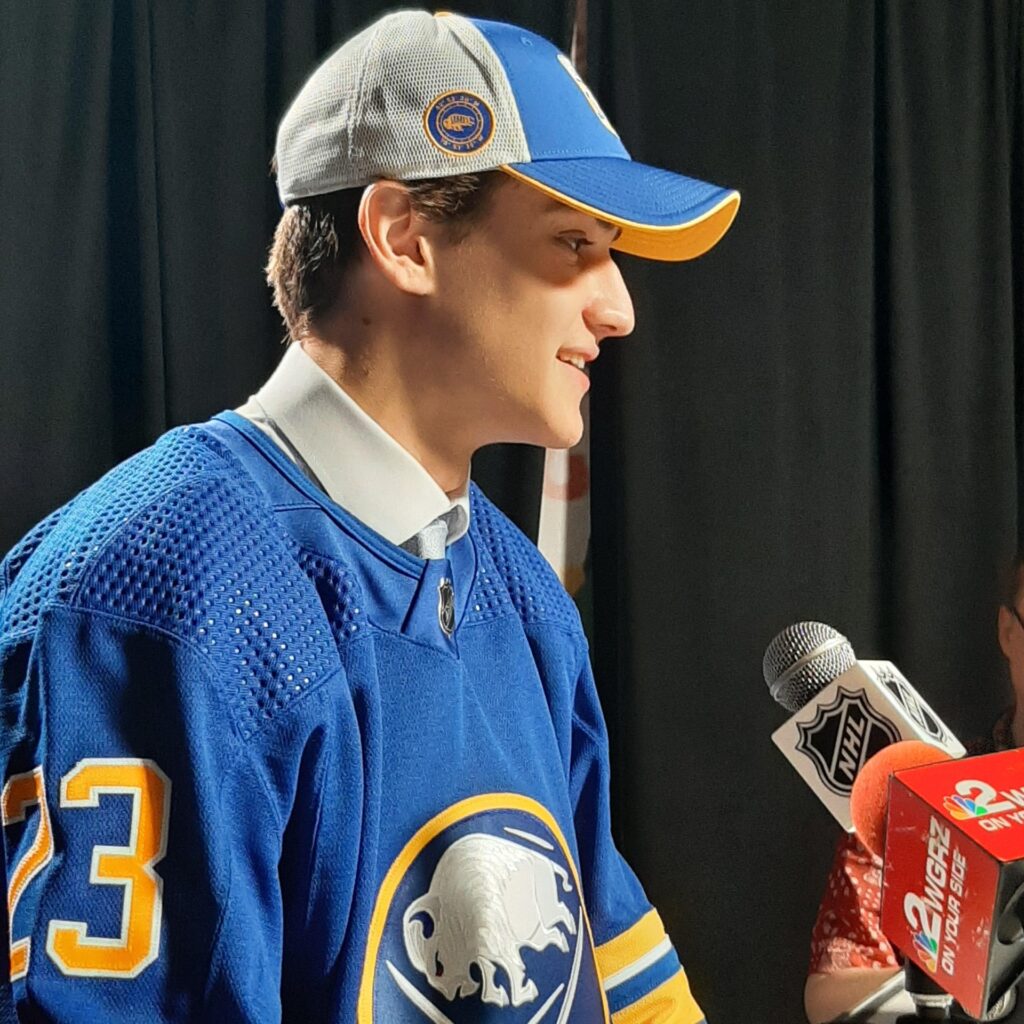 "It's definitely amazing going back to my home rink and I'm super-excited to earn every opportunity I can get there," McCarthy said. "This whole year has been a long year leading up to the draft and I hadn't really thought about where I'd go, but the Sabres picked me and…I couldn't be more happy going back home."
"I came up through the Jr. Sabres organization, worked with the Academy of Hockey a lot, worked with Matt Ellis and Tim Kennedy a ton, so a ton of familiar faces."
"If he doesn't miss six weeks (with a serious knee injury, there is no way he falls to us in the third round," Director of Amateur Scouting Jerry Forton said about McCarthy.
Sean Keohane and German Norwin Panocha were their final two selections. Keohane, from Dexter Prep in Massachusetts, is already 6'4" and 194 lb. and is headed to Tri-City in the USHL this fall and then Notre Dame in 2024. Panocha stands 6'1" and 185 lb. Playing against some two years older, he racked up 22 points in 34 games with Eisbarren Juniors Berlin U20 last season and is schedule to join the highest men's league team this fall.
6'4", 207 lb. winger Ethan Miedema of Kingston in the OHL was their fourth-round choice. Traded from Windsor midyear, he combined for 52 points in 68 games last season.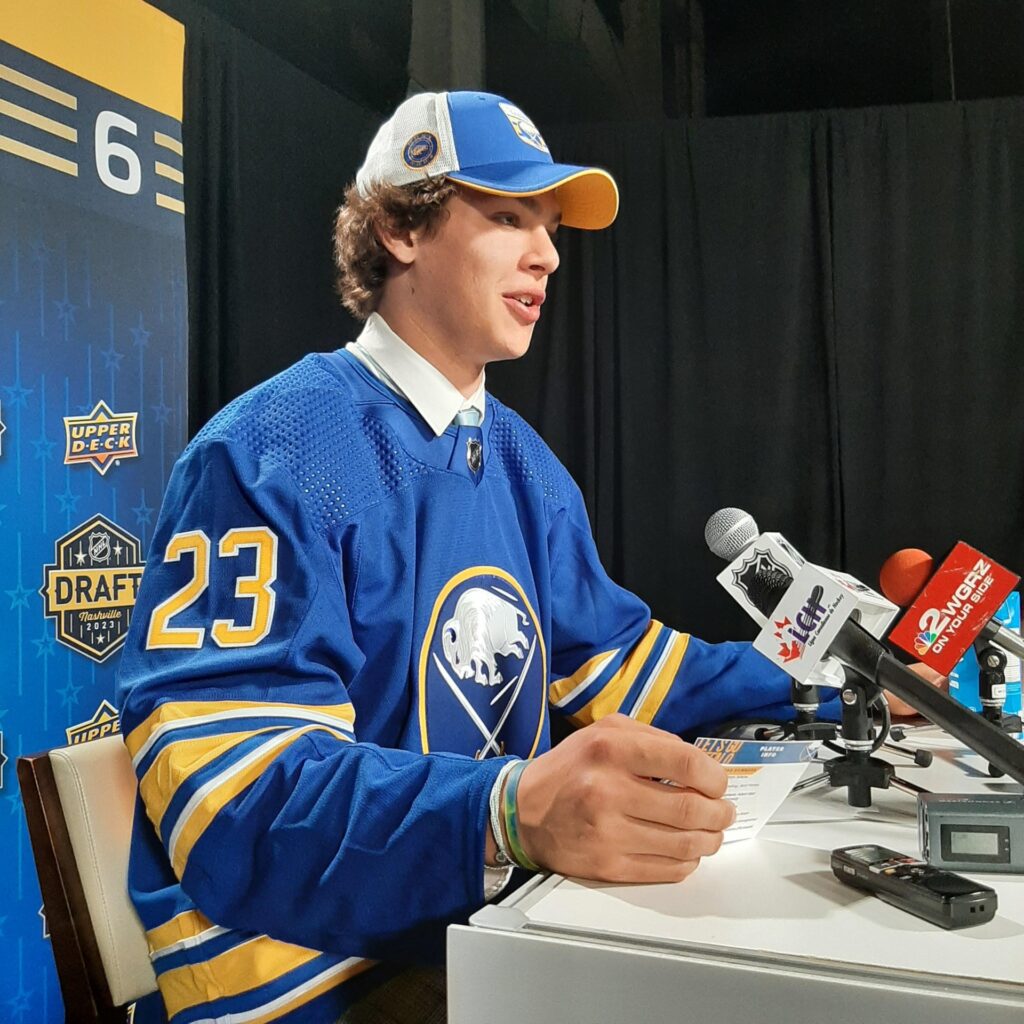 "I had a good interview with Buffalo at the Combine and just so excited—I have no words," Miedema said. "Buffalo is only three hours from my actual home, so it's one of the closest teams in the NHL, so it's cool being close to home. I was lucky to play in the OHL as a 16-year-old and to gain some experience."
In the fifth round, the Sabres tapped the championship Seattle Thunderbirds organization for the third time in two drafts in selecting 6'0", 174 lb. goaltender Shane Ratzlaff, who split time in net last season, but finished 25-8 with a 2.15 GAA and .918 save percentage.
"To hear your name called is something you'll only experience once in a lifetime, so I think it's awesome," Ratzlaff said. "Coming so close last year losing in the finals and then winning it all this year is just an awesome feeling, and to go through it with those guys (past and future teammates Matt Savoie and Zach Benson) is just awesome."
"We were very excited how it fell in the second round…we did try to move (up) a couple of times to get players that we had ranked a little bit higher, and we ended up getting the player we wanted without giving up additional draft capital which was nice," Forton said after the draft.
"There were a couple of instances where we had players side by side and we gave preference for the D-man.
"We want really good, competitive hockey players that we think are going to help us be a great team and a lot of these kids that we identified also happened to be pretty big, so that's just the way it fell," Buffalo General Manager Kevyn Adams said. "As you get later in the draft, you're talking about kids who are finding their game, strengths, weaknesses but what are those strengths, and can it turn into something that you can build around. All in all, this is a draft that is going to take some time to play itself out, but I can tell you we have excited amateur scouts right now."
(Photos By Koz, NY Hockey OnLine)