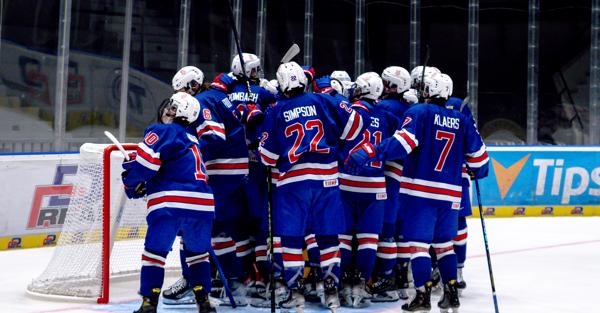 CHOMUTOV, Czechia – Cooper Simpson (Shakopee, Minn) netted four goals and picked up two assists to help the U.S. Under-17 Men's Select Team claim second place in the 2023 Five Nations Tournament with a 14-3 win over Germany at Rocknet Arena on Tuesday.
The U.S. found the back of the net just 20 seconds into the first period when Travis Hayes (Westland, Mich.) buried rebound off a shot from Jackson Crowder (Allen, Texas).
Masun Fleece (Rolling Hills Estates, Calif.) scored less than a minute later with helpers from Sam Spehar (Chaska, Minn.) and Simpson to put the U.S. ahead 2-0
Simpson netted a goal at the halfway mark of the first, assisted by Fleece and Chase Reid (Chesterfield, Mich.).
Hayes, Nicolas Whitehead (Stamford, Conn.), and Jacob Rombach (Blaine, Minn.) added to the tally to give Team USA a 6-0 lead heading into the second period.
Germany got on the board at the 4:40 mark of the middle frame.
Jesse Orlowsky (Brooklyn, N.Y.) and Simpson responded for Team USA midway through the second period to go ahead 7-1.
Germany added a pair of goals, and the U.S. found the back of the net three more times in the middle stanza to take an 11-3 lead after two periods.
Simpson completed a hat trick, and then added a fourth goal in the third period. Crowder also recorded a goal to bring the final score to 14-3.
GAME PHOTOS
Goaltender Wesley Jefferson-Swint (Walled Lake, Mich.) made 17 saves.
Notes: Ben Kevan (Fairfield, Calif.) was named Team USA's Player of the Game… USA outshot Germany 47-20… The U.S. finished the tournament with a 3-0-0-1 (W-OTW-OTL-L) record.
(USA Hockey Photos)