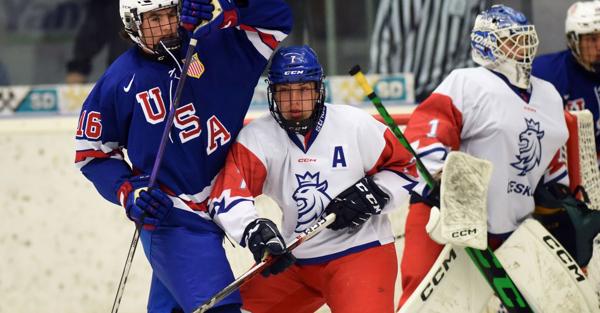 CHOMUTOV, Czechia – The U.S. Under-17 Men's Select Team fell to Czechia, 7-4, in its third game of the 2023 Five Nations Tournament at Rocknet Arena on Monday.
"Obviously not the result that we wanted," said Scott Paluch (Bowling Green, Ohio), head coach of the U.S Under-17 Men's Select Team. "We got off to another really good start. Unfortunately, we gave up too many chances to a really good hockey team. We found ourselves down heading into the second half of the game and couldn't make enough plays to get ourselves back."
Two minutes into the first period, Cooper Simpson (Shakopee, Minn.) led a rush into the offensive zone. He threaded a pass across the middle for Masun Fleece (Rolling Hills Estates, Calif.) who found Sam Spehar (Chaska, Minn.) on his wing for a one-timer goal to give Team USA a 1-0 lead.
The U.S. took a 2-0 lead a minute later when Nicolas Whitehead (Stamford, Conn.) chipped in the puck from the edge of the crease, assisted by Ben Kevan (Fairfield, Calif.).
Czechia scored back-to-back goals in the first to even the score heading into the second period. Šimon Fasner got his team on the board at 13:57 in the first period, followed by a goal from Matej Pekar at 15:23.
The U.S. reclaimed the lead at the start of the middle frame after Travis Hayes (Westland, Mich.) tipped home a shot from Jackson Crowder (Allen, Texas), assisted by Blake Fiddler (Frisco, Texas).
Czechia's Vít Macík found the back of the net at 2:41 in the second period to tie the score at three apiece. Dominik Pavlík scored minutes later to give Czechia the lead. František Netušilthen added to the Czech tally to go ahead 5-3.
With 50 seconds remaining in the second stanza, Team USA pulled within one goal of the lead on the power play. Cooper Dennis (Ithaca, N.Y.) sent a pass to Kevan, who threaded the puck to Carter Murphy (Woodlands, Texas) out in front. Murphy wristed a shot over the pad of the Czech goaltender to make it a 5-4 game.
The Czechs scored twice in the third period for a final score of 7-4.
GAME PHOTOS
Goaltender Anthony Alessi (Lockport, N.Y.) made 15 saves.
Notes: Carter Murphy was named Team USA's Player of the Game… Czechia outshot USA 32-22… Team USA will face Germany in their final tournament contest on Tuesday, Aug. 8, at 7:00 a.m. ET.
(USA Hockey Photos)