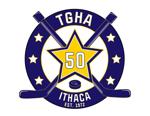 Katie Howells (TGHA President) and Tyler "TR" Wagenet (IYHA President) have had many meetings with the ICSD Director of Athletics and Wellness Samantha Little since the 2022-23 Ithaca High School Girls Varsity Ice Hockey season was suspended . While area girls playing ice hockey have received direct messages about next season, they would like the greater community to know that the sport was never canceled by the district, rather it was in a holding pattern for one year only.
Plans are being finalized for the Ithaca High team's 2023-24 season that improve the practice and game schedule for all interested in participating, and TGHA and IYHA are also making adjustments to work well with the varsity program next year and beyond.
TR Wagenet has been encouraged to coach the Ithaca High Girls Varsity team along with Dusty Paul. There are a number of items that need to be completed (CPR certification, Concussion seminars, etc.) before this is a confirmed coaching appointment by the school district. Once those are completed and pending Board of Education approval, this will be formalized. A strong effort will be made to have another assistant coach or two (including a woman athlete).
All skaters who are 2010 birth year and older will be eligible to try out for Ithaca High Girls Varsity. Mergers will be arranged to include school districts in addition to Ithaca and Lansing. Trumansburg, Cortland, Binghamton area, etc. are being approached. For reference, the Skaneateles Varsity Girls Hockey team draws from seven different school districts throughout Central NY, including Liverpool, West Genesse, Baldwinsville, Auburn, and others. 8th Graders will need to pass the Athletic Placement Process (APP) test prior to tryouts, either with ICSD or their own district.
Please share this information with potential team members. If you have questions or concerns, contact Samantha Little, [email protected] 607-274-2155