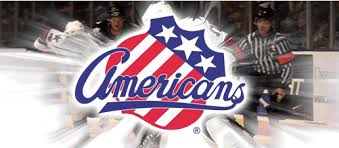 Meeting for the first time in the playoffs since 2000, the two oldest American Hockey league franchises opened their best-of-seven Eastern Conference Finals series in Hershey Tuesday night and Rochester skated away with a 4-1 victory. This is Rochester's first trip to the conference finals in 19 years.
The Amerks tallied twice in each of the first two periods with Youngstown, NY native Joseph Cecconi opened the scoring on his 26th birthday just 14 seconds into the contest before Brett Murray tapped in a between-the-legs pass from Michael Mersch at 9:04 of the first period.
"We wanted to have an aggressive start…and used the defenseman as a screen," Cecconi said about his goal on the first shift of the game. "We expect every team we play to run around and try to play physical on us, but we just stick to our game."
Rochester put the game out of reach as defenseman Matt Bartkowski scored from the left point low blocker side at 1:42 of the second followed by a Mason Jobst tally in the final half of the second period.
Lukas Rousek added an empty-net tally with 61 seconds remaining as extra insurance.
Hershey netted a four-on-four goal about midway through the third period to break up the shutout bid of Amerks goaltender Malcolm Subban, who made 21 saves in net.
"Our team was blocking shots and taking away the back door, so it was about making the first save," Subban said.
"We're not trying to make statements; we're just trying to win games…and tonight we did enough to give us a chance to win the game…and now we have to reset, learn some things and come back for another game," Rochester head coach Seth Appert said.
The win extended Rochester playoff winning streak to seven games—their longest since 1991 when they won ten in a row.
Hershey hosts Rochester for Game Two Thursday night before the Amerks return home for games three and four Saturday and Monday nights.