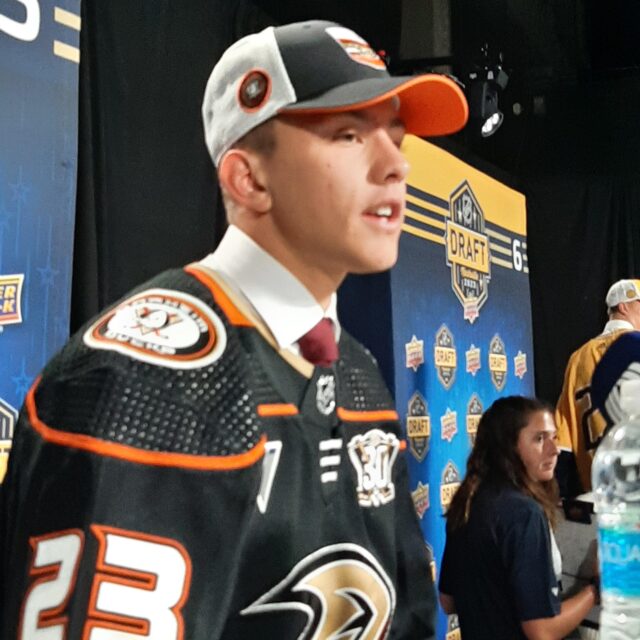 By Warren Kozireski —
Carey Terrance, from Akwesasne, NY, a small town across the river from Cornwall, Ontario on the St. Lawrence, was selected in the second round of the 2023 NHL Draft by the 59th overall by the Anaheim adding to their New York stable of players with Trevor Zegras.
"I had a great meeting with them at the Combine, but to be honest I didn't know what was going to happen today," Terrance said in his post-draft media scrum. "I just went with the flow and couldn't really do anything, so just waited for it (his named being called) to happen.
Ranked 38th in the final rankings among North American Skaters, the 6'1" and 174 lb. center, who turned 18 years old in May, netted 30 goals in 67 games in his second season with the Erie Otters in the Ontario Hockey League last season.
"I think I'm a versatile player. I can play on the power play; I can play on the man-down and can play wherever Anaheim needs me to play. I think I can come in within the next few years and play a role. I'm going to bring excitement to the fans and, like I am at home, be a great leader and role model in the community."
Back home his family and friends had a Draft watch party at the A'nowara'ko:wa Arena. Terrance has been and now has solidified his status as someone younger kids can look up to when pursuing their dreams on the reservation.
"I bet they're all going crazy right now at home. I got surprised with a parade when I got back from the U-18's; I don't know what can top that off.
"I like to think of myself as an idol for the kids growing up and I always tell them they don't have to just play one sport. I always played hockey and lacrosse growing up. Hopefully I do start a trend (of kids looking at hockey as an option), but lacrosse is in our heritage, it's in our roots, but I hope a lot of kids kind of get inspired by me."
Now Terrance is off to the Ducks Development Camp before heading back to Erie for his third season with the Otters. He wore an "A" last season and could get a "C" this year.
And as for the advice he would give his younger self and those now looking up to him?
"Stay on your roller blades, that's what I did when I was young. I remember my mom driving beside me on our driveway to see how fast I was going. Stay on your roller blades and stay outside—that's the advice I would give."
(Photo by Koz, NY Hockey OnLine)