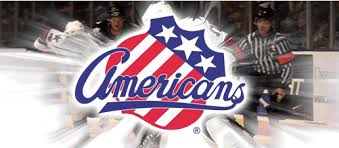 Amerks win Ticket Sales Department of the Year for 2022-23 season
---
(Tucson, AZ) – The Rochester Americans received seven team achievement awards honoring business excellence, including the Ticket Sales Department of the Year for the 2022-23 season, at the 2023 AHL Team Business Meetings presented by Ticket Evolution as more than 250 representatives from the league and its member clubs gathered recently at the JW Marriott Starr Pass Resort in Tucson, Ariz.
"This is a true testament to the devotion and hard work of our incredible front office staff and leaders of our organization," said Amerks Vice President of Business Operations Rob Minter. "This recognition is a result of tremendous teamwork, collaboration and leadership over the season and I'm immensely proud and appreciative of everyone's efforts in making this past season one of the most memorable in our team's storied history."
Team and league front-office personnel from throughout the American Hockey League convened to discuss best practices and innovative ideas in several areas, including ticket sales, corporate sales, marketing and digital media. These interactions allow for the sharing of ideas and gaining of insights from some of the sports industry's leading strategists as the AHL's 32 member clubs prepare for a new season.
The Amerks were among the AHL teams honored with an 85 percent renewal rate in corporate sales revenue for the 2022-23 season, a mark the team has reached seven times since the 2016-17 season. In addition to selling 600 new full season equivalents (FSE), Rochester also saw a 15 percent increase in per game FSE revenue, per game group ticket revenue and growth in overall corporate revenue.
Rochester was also one of only three teams to generate more than $27,500 in revenue through AHL team subscriptions this past season, joining Hershey and Utica as the top organizations in that regard.
The team's biggest achievement came in ticket sales as the Amerks successfully generated more than $1 million in Season Ticket Revenue for the first time in their 67-year history, totaling nearly $1.2 million during the 2022-23 campaign.
The Amerks posted a recovered full-season ticket sales revenue rate of 126 percent, doubled their group ticket sales and increased their individual ticket sales by more than $300,000. The team also finished in the top five in the league for overall increase in revenue growth, holiday pack FSE's, new FSE's sold over the course of the season and FSE recovered revenue. More impressively, the team accomplished all of this with most of its staff in only their first or second year of selling tickets for a professional sports organization.