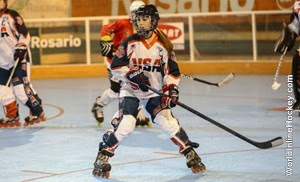 ROSARIO, Argentina – Rising Manhattanville College sophomore Sarah Sinning (Southold, NY/National Sports Academy) earned a silver medal for the second straight season at the 2015 FIRS World Inline Hockey Championships, helping the United States to a second-place finish in the Senior Women's Division at the seven-day event, held from June 7-13.
Team USA went 3-0-1 in the preliminary round to earn the top seed in Pool A, then beat Colombia 5-1 in the quarterfinal round behind a Sinning hat trick. The Americans reached the title game with a 1-0 win over Spain in the semifinals, but came up just short in the championship game, falling 2-1 to the Czech Republic.
After scoring four goals with four assists with the USA junior squad last year, Sinning proved herself to be one of the senior team's top players this season. She ranked second on the 10-person Team USA roster and 10th among all players at the tournament overall with five goals in seven games, and also added two assists for seven points.
As a freshman with the Manhattanville women's hockey team, Sinning scored five goals with three assists for eight points in 2014-15, ranking fifth on the team in goals and sixth in points. Sinning will be the top scorer returning to the team in 2015-16, when the Valiants look to capture their ninth ECAC East Conference Tournament championship.