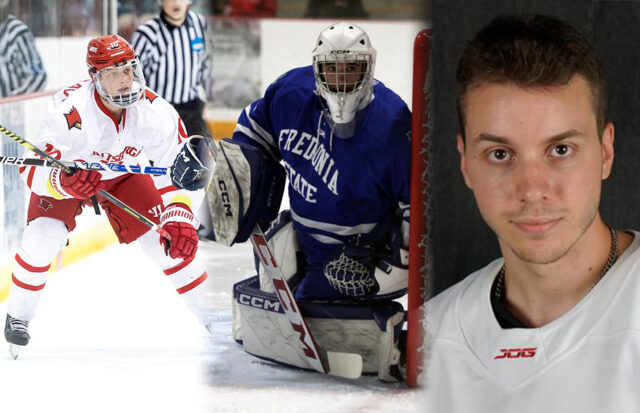 SYRACUSE, N.Y. – Joshua Belgrave (Plattsburgh, Charles-Anthony Barbeau (Fredonia) and Tio D'Addario (Plattsburgh) have been picked as the SUNYAC Men's Ice Hockey Player, Goaltender and Rookie of the Week respectively.
Belgrave had a strong weekend, scoring three goals and adding one assist over two Plattsburgh wins. The sophomore forward scored twice in the team's win against Geneseo, scoring a short-handed goal to put his team up 2-0 early in the first period, and then helped seal the win with an empty netter in the third period. Against Brockport, the Ontario native assisted on the game-winning goal and then once again sealed the win with an empty netter late in the third period. In both games. he registered a +/- mark of +2 and currently leads Plattsburgh with six goals and nine points.
Barbeau came up huge for the Blue Devils in their 4-1 win at Buffalo State. The sophomore made 40 saves in holding back the Bengal offense to give the Devils a 4-1 victory. The only blemish was a power play goal midway through the third period after the Devils had built a 3-0 lead. He registered a .976 save percentage for the game.
First-year forward D'Addario continues to be a huge part of the Cardinal offense in the early part of the season, as he tallied two more points in two Plattsburgh wins. Against Geneseo on Friday night, the Montreal native scored the game's opening goal in the first minute to give the Cards an early lead. D'Addario added an assist in the team's win against Brockport as well, finishing his weekend with a +/- mark of +2 over his two games last week.
(SUNYAC Photo)