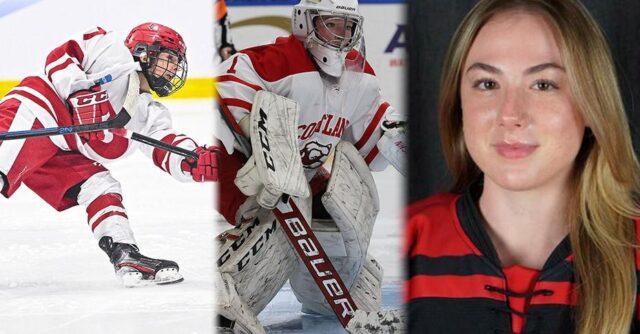 SYRACUSE, N.Y. – The SUNYAC has named Plattsburgh's Julia Masotta the Women's Ice Hockey Player of the Week. Cortland's Molly Goergen was picked as the Goaltender of the Week and Plattsburgh's Zsofia Pazmandi the Rookie of the Week.
Masotta enjoyed a milestone weekend for Plattsburgh this past week, tallying six total points over two games, eclipsing the 100-point mark in her career. Masotta began her weekend with her big achievement, as she registered a goal and two assists against Buffalo State, assisting on Zsofia Pazmandi's goal to hit 100 points for her career. On Saturday against Morrisville, she achieved the same line, posting a goal and two assists in a 6-0 win.
Goergen posted a 2-0 record with a 0.50 GAA, 84 saves, a .988 save percentage and one shutout for the 11th-ranked Red Dragons last weekend as they swept Canton in a pair of SUNYAC road games. In a 3-0 win on Friday, Goergen registered a career-high 54 saves. She then stopped 30 shots and recorded a .968 save percentage in a 3-1 victory on Saturday. For the season, Goergen has posted a 4-0 record with a 0.74 GAA, a .978 save percentage and one shutout.
Pazmandi picked up her first three collegiate points in a big way over the weekend, notching three points in a 6-0 win over Buffalo State. The first-year forward scored her first two goals of her career as well, both on the power play, while also picking up an assist. Against Morrisville, she was +1 while on the ice, helping Plattsburgh to another 6-0 win.
(SUNYAC Women's Hockey Photo)
Share