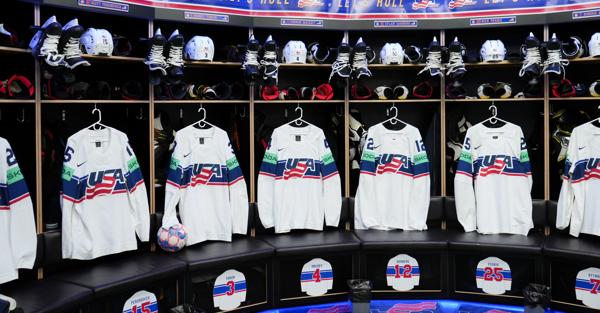 2024 IIHF Men's World Championship Set For May 10-26 in Czechia
COLORADO SPRINGS, Colo. – Brett Peterson (Northborough, Mass.), who is in his fourth season as assistant general manager of the Florida Panthers, will serve as general manager of the 2024 U.S. Men's National Team, it was announced today by USA Hockey.
"We are really excited to have Brett as the general manager of our men's national team," said John Vanbiesbrouck, assistant executive director of hockey operations for USA Hockey. "He has done a terrific job in helping build the Florida Panthers, and his extensive knowledge of the overall player pool in our country will be really beneficial in putting together our team for the world championship."
The U.S. Men's National Team will compete in the 2024 IIHF Men's World Championship, which is set for May 10-26, in Prague and Ostrava, Czechia. Team USA is part of Group B alongside France, Germany, Kazakhstan, Latvia, Poland, Sweden and Slovakia and will play its preliminary round games at Ostrava Arena. Group A, which includes Canada, Finland, Switzerland, Czechia, Denmark, Norway, Austria and Great Britain, will play it preliminary round games at Prague Arena where the tournament's semifinals and medal games will also be contested.
The U.S. Men's National Team Advisory Group, led by Vanbiesbrouck and including NHL general managers Kevyn Adams (Buffalo Sabres), Craig Conroy (Calgary Flames), Chris Drury (New York Rangers), Tom Fitzgerald (New Jersey Devils), Mike Grier (San Jose Sharks), Bill Guerin (Minnesota Wild), Lou Lamoriello (New York Islanders), Chris MacFarland (Colorado Avalanche), Don Waddell (Carolina Hurricanes) and Bill Zito (Florida Panthers), will assist Peterson in assembling the roster for 2024 U.S. Men's National Team.
Brett Peterson
ABOUT PETERSON
Brett Peterson became the first Black assistant general manager in the NHL when he joined the Florida Panthers front office in 2020, and during his tenure, the team has made three playoff appearances, including a trip to the Stanley Cup Final in 2023.
Prior to joining the Panthers, Peterson served as the vice president of hockey for Wasserman Media Group and was a certified NHL player agent starting in 2009.
Peterson played four seasons of college hockey at Boston College and won a national championship with the Eagles in 2001. He graduated with a degree in communications in 2004 before playing five seasons of professionally in the AHL, ECHL, and IHL from 2004-09.
NOTES: The U.S. is 22-6 over the last three men's world championships. Team USA won eight of 10 games a year ago and finished fourth in the tournament … The U.S. has earned three bronze medals in the last eight tournaments, including 2021, 2018 and 2015.
(USA Hockey Men's Hockey Photos)