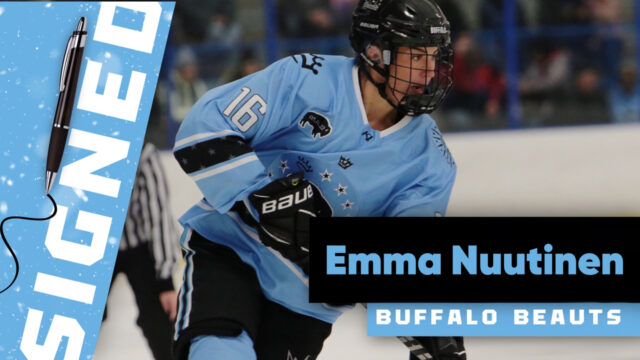 BUFFALO – Two-time Olympian Emma Nuutinen is returning to the Buffalo Beauts for a second season. The 26-year-old winger made her North American professional debut with the team during the past 2022-23 Premier Hockey Federation campaign. Nuutinen has inked a one-year deal with Buffalo with intentions of being an even more impactful player. Terms of the deal will not be disclosed.
"I enjoyed my first season with the Beauts and I believe in this program," said Nuutinen. "I'm beyond excited to be back in Buffalo for another year!"
Nuutinen tallied four goals, six assists and 10 points during her first season as a Beaut while playing in all 24 of the club's regular season games. Her finest performance came during a 4-2 road victory on February 18 against the Minnesota Whitecaps when she scored a pair of goals, including the game- winner on the power play. Nuutinen finished second on the team for shots on goal with 56 and competed for PHF Team World at the 2023 All-Star Showcase.
"I think last season we saw glimpses of Emma's brilliance," said Beauts GM Nate Oliver. "She was on the mend from a knee injury and didn't really have the same timetable as everyone else to be at peak performance last season. The best is yet to come. Physically, Emma is one of the most powerful players
I have ever worked with. I call her 'Mestari' which is the Finnish word for 'the Champ'. Noora Räty told me last year that this is what the Finnish National Team players have always called Emma, so I followed suit – it's definitely a word that properly defines Emma!"
The 5-foot-10 native of Vantaa, Finland is an Olympic bronze medalist for Team Finland from the 2018 PyeongChang Winter Games. She also won a silver medal and two bronze medals in competition at IIHF Women's World Championships. Nuutinen is a 7-time member of the Finnish Women's National Team and is 2-1-3 for scoring in 12 Olympic contests between the 2014 Sochi Games and the 2018 tournament.
Collegiately, Nuutinen played NCAA Division 1 hockey for the University of North Dakota and Mercyhurst University. She scored 10 goals, nine assists, and 19 points in 34 games at North Dakota as a freshman before playing her final three NCAA seasons for Mercyhurst. Nuutinen's top season offensively came as a senior when she tallied 21 goals, 19 assists, and 40 points in 34 games for the Lakers. In total, Nuutinen went 55-45-100 for scoring in 121 career NCAA games. She ranks fourth all- time in scoring by a Finnish player in NCAA history.
"PHF fans can expect to see a definitely more confident Emma on the ice this coming season," said Nuutinen.
The re-signing of Nuutinen follows this week's announcement of negotiated second-year contracts for returning forward Summer-Rae Dobson and defender Dominique Kremer as the Beauts continue roster building for the 2023-24 PHF season.