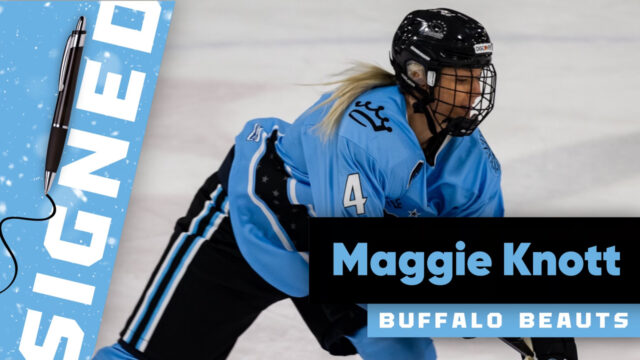 BUFFALO – The Buffalo Beauts have re-signed rangy center Maggie Knott for the 2023-24 Premier Hockey Federation season. A late addition to the team last season, the 5-foot-11 forward from Smith Falls, Ontario, Canada became a steady presence for the Beauts through the back half of 2022-23. Terms of the 1-year contract will not be disclosed.
"I wanted to re-sign with the Beauts because I think this program has a bright future," said Knott. "The culture that both the players and the staff bring to the rink each day really makes you want to be a part of it."
Knott originally signed with the Beauts as a practice player last season. A short time later she was signed to a standard contract and suited up for nine regular season games with the team. Knott picked up a pair of assists through those nine contests. She earned an assist in her first PHF game – a February 5 meeting on the road against the Toronto Six. Knott went 32-28 in the face-off circle for Buffalo and her .533 winning percentage was best on the team among skaters taking at least 50 draws.
"With Maggie's build and her skill set, she has an uncanny ability to keep the puck where the opposition just can't quite reach it – she steals it and holds onto it so readily," said Beauts GM Nate Oliver. "Maggie and I joked last season because she told me college her program never let her say she was taller than 5-foot-11, and there is no way in hell that she is under 6-foot. We used her sparingly last season, and I know Maggie fully believes – and I believe as well – that in a larger role this upcoming season she will do more damage. She is so good with her puck control."
Knott's collegiate career saw her play 142 NCAA games for Mercyhurst from 2016-17 through 2019-20. She compiled 31 goals, 65 assists and 96 points during that time. Knott's finest offensive season came in 2017-18 when she set career highs in goals (12) and points (29) in 37 games. She served as an alternate captain for the Lakers during her 2018-19 junior campaign and became team captain as a senior in 2019-20.
Prior to joining the Beauts last season, Knott played with the PWHPA during the 2020-21 campaign.
"I'm super excited or this upcoming season," Knott said. "My goal is to be able to contribute in both ends of the ice, and obviously to bring the Isobel Cup back to Buffalo!"
Knott's signing brings her into the fold alongside Beauts returners Dominique Kremer, Summer-Rae Dobson, Emma Nuutinen, and Allison Attea, along with Beauts' rookies Tatum Amy, Amalie Andersen and Ally Johnson.