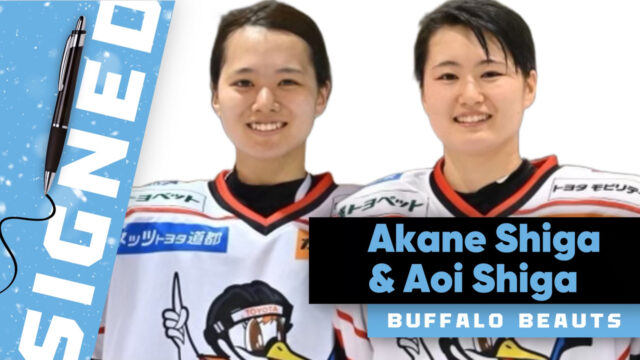 BUFFALO – Olympian sisters and members of the Japanese Women's National Team – Akane and Aoi Shiga – have signed two-year contracts with the Buffalo Beauts. Terms of the deals will not be disclosed. 22-year-old Akane – a forward – played for Japan at the 2022 Olympic Winter Games. Soon to be 24-year-old Aoi – a defender – played in both the 2022 Games in Beijing and the 2018 Games in PyeongChang. Both players competed at the recent 2023 IIHF Women's World Championship in Brampton, Ontario.
"Currently there are no Japanese players in the PHF," said Aoi, "so I will play with the pride of being a Japanese player and help bring a new style to the team. Besides hockey, I hope that my teammates will know the solidarity of my country and that I will have a good relationship with all of them."
"I have had a desire to play abroad for a long time," said Akane. "I received an offer from Buffalo and had a great conversation with General Manager Nate Oliver. I agree with the team philosophy, and I found that the environment is great. I'm excited to be one of the Beauts."
Both players appeared in all six of Japan's games in Brampton. Aoi scored a goal in a 4-3 loss to Switzerland on April 10 while Akane picked up the primary assist on her sister's tally. The Shiga sisters were both among team leaders in average ice time at their positions and helped Japan stave off relegation and take a seventh-place finish in the tournament. In 30 career games in the Top Division for Women's Worlds, Aoi is 2-3-5 for scoring from the back end. Similarly, Akane is 8-3-11 for scoring up front in 22 career games at the same level for Japan.
"We are very excited that Akane and Aoi have decided to join the Beauts for the next two seasons," said Beauts GM Nate Oliver. "I had been aware of both players for quite some time. Aoi actually played in Buffalo at the 2015 Women's U18's, so I initially saw her there. I scouted them both closely up in Brampton back in the spring. They are two of the most successful players from Japan's Women's National Team and I believe that they can be mainstays within the Beauts' organization. Furthermore, both Aoi and Akane reflect the values of outworking the opposing team and being steadfast, reliable teammates to others."
The Shiga sisters, who hail from Hokkaido, Japan, have been two of Japan's most quintessential players at recent Olympics. Through five games at the 2022 Beijing Olympics, Akane (2-1-3) and Aoi (0-3-3) helped Japan earn victories over Sweden, Denmark, and Czechia.
"I have a strong affinity for scoring," said Aoi. "My strength is shooting from any angles or from any distance to score. I want to contribute to the team's success by scoring."
"I am full of feelings that I want to be in Buffalo and play as soon as possible," said Akane. "I am really looking forward to playing with this great team, having a wonderful environment and being with these high-level players."
The Shiga sisters are now the fourth and fifth rookies to join the Beauts for the 2023-24 Premier Hockey Federation season alongside Tatum Amy, Amalie Andersen and Ally Johnson. They join veteran Beauts Dominique Kremer, Summer-Rae Dobson, Emma Nuutinen, and Allison Attea.