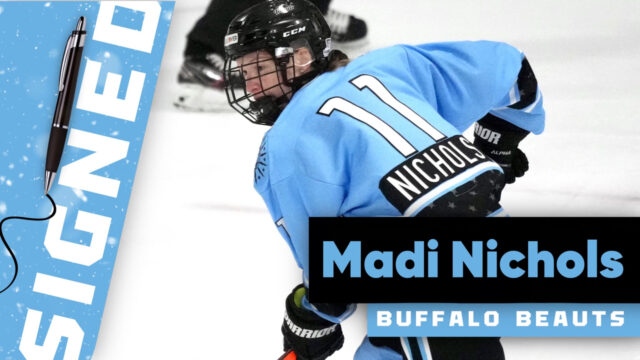 BUFFALO – The Buffalo Beauts have re-signed forward Madi Nichols to a one-year contract for the 2023-24 Premier Hockey Federation season. The 22-year-old winger from Trinity, Florida was the youngest players on the Beauts' roster last season. Terms of the deal will not be disclosed.
"I decided to re-sign with the Beauts because of the culture built around this team," said Nichols. "The players and staff push you every day and it's an atmosphere any player would want to be a part of. I am confident in this team and the foundation we have built, and I know we will be making a run for the Isobel Cup this year."
Nichols played in 22 of the Beauts 24 regular season games in 2022-23, missing the final two games due to injury. She went 1-2-3 for scoring while playing primarily in a fourth-line role. Nichols scored the first goal of her professional career on February 5 against the Toronto Six.
"Sunny is the best teammate you could ever hope for," said Beauts GM Nate Oliver. "She is beloved by all the Beauts players because of how hard she works and how she treats other people. An extremely coachable athlete, she does whatever is asked of her and can fill any role on the ice that you need her to. Sunny has an uncanny ability to break up plays and get in the way of pucks. You need your troopers who do all the little things right, and she definitely does. This is a person who shows up every day and appreciates each moment."
At the collegiate level, Nichols led the Nazareth College Golden Flyers in scoring for both the 2020-21 and 2021-22 seasons. She scored 37 goals, 59 assists, and 96 points in 86 NCAA Division III games for the Golden Flyers – an average of 1.13 points per game. At the conclusion of her collegiate career, she ranked third in career goals, second in career assists, and second in career points in Nazareth program history. Prior to college, Nichols helped lead J.W. Mitchell High School to three state titles in Florida.
"I am very excited for this upcoming season and what this team has to offer," Nichols said. "I can't wait to get back on the ice with the team and prove people wrong this year. I have a positive mindset going into this season and I know the expectations are high but I plan to exceed them. I don't feel like I proved myself last year and I know I have a lot more to give to this team. I am confident that I have prepared myself to perform at my best this year."
In addition to the Nichols' signing, the Beauts have also announced signings of goaltender Lovisa Berndtsson, defenders Dominique Kremer, Allison Attea, Amalie Andersen, Aoi Shiga, and forwards Summer-Rae Dobson, Emma Nuutinen, Maggie Knott, Tatum Amy, Akane Shiga and Ally Johnson.