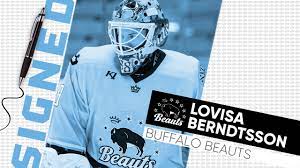 BUFFALO – Goaltender Lovisa Berndtsson has re-signed with the Buffalo Beauts for her third straight season with the team and her 17th season at the professional level. The 34-year-old (who will be turning 35 in December) is the elder stateswoman of the Beauts and a fan favorite. The deal is a one-year contract for the 2023-24 Premier Hockey Federation season valued at $44,000.
Berndtsson stepped into the starting netminder role for much of last season while the Beauts battled injuries in goal. She is primed to be back for another go-round in Buffalo.
"Ever since my first season in Buffalo I've felt at home and have really enjoyed my time," said Berndtsson. "I've gained a lot of friends during my time here and I really want to keep being a part of the Beauts family."
Berndtsson saw action in 13 of Buffalo's 24 regular season games during the 2022-23 PHF season. She went 2-8-3 while facing 402 shots. Berndtsson assembled numbers of a .893 save percentage and a 3.61 goals-against average. She earned the first victory of her PHF career when she turned aside 41 of 42 shots in a Jan. 21, 2023 victory over the Metropolitan Riveters inside the Northtown Center. Eight of Berndtsson's 13 games last season saw her face 30 or more shots.
"We feel very comfortable having Lollo in net for us and it was important to get her back for a third season," said Beauts GM Nate Oliver. "She has faced the best shooters in the world throughout her career, and that level of experience that she brings is key for a younger team such as ourselves. Lollo embodies the values that the Beauts are built upon, such as battling through adversity and never being out-cared. Really glad to work alongside her for another season."
Berndtsson's all-time record for the Beauts is 2-11-3 in 20 regular season games. She was part of history when the Beauts selected her with the first pick of the 2021 International Draft on July 25, 2021. The team would sign her to a contract the very next day.
"I feel like I'm coming in with some good performances from this past season so I want to keep building off of that," said Berndtsson. "My focus is always to play as many games as possible but also be able to contribute with my experience routine. We've been struggling with the results for the past couple of seasons, and I feel like it's time to change that."
Prior to her time in Buffalo, Berntdsson played 14 professional-level seasons in her native Sweden, primarily for the SDHL's Djurgårdens IF. She backstopped Djurgårdens to the SDHL's championship title during the 2016-17 season. Her career regular season record from Sweden is 96- 78-0 with a 2.31 GAA and a .915 SV%.
Berndtsson is also a three-time member of the Swedish Women's National Team. She played in the 2017 IIHF Women's World Championship in Plymouth, Michigan.
Berndtsson is the first goaltender that the Beauts have signed this offseason. The team already has under-contract veterans Dominique Kremer, Emma Nuutinen, Summer-Rae Dobson, Allison Attea, and Maggie Knott, along with rookies Tatum Amy, Amalie Andersen, Aoi Shiga, Akane Shiga, and Ally Johnson.