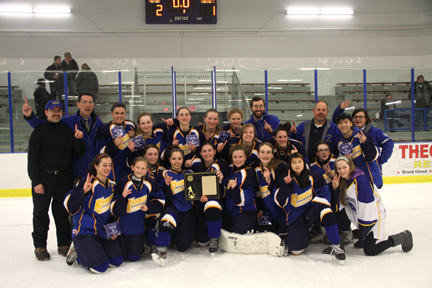 The Kenmore Girls Varsity Ice Hockey Team is headed for the New York State Championship after securing their third consecutive Section VI Championship last night at the Northtowns Center.
The girl's beat Lancaster/Iroquois 2-1 in a very fast-paced, hard fought game.
First period ended with no scoring.
It looked as if the second was headed in the same direction when Jill Basttista dropped in her first goal of the evening at 13:06 unassisted.
Heading into the third period Lancaster/Iroquois tied it when Meghan Fonfara scored at the 6:51 mark, tying the game 1-1.
With Fonfara in the penalty box, Battista scored at 13:21, the eventual winning goal.
For those who have followed the girls over the past four years, Lancaster has maintained last place. This year Iroquois joined them bringing same additional talent and strength. The result was a move from last place to a chance at the titles. They lost this one, but still are in the running for the League title.
Kenmore now plays in the NYS Championship, making a return appearance after the WNYGVIH sent them for the first time last season. Last year they were eliminated in round one by eventual State Champions Beekmantown.
Beekmantown is returning to defend their title with contenders Potsdam High School and Oswego High School. The first game will be played at 6 p.m. and Kenmore has the 8 p.m. slot on Friday (Feb. 7) night. The Championship game will be played at noon on Saturday (Feb. 8)
On Monday, Feb. 10 the WNYGVIH Federation returns to the ice at Northtowns for the League Quarterfinals. Seeding is still being determined due to a makeup game being played this afternoon (Thursday) between Orchard Park/Frontier and Amherst/Sweethome. That game is at 5:30 p.m.
The WNYGVIH Federation is in its fourth season and encourages high schools to enter a team, or combined team. The League is enthusiastically hoping to expand.