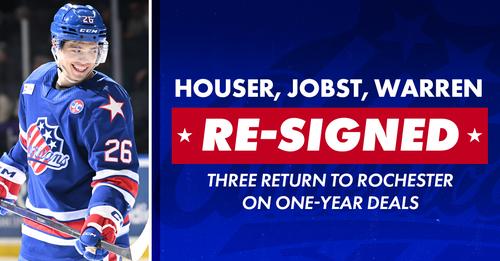 ---
(Rochester, NY) – Rochester Americans General Manager Jason Karmanos announced that the team has re-signed forwards Mason Jobst and Brendan Warren and goaltender Michael Houser all to one-year American Hockey League contracts for the 2023-24 season.
Jobst, 29, returns to the organization after spending the 2022-23 campaign in Rochester, where he produced career-highs in every offensive category in a personal-best 61 games. The Speedway, Indiana, native finished the regular season seventh in goals (14), and eighth in both assists (24) and points (38) amongst all Amerks.
Following the regular season, Jobst topped all Rochester skaters with 10 assists and finished tied for first with 13 points in 14 Calder Cup Playoff contests during the Amerks' run to the Eastern Conference Finals.
In 161 career AHL games with Rochester, San Jose, Bridgeport and Binghamton, Jobst, who is entering his fifth professional season, has totaled 29 goals and 47 assists for 76 points. Additionally, Jobst has added 13 points on three goals and 10 assists in 14 playoff contests.
Prior to turning pro, he completed a four-year collegiate career at Ohio State University (NCAA), where he registered 164 points (69+95) in 150 games with the Buckeyes from 2015-2019 and was a three-time All-Big Ten selection. A two-time team captain, Jobst led Ohio State to its first Big Ten regular-season championship as a senior on his way to earning First Team All-Big Ten honors. Additionally, he was named a Second-Team All-American and the recipient of the 2019 Big Ten Medal of Honor as well as a finalist for the Hobey Baker Award.
Warren, 26, returns to the organization for his third season after establishing career-highs in both assists (4) and points (7) in 43 games with the Amerks in 2022-23. In addition to recording three goals in the regular season, Warren produced five points (1+4) in eight Calder Cup Playoff contests during the Amerks' run to the Eastern Conference Finals.
In 104 career games in the AHL, all with Rochester, the 6-foot-0, 192-pound forward has registered 19 points (11+8) while also totaling 50 points (23+27) in 91 contests with the Jacksonville Icemen (ECHL).
As a rookie with Jacksonville in 2020-21, Warren represented the Icemen at the 2020 ECHL All-Star Classic. He finished tied for team-lead in goals (14) among all first-year skaters and second in points (28) and fourth in assists (14) in 47 games.
Prior to turning pro, the Carleton, Mich., native completed a four-year collegiate career at the University of Michigan (NCAA), where he registered 45 points (18+27) in 149 games with the Wolverines from 2015-2019. As a freshman, Warren helped the maize and blue claim the Big-10 Conference Championship while skating in all 38 games and registering 17 points (5+12).
Warren was originally drafted in third round (81st overall) by the Arizona Coyotes in the 2015 NHL Draft.
Houser, 30, returns to the organization for his fourth season dating back to the start of the 2020-21 season. In 36 career appearances with Rochester, Houser boasts a 15-15-2 record, a 2.79 goals-against average and one shutout.
The 30-year-old netminder was originally signed to an AHL contract with Rochester to begin the season, but he finished the campaign on an NHL contract with the Buffalo Sabres for the third consecutive year.
Houser was named the team's Unsung Hero after finishing the 2022-23 campaign with a 9-8-1 mark and 2.80 goals-against average in 21 games with the Amerks. In addition to recording his first shutout with the Amerks, he also tallied an assist, both of which were his first since the 2014-15 campaign.
A native of Youngstown, Ohio, the 11-year pro netminder has compiled a 47-41-7 record in 109 games as well as four shutouts at the AHL level with Rochester, Tucson, Cleveland, Ontario, and San Antonio. Additionally, he boasts a 133-66-23 record and 11 shutouts in 228 career ECHL games between the Cincinnati Cyclones, Manchester Monarchs and Fort Wayne Komets.
Houser is also 4-2-0 with a 2.98 goals-against average and .917 save percentage in six career NHL appearances with the Sabres.
During the 2020-21 season, Houser made his NHL debut with a 34-save effort on May 3 to earn his first career victory. He was just the seventh goaltender in Sabres history to record a win in his first start. Two nights following his victory over the New York Islanders, Houser won his second straight contest as he stopped 45 shots he faced against the Islanders, becoming the first Buffalo goaltender to win his first two NHL starts since Mika Noronen did so on Oct. 5 and 7, 2000.
Houser's best year came in 2018-19 when he showed a 29-7-5 record in 41 appearances while backstopping Cincinnati to an ECHL-best 51-13-5-3 mark during the regular season. He finished the season ranked second in the ECHL with a 2.13 goals-against average and fourth with a .922 save percentage, while his 29 wins tied for most in the league. Following the conclusion of the 2018-19 season, Houser was named the ECHL Goaltender of the Year and was selected to the ECHL First All-Star Team.
Prior to turning pro, the 6-foot-2, 185-pound goaltender spent three seasons with the London Knights of the Ontario Hockey League. In 141 games for the Knights, he showed a record of 93-38-7 along with seven shutouts, a 2.90 goals-against average and .912 save percentage. In his final season in 2011-12, Houser was named the OHL Goaltender of the Year and the recipient of the Red Tilson Trophy as the league's Most Outstanding Player before earning a selection to the CHL Memorial Cup All-Star Team.
(Amerks Photo)