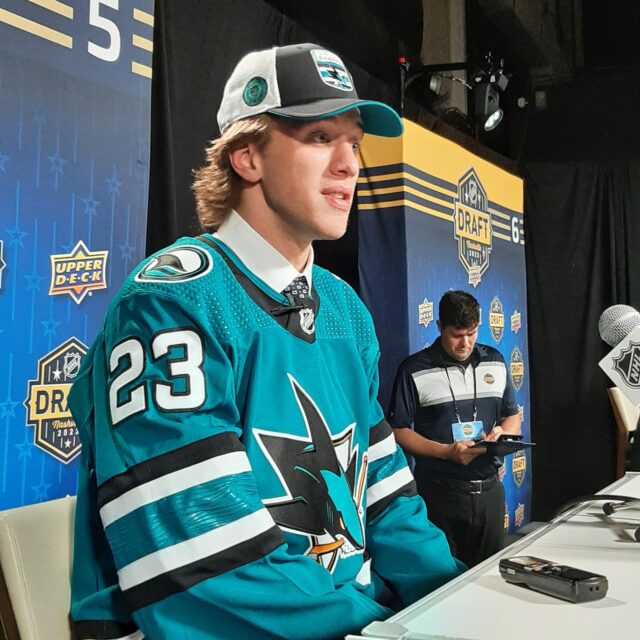 By Warren Kozireski —
NASHVILLE, TENN — Ranked anywhere from tenth to 23rd by various hockey websites and scouts, Quentin Musty from Hamburg was taken in the first round of the 2023 NHL Draft in Nashville 26th overall by the San Jose Sharks.
"No words really to describe it; just unbelievable," Musty said in the post draft media scrum. "Just sitting there and obviously nerves are going; just trying to get through it and a big relief when I heard my name called and getting to spend that moment with my family was great."
Musty has the build that teams are looking for at 6'2" and 190 lbs. And he is coming off his best offensive season with 26 goals and 78 points in 53 games with Sudbury in the Ontario Hockey League this past season—more than doubling both categories from the season prior.
"For me (I need to) become more explosive and work on my skating. I think I've got a good skill set with my playmaking and shot. I think just becoming more of a complete player and that's what I've been working on.
The Jr. Sabres and North Jersey Avalanche product was too young to watch San Jose General Manager Mike Grier when he played for the Sabres but has heard about the player from his dad.
"I know he was a tough guy back then—my dad is a big fan growing up in Buffalo—but from what I've seen and heard, he's a great guy and obviously changed my life today, so I appreciate that."
Musty had a large cheering section of 60-70 family members and friends on hand in Nashville and they were noticed.
"My mom's got a lot of brothers and a sister, and they live all over the country, so (when I was) down in Carolina or New York City for a tournament or something, they're there to support and it's been that way since I was six or seven. And my dad's side all live in the area I grew up in.
"Having that support and such a close-knit family and for them to all be here today meant so much to me. They brought me to this point and I'm happy to have them as part of my journey today."
(Photo by Koz, NY Hockey OnLine)