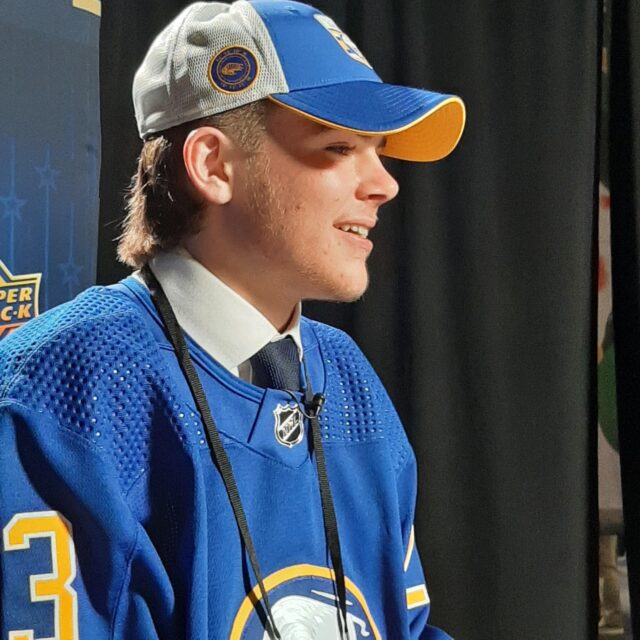 By Warren Kozireski —
NASHVILLE, TENN. — No trade ups; no trade downs. The Buffalo Sabres simply made their first-round selection with the 13th overall pick and took last year's first rounder, Matt Savoie's linemate in Zach Benson of the Winnipeg Ice in the Western Hockey League.
"It's obviously super exciting; you dream of this moment, but it's also nerve-wracking," Benson said. "I would say for most of the day I was pretty nervous, but it was mixed with the excitement.
"It's pretty surreal wearing an NHL jersey it's pretty amazing and I'm super-thrilled right now."
Benson, a 5'10, 170 lb. forward, scored 98 points in 60 games this past season including 36 goals. He added 17 points in 15 playoff games as the Ice advanced all the way to the league championship series.
"Work ethic is one of my strong suits and I take a lot of pride in it and I'm looking forward to this next year and my goal is to just keep improving.
"Me and Sav (Savoie) played the whole year together on the same line, killed (penalties) and played on the power play together and now to be sharing the same NHL jersey is pretty amazing and I'm looking forward to it.
But Benson's Buffalo ties don't stop at Matt Savoie. He also was a teammate of Peyton Krebs in his first year in the WHL as a 15-year-old. And his head coach is former Sabres defenseman James Patrick.
"It's been huge, obviously, learning from a guy like James Patrick. Every day you learn stuff from a guy who played 20 years in the NHL. I learned a lot from Peyton in my first year in the Western League. He's probably the best leader that I ever played for.
After Development and Prospect Camps, Benson will head back to the WHL, but now in Washington with the league move of the Winnipeg franchise. But he will be keeping an eye on his two former and future teammates and hoping to join them soon.
"Their roster is looking pretty dangerous, so to be a part of that plan and where they're heading, I'm super pumped."
(Photo by Koz, NY Hockey OnLine)