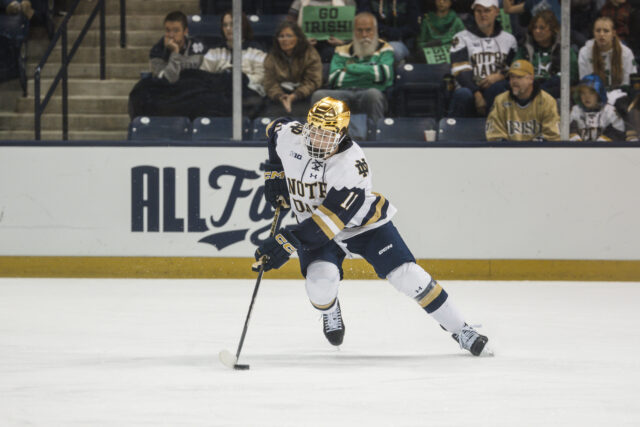 By Warren Kozireski —
The New York Islanders scouting staff obviously saw something in U.S. National Tea, Development Program center Danny Nelson.
Projected 98th in The Hockey News Draft Preview, the 6'2", 212 lb. center was taken 49th overall in the second round in Nashville this past June.
Now in his first month in his first season of collegiate hockey as a true freshman with Notre Dame, he is playing the middle on the second line with a senior and a graduate student.
"Definitely been a lot of stuff this summer; a lot of fun," Nelson said. "But it's nice to be back in the swing of things playing hockey. It's good to play with a couple of guys and have a lot of experience, so they obviously help me, and I try to help them the best I can. They let me know how it's going to be and how the pace is going to be and help me adjust to this—I'm enjoying it."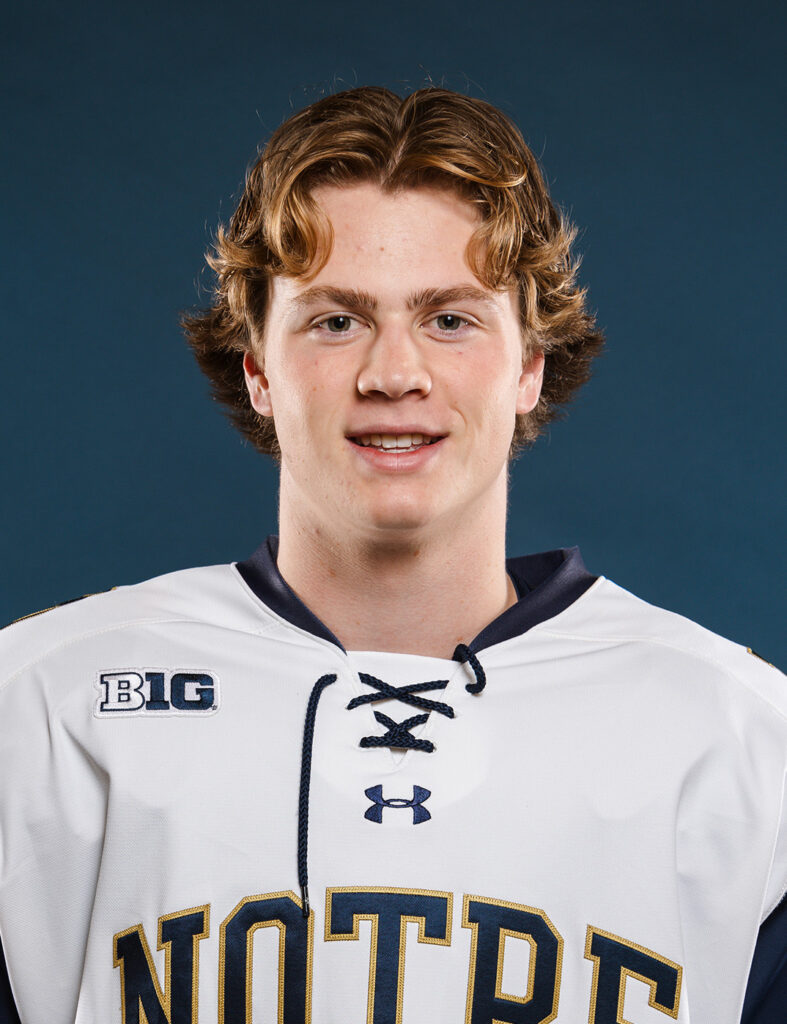 Nelson netted a goal in his second game—a 3-0 win over Clarkson. In 92 combined games over the USHL schedule, the USNDP program's games played against college teams at the World Junior U-18 tournament, he scored 33 goals with 38 assists.
"I do have the puck; they gave it to me luckily. It's pretty nice to be able to keep that one. I have a couple, but I'm trying to add more—that's the goal now.
The Maple Grove, Minnesota native played with Green Bay in the USHL before joining the National program. He has not been shy during his initiation to college hockey with a team-leading 11 shots through the first two games. And he has shown a knack in the faceoff circle as well going 21-13 in the third game against RIT.
"It's been good; just adjusting to school and obviously getting used to the pace, but it's been a good transition so far. I wouldn't say there have been too many big surprises. Last year we got to play quite a few college games, so I kind of knew what to expect, so honestly, I wasn't too surprised about anything."
Some other outlets, including his write-up in the Draft Preview, are making a big deal about a position change from defense to forward delaying his development. But he was asked to play defense for only one year due to roster shortages.
"Not a big deal because I played forward all the way growing up and just one year of defense and I feel, if anything, it just helped me even more. I don't think it hurt me at all."
As a bonus, Nelson is playing this season for the first time with his older brother, Henry, on the Fighting Irish. They are one of three sets of brothers on this year's team and 17th in Notre Dame hockey history.
"It's been awesome; it's been fund to spend time with him and be able to hang out with him at the rink and our dorms and all around campus and a couple of classes too, so it's been a great time."
The Islanders will be patient with their 2022 second round selection, but his skating ability and size should push the issue after he spends at least a season in the weight room between weekends adding to already large frame.
(Photo's Provided by Notre Dame Hockey/Athletic Department)