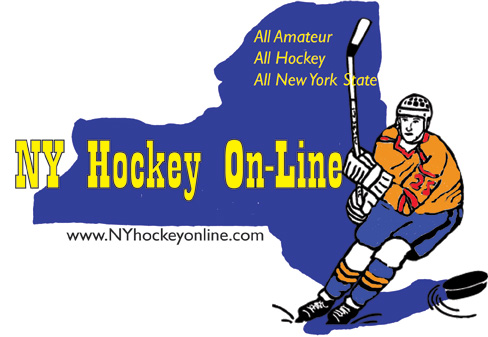 The 2013 Empire State Winter Games opened Thursday evening with a ceremony and fireworks.
The women took to the ice this morning with the Western Region defeating Central 3-1. The first goal came from the West's Lindsay Shubback followed by two from Katie Stack. Assists in the game came from Stack, Bernadette O'Connell, Nicole Scuteri, Shawnee Oberholtzer.
For Central the goal came from Tanya Crump, assisted by Jenda Kwaitkowski and Andrea Wing.
Buffalo's Ashley Schneegold made 15 saves and Central's Lauren Dahm made 27, playing exceptionally well for Central in an exciting first game of the 2013 series.
In Game 2 is was Adirondack over Long Island 15-1. The single Long Island goal came off the stick of Maryanne Diehm, assisted by Ariana Riggio in the third period.
Stephanie Moberg had a hat trick for Adirondack, while Christine Powers, Stephanie Holmes and Tara Akstull put in two each; Kara Buehler, Helen Grioux, Monique Rafferty, Kaitlin Hayes and Laurie Haley each had one.
Long Island's goaltender Danielle Glinski made 35 saves and Adirondack goalie Chanel Johnston made 10.
New York City overwhelmed Hudson Valley 12-0 in Game 3. Contributing to New York's scores were Lindsey
Cashman and Stephanie Couzin with hat tricks; Kathryn Kroleski and Cherie Stewart with two each and Rebecca Fisher and Caroline Parks each with singles.
Hudson Valley Goalkeeper Sophia Kokkonic made 27 saves while back-up goalies Nancy Hagerty made 5 and Karen Evans made 6.
New York also used two goaltenders in Ashley Walenty and Alisha Cattelan. Ashley had 4 saves and Alisha, 5.
Comment from the games were that Hudson Valley never gave up.
The West played to a 7-2 victory over Long Island in Game 4. In goal for West was Lauren Orynawka, making 18 saves and for Long Island, Danielle Glinski, making 47.
The West opened the scoring in the first period with Kathryn Galbo. The other goals came from Bernadette O'Connell and Katie Stack. Stack had four goals, including a natural hat trick.
Long Island's scorers were Samantha May and Melissa Reeves.
Game 5 saw Adirondack beating New York City 4-2. Adirondack opened the scoring at 13:30 of the first period. Rafferty had two goals, Holmes and Powers each had one in the victory. The NYC goals came from Park and Couzin. Assists came from Adirondack's Laurie Haley, Holmes, Christie Sharlow and Rafferty and for NYC, Annie Annunziato and Cherie Stewart.
The final game on Friday saw Central and Hudson Valley end in a 1-1 tie. Goaltender Lauren Dahm made 39 saves and Hudson Valley's Haggerty made 23. Scoring first was Hudson Valley's Christina Beam in the second period and Central made their move at 24 seconds by Kristi Ronson-Robins.
Saturday will see NYC facing off against the West in Game 7 followed by Long Island/Central; Hudson Valley/Adirondack; NYC/Long Island; Adirondack/Central and West/Hudson Valley.