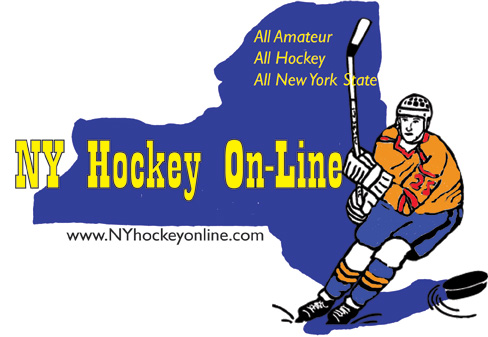 The West opened play on Saturday with a 2-1 loss to New York City.
With all 3 goals coming in the first period, it was Lindsay Shubbuck (West) who put in the first goal. It was followed by goals by Lindsey Cashman and Kathryn Kroleski. That ended the scoring for the game.
New York's Ashley Walenty made 15 saves while the Western goalie, Ashley Schneegold made 35.
Game 8 was a tight 6-5 win for Central against Long Island. Central's Allisa Coomey had a hat trick, Lomento had two goals. Wing opened the scoring in the first, unassisted.
Long Island"s Maryanne Diehm and Ariana Riggio each had two goals and Kaithlyn

Morel a single.
Central's Lauren Dam made 27 saves and Long Island's Danielle Glinski made 26.
Adirondack took Hudson Valley 8-0 in game 9. Hudson Valley was overmatched but held Adirondack to one goal in the first period and then it was Adirondack all the way to the finish. Hudson Valley's Goalie Sophia Kokkonis made 41 saves while Adirondack's Amanda Durrer made 10.
Scoring for Adirondack were Christie Powers, Stephanie Holmes, Tardelli, Farmer and Phaler with Andrea Kilborne-Hill with a hat trick.
Game 12 had the West taking Hudson Valley 3-1.
Lauren Orynawka was in goal for the West, making 14 saves and Kokkonis made 37 for Hudson Valley.
Hudson Valley's Jamie Paul opened the scoring in the first and it was Hudson Valley's only goal.
Katie Fish, Lindsay Shubbuck and Katie Stack scored for the West.
Games 10 and 11 were not posted as of this release.
On Sunday Long Island will face Hudson Valley, New York City faces off against Central and the West takes on Adirondack in the final game of the 2013 Empire State Winter Games.
New York Hockey Online will be at the Sunday games and photographing!