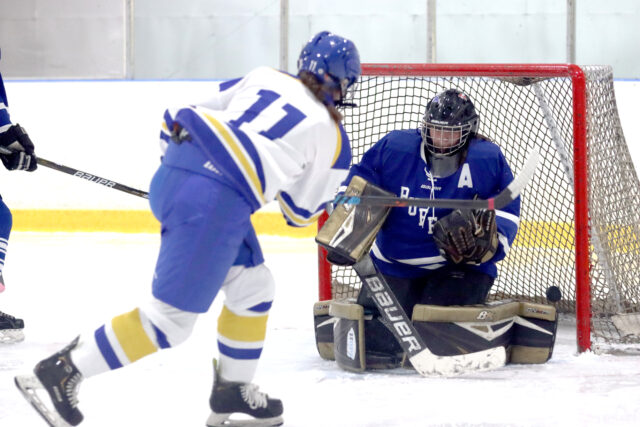 Story and Photos by Janet Schultz, NYHOL
The Niagara University Women's Ice Hockey Team took the CHE (College Hockey East) 2023 Championship in their first season of play.
NU led the league with a 10-2-1 record and 21 points in the W2 Upstate Division. They were followed by University of Buffalo, Brockport, Oswego and RIT.
NU had a bye in the quarters as the number one seed. In the Semi-finals they beat Ohio State 2-1 and Mercyhurst 7-4 taking them to the Championship round.
The University of Buffalo lost 10-6 to Mercyhurst in the quarters. UB had a 9-3-1 record coming into the playoffs. Brockport also lost in quarters, 4-1 game to Ohio State.
UB players Sierra Dominick lead the Division with 8 goals, 5 assists for 13 points and she was followed by UB's Emily Matthews with 4 goals, 4 assists and 8 points. Former WNYGVIH player Jackyln Supples of Oswego had 2 goals and 5 assists for 7 points and sits in 3rd in the CHE Division W2.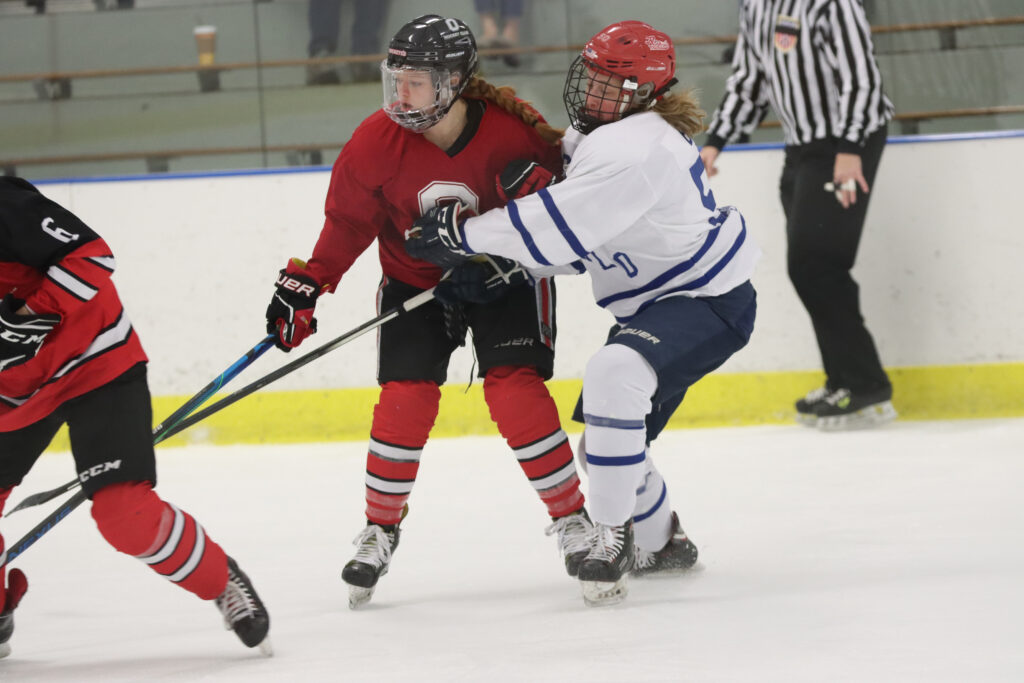 NU's Goaltender Courtney Schum takes top billing in goaltending with a .956 save% and former WNYGVIH Goaltender for Monsignor Martin, Isabella Battaglia sits at third with a 1.00 save%.
NU is coached by former WNYGVIH player Anna Quattro and several WNY players sit on that roster including Skylar Berube, Zoe Hallowell, Grace Miller. Mary Whelen and Jessica Yu.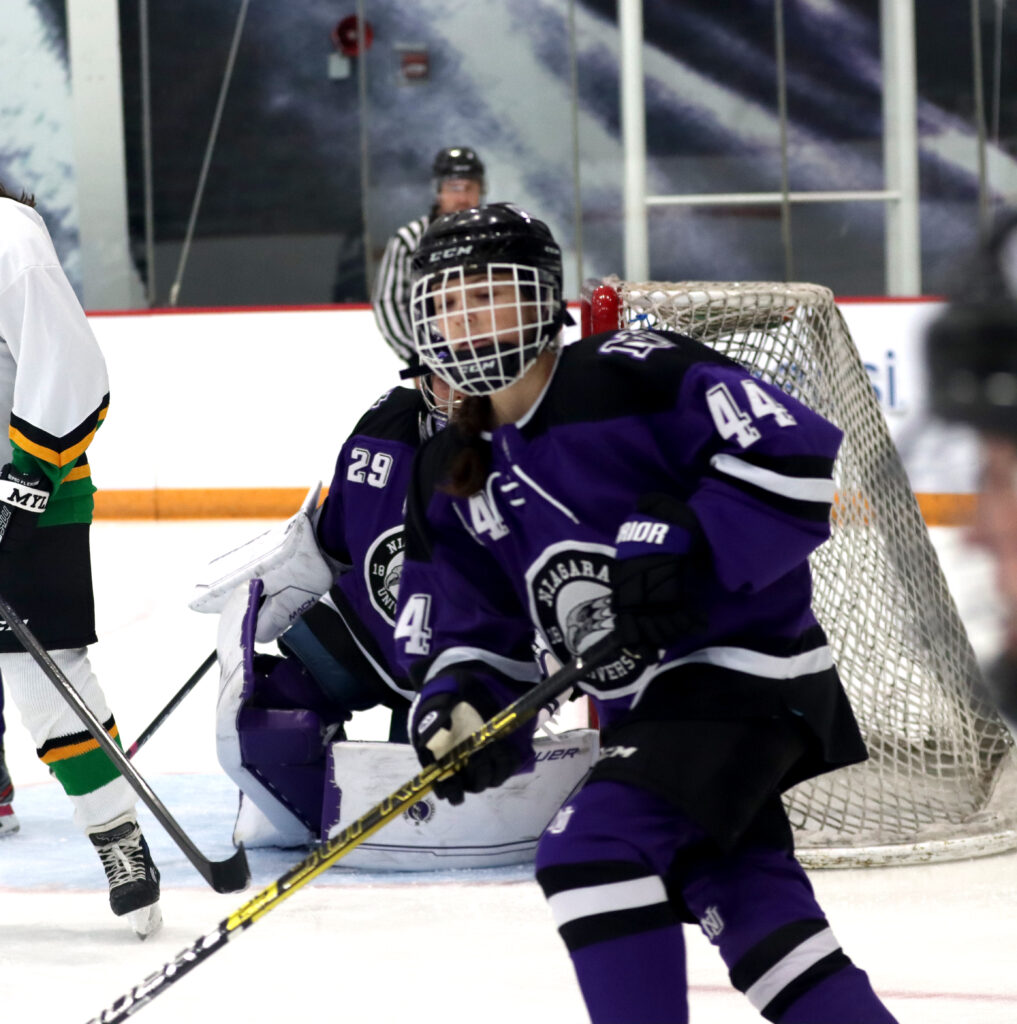 The CHE is made up of what we formally called club teams. They have a W2 Division for women which includes team from Brockport, University of Buffalo, Mercyhurst, Niagara University, Ohio State, SUNY Oswego, Pittsburgh, Rochester Institute of Technology, Robert Morris and West Virginia. Those are divided into two division Upstate and TriState. In the playoffs the quarterfinals are made up of two teams from Upstate and two teams of TriState and they play down to the two teams for the Championship.
Buffalo State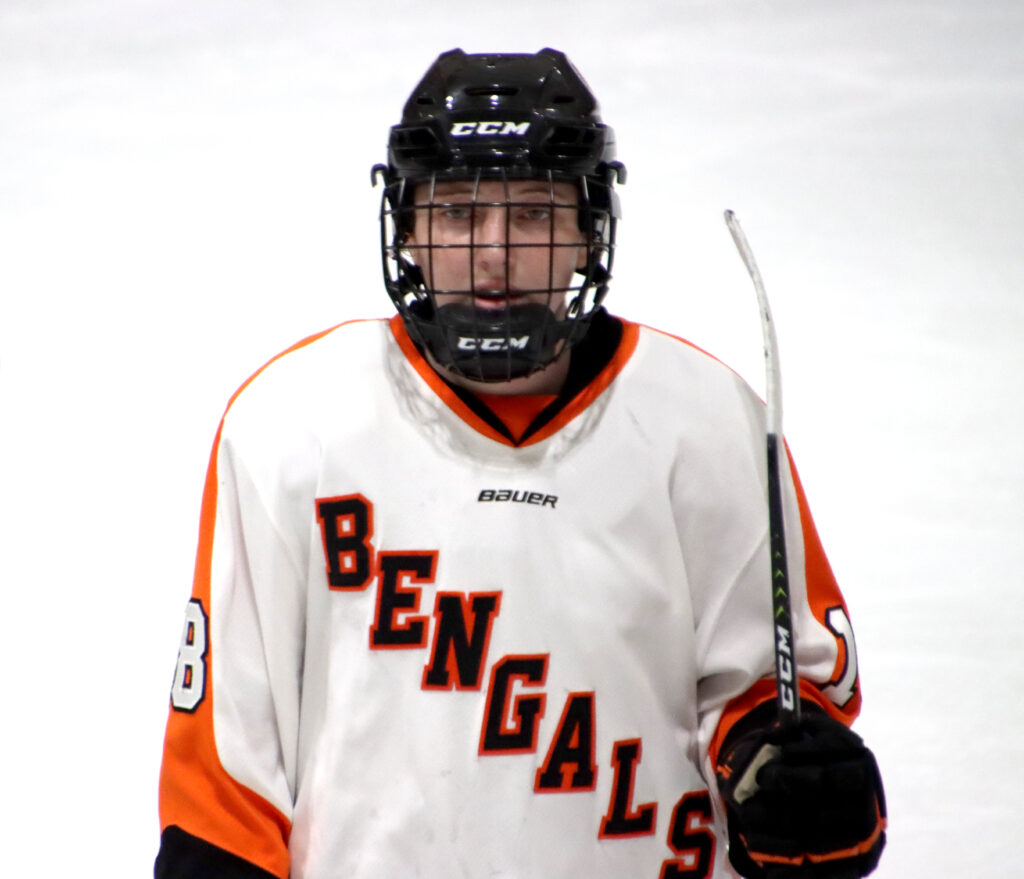 The Bengals fell in their final game to Plattsburgh and ended with a 7-18-0 overall record under Coach Rachael Grampp.
Overall they have improved from last season with 6 wins and a NEWHL Conference victory against Morrisville.
Vanessa Willick, a WNYGVIH player from Williamsville, continued her scoring streak in college with 9 goals and 6 assists for 15 points.
RIT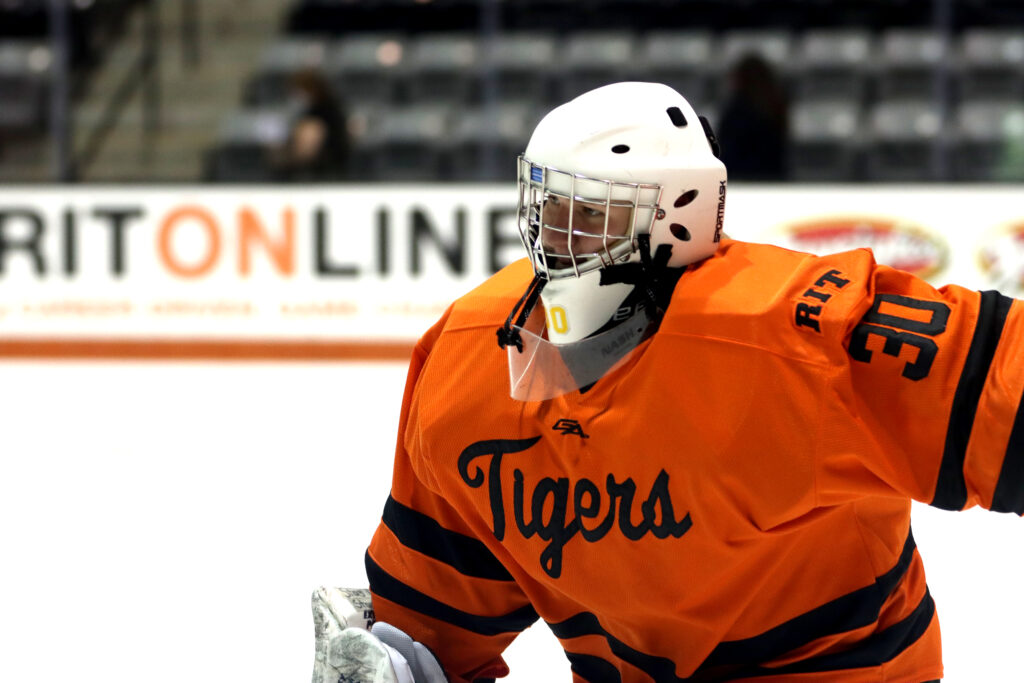 Goaltender Sarah Coe took Second Team All College Hockey America Honors after playing in 28 games and recording a 3.15 gaa and .911 save%.
Leading the scorers for RIT was Amy Dobson with 6 goals and 8 assists.
RIT closed out the season with a 3-1 loss to Penn State and Jessie Burks scoring her first collegiate goal. RIT ended with a 4-26-2 record under Coach Celeste Brown.
Hilbert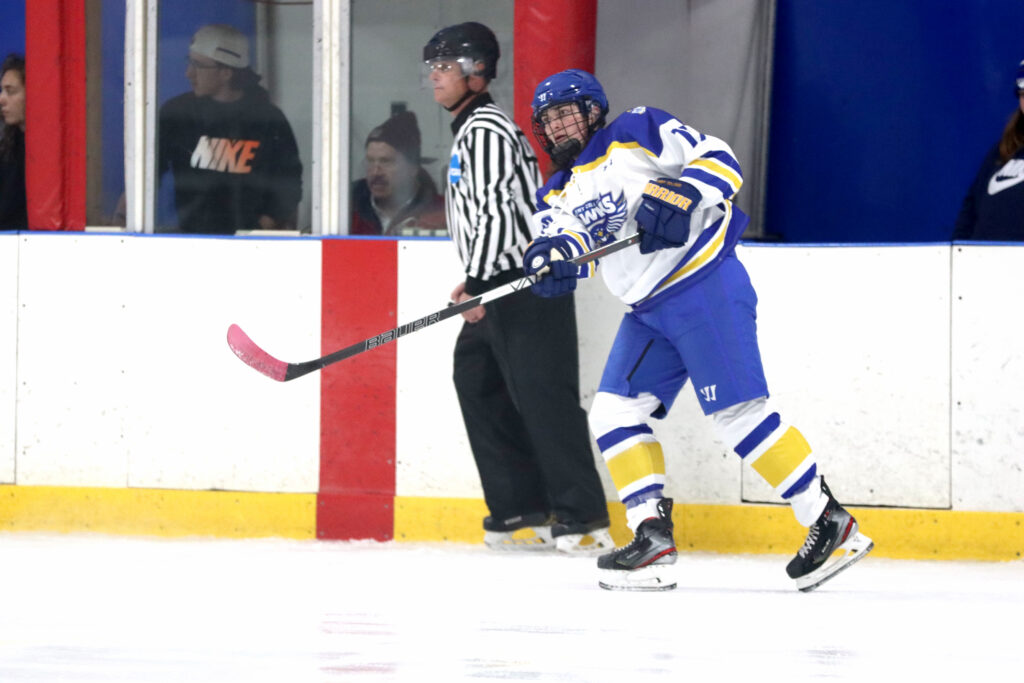 In their Inaugural Season they closeout with a 8-1 loss to Kings College. While they lost every game they played two full lines, partnered with the Buffalo Beauts of the PHF, visited Hershey Park and added JP The Stuffed Duck to their family. In other words, they had fun and continued their hockey careers at the collegiate level.
In their first game out, they tied the University of Buffalo 2-2 in an exhibition game at Southtowns Arena.
Courtney Wesolowski of Holy Angels Academic and the WNYGVIH Monsignor Martin Ice Hockey Team; Taylor Loretto, a WNYGVIH from FFLOP with a State Championship in her bio and Assistant Coach Maddy Norton, a UB player and also a familiar face in between the pipes for LID of the WNYGVIH several years ago are all on Hilbert's roster.
Abby Dawson had 2 goals and 1 assists and Abby MacNeil had 2 goals to lead the scoring.
In goal all three shared the responsibility including Tia Card, Jewely Monford and Cassie Troy.
They all look forward to next season and playing at least four games in WNY.
CHA:
The CHA has announced their All Conference Team which included Penn State Forward Kiara Zanon from Fairport on the First Team. This is her third consecutive season being honored and she leads the CHA with 25 goals and 22 assists.
Also named was Defense Mae Batherson of Syracuse.
Goalie Sarah Coe of RIT was named to Second All Conference Team.
Named to the All Rookie Team were Syracuse's Rhea Hicks and Maya D'Arcy.
In CHA play it was #3 Syracuse losing to #2 Mercyhurst and #4 Lindenwood falling to #1 Penn State.
Penn State and Mercyhurst will faceoff for the CHA 2023 Championship on March 4.
NEWHL
#1 Plattsburgh beat #4 Canton and #3 Oswego fell to #2 Cortland so the NEWHL Championship will be Cortland against Plattsburgh on March 4.
Potsdam too fifth place, Morrisville, 6th and Buffalo State 7th.
Other
Lara Beecher was named Pro Ambitions Hockey's Rookie of the Year. Lara is a freshman at the University of Vermont and played for the Buffalo Bisons.
Aizah Thompson, a former player in the WNYGVIH League with Williamsville and also the Buffalo Bisons was named NEWHL All Rookie of the Year. She is playing for SUNY Plattsburgh.
Gabby DeMeo has played idn 103 career games for Nazareth College. She played for FFLOP of the WNYGVIH Federation and for the Niagara Jr. Purple Eagles.
Elli Simmons, a former goalie for Kenmore/Grand Island/now Lockport of the WNYGVIH Federation played for Team USA in the FISU Women's Games in Lake Placid. Simmons playes for the University of Vermont. She also played for Nichols School.
NYHOL would like to continue to recognize our WNYGVIH Federation players as they move on to College and beyond. If you know a player playing collegiate hockey, or coaching, please let us know. We'd like to update the Alumni list and it is about 4 years behind.