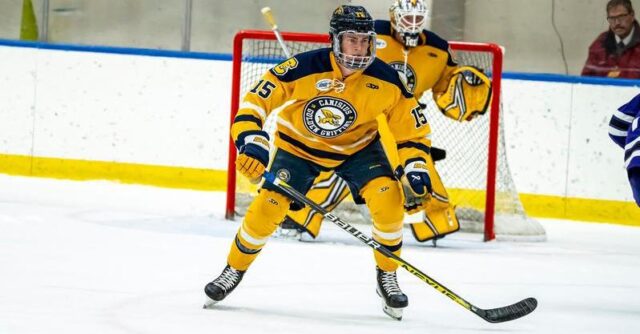 Joey Baez scored at the 7:31 mark of the third period to break a 1-1 tie and lift Army to a 2-1 victory over Canisius in Atlantic Hockey Association action Saturday at Tate Rink in West Point, N.Y.
Hunter McCoy accounted for the other goal for the Black Knights (1-9-0, 1-6-0 AHA), who got their first win of the season with Saturday's victory. Evan Szary made 28 saves in goal for the hosts to earn his first collegiate victory.
Junior Matt Vermaeten tallied the lone goal for the Golden Griffins (2-7-1, 2-3-1 AHA). Senior David Fessenden made 29 saves between the pipes for Canisius.
Vermaeten opened the scoring at the 11:37 mark of the first period, putting home a rebound off a shot by graduate student Erik Urbank that bounced off the end wall for his second goal of the weekend to give Canisius a 1-0 lead.
McCoy tied the game with a little more than three minutes to play in the second period, beating Fessenden with a wrist shot to the blocker side from the right face-off circle for his first of the campaign.
Baez gave the Black Knights their first lead of the contest in middle of the third period, depositing Michael Sacco's cross-ice feed under the blocker of Fessenden while on the rush to put Army in front, 2-1.
Canisius pushed during the final minutes of regulation, but Army kept the Griffs from finding the equalizer to record the one-goal victory.
GAME NOTES
• Army held a 31-29 shot advantage for the contest, highlighted by a 16-9 edge in the third period.
• Canisius was 0-for-2 on the power play while Army was 0-for-4 with the man advantage on Saturday.
• Saturday's game was the 18th time in the last 22 meetings between Canisius and Army to be decided by two goals or fewer.
• Canisius scored the first goal of the game for the fifth time in six league games this season. The Griffs moved to 2-2-1 in those contests.
• The Griffs were held to two goals or fewer for the fifth time this season and moved to 0-5-0 in those contests.
• Vermaeten scored a goal for the second straight contest after notching his first career goal against the Black Knights on Friday.
• Urbank recorded the primary assist on Vermaeten's first-period goal, giving him eight points (4g/4a) in seven career games against the Black Knights.
• Haskins recorded a point in consecutive games for the first time in his career as he picked up the secondary assist on Vermaeten's first-period goal on Saturday.
UP NEXT
Canisius begins a four-game homestand Tuesday with an Atlantic Hockey Association contest against Robert Morris. Puck drop between the Griffs and the Colonials is set for 7 p.m. at LECOM Harborcenter.
(Canisius University Men's Hockey Photo)