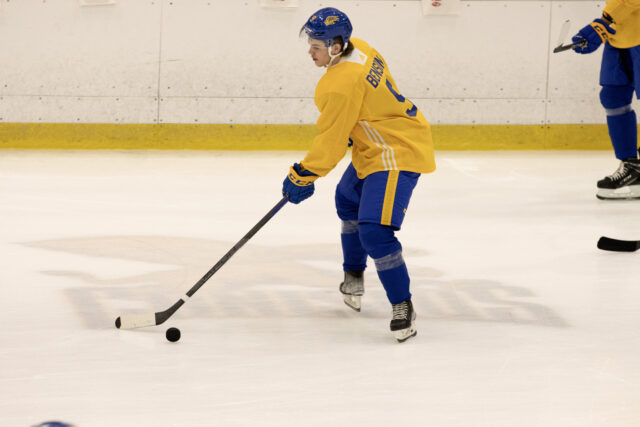 BY RANDY SCHULTZ –
It is nearly 2 p.m. on Sunday afternoon at the LECOM Harborcenter. The Buffalo Sabres are about to begin their annual development camp.
Leading the group of hopeful hockey players onto the ice is the Sabres number one draft pick, 13th player selected, of the 2023 NHL Entry Draft, Zach Benson.
As the digital clock on the wall flashes 2 p.m. Benson steps on the ice. For a few seconds it Benson was all by himself on the ice, skating cautiously at first and when joined by teammates, picks up speed.
To say that Benson looked anxious would be an understatement.
"It's been unreal," said Benson when asked how his experience has been since arriving in Buffalo for the development camp. "It's kind of what I expected.
"The Sabres are a great organization. I've had a good time so far."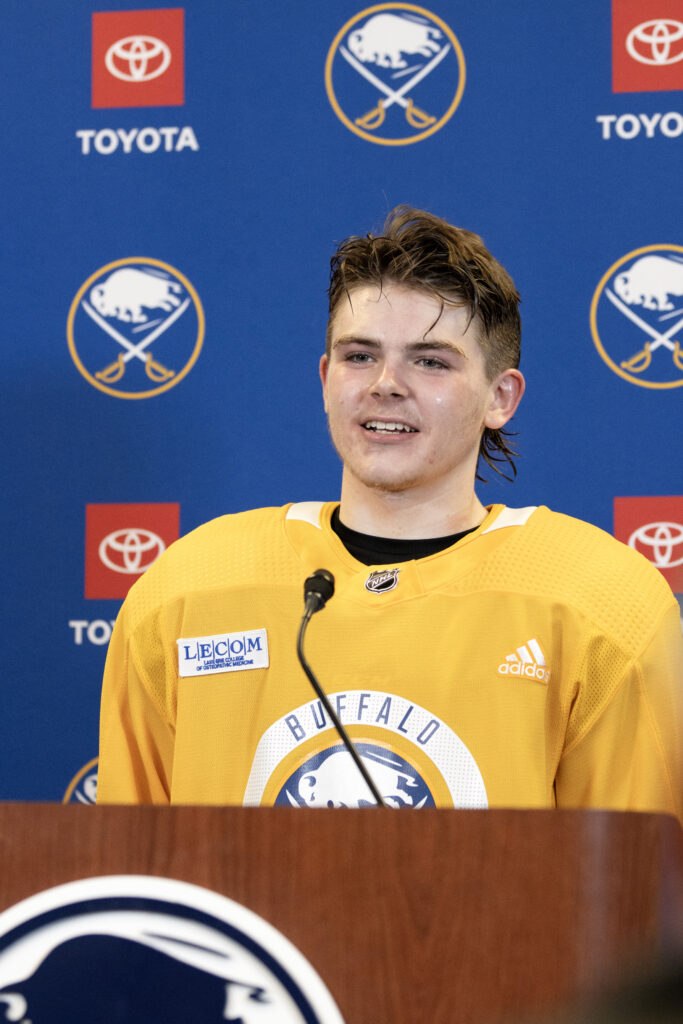 The Langley, British Columbia, Canada native went through the drills that were set up for players the first two days. He commented on how he handled them.
"I wanted to get back into things quickly," commented Benson, who has played in the WHL for three seasons with the Winnipeg Ice and is looking forward to the upcoming season with the Wenatchee Wild. "You have to pace yourself.
"If it is a technique shooting drill obviously you have to slow down a bit. It's a little different if you are doing two-on-two battles or one-on-ones.
"You're just trying to make yourself a better hockey player and obviously want to make your team better hockey players."
If there is one thing that really surprised Benson it was the size of the crowd for a Sunday afternoon in early July.
"It was pretty surreal," remarked the 5-10, 170-pound Benson. "There were a lot of people in the stands. It's the start of July with that many people in the stands.
"It's obviously a hockey city."
Probably one of the biggest obstacles the players have to overcome is having so many players from different countries under one roof and trying to get to know them.
"It's pretty exciting," remarked the 18 year-old Benson. "You have players here from all over the world.
"They are all great hockey players. But away from the rink you find that they are great human beings."
Benson admits that the off-ice training is just as important as the on-ice training.
"I'm learning about Buffalo and the organization," he continued. "It's been awesome.
"For me, I will be taking stuff home with me to work on."
Ironically, Benson had just been in LECOM Harborcenter a few weeks ago for the NHL Combine. Did his impression change of the building?
"It's awesome," said Benson. "I got to see it with the combine. Now I get to see it as a hockey arena.
"Seeing it filled with people is pretty cool. As I said before it has been surreal.
"Hopefully I'll get a chance to see more of Buffalo. I'm looking forward to it."
(Photos by Janet Schultz Photography, NY Hockey OnLine)