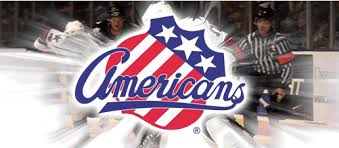 By Warren Kozireski —
Rochester score three goals over the final five minutes of the third period to overcome a 3-1 deficit and defeat visiting Charlotte 4-3 Wednesday night in AHL hockey.
Buffalo Sabres prospects Juri Kulich (5), Aleksandr Kisakov (3) and Isak Rosen (3) netted the three late goals.
Michael Mersch had earlier tied the game 1-1 with a power play goal in the first period with an assist from 2022 first round draft choice Matt Savoie, who was playing in his first regular season professional game on a rehab assignment from Buffalo.
"Crazy game…we had a lot of penalties in the first and second, but we kept playing good five-on-five the whole game and it paid off in the end," Rosen said. On his game-winning goal, Rosen deadpanned: "Won the face-off, then I faked (a) shot, take it around there and throw it on net–it was all planned, so it was good."
"We had a lot of reasons to go away tonight; their goaltender was very good, we had some penalties go against us…and it felt like most of their good chances went in," Rochester head coach Seth Appert said.
Rochester improved to 3-1-1-0 on the young season and host Laval Friday.