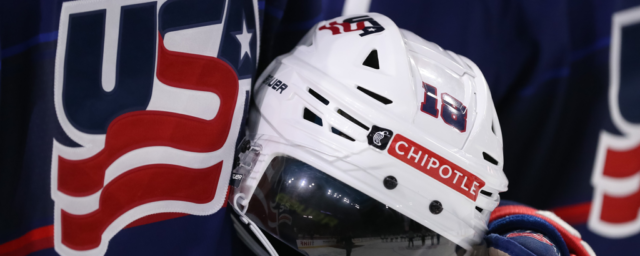 Tempe, Los Angeles and St. Paul to host U.S. games as part of seven-game series with Canada
COLORADO SPRINGS, Colo. – One of the fiercest rivalries in sport will renew in 2023-24 as the U.S. and Canadian Women's National Teams face off in a seven-game Rivalry Series, it was jointly announced by USA Hockey and Hockey Canada. 

USA Hockey will host the first two games of the competition, including contests on Nov. 8 at Mullett Arena in Tempe, Arizona, and Nov. 11 at Crypto.com Arena in Los Angeles, and also stage the seventh and final game of the Rivalry Series on Feb. 11 in St. Paul, Minnesota, at Xcel Energy Center.

The complete schedule is below. Tickets for the three U.S. games will go on sale to the public Friday (Oct. 6) and can be purchased HERE. The Rivalry Series was introduced by USA Hockey and Hockey Canada in 2018-19 to provide additional visibility for women's hockey and showcase the best players in the world. NHL Network will broadcast all seven games of the Rivalry Series live. For more information on the 2023-24 Rivalry Series, click HERE.

2023-24 RIVALRY SERIES SCHEDULEDateLocationTime (Local/ET)
Wed., Nov. 8, 2023Mullett Arena (Tempe, Arizona)7:30 p.m./9:30 p.m.
Sat., Nov. 11, 2023Crypto.com Arena (Los Angeles, California)1 p.m./4 p.m.Thurs., Dec. 14, 2023Kitchener Memorial Auditorium (Kitchener, Ont.)7 p.m./7 p.m.
Sat., Dec. 16, 2023Progressive Auto Sales Arena (Sarnia, Ont.)5 p.m./5 p.m.
Wed., Feb. 7, 2024SaskTel Centre (Saskatoon, Saskatchewan)7 p.m./8 p.m.
Fri., Feb. 9, 2024Brandt Centre (Regina, Saskatchewan)7 p.m./8 p.m.
Sun., Feb. 11, 2024Xcel Energy Center (St. Paul, Minnesota)1 p.m./2 p.m.