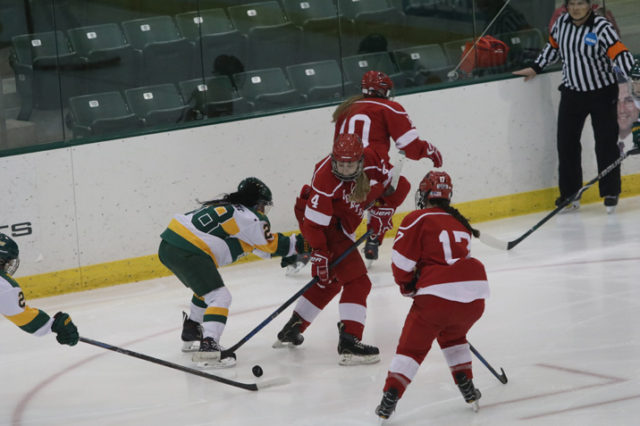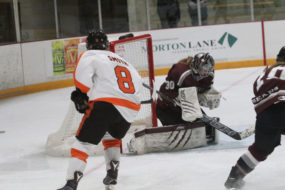 by Janet Schultz
It's been a busy summer, and interesting one, in women's hockey in New York State.
First I know you all haven't heard much from me. Well that has to do with a "robust" case of tendonitis I managed to contract after a series of back-to-back hockey games late in the season. So I have been doctoring my wrist so I can be back in full form when the girls, and boys, hit the ice for 2018-19. Other than that the Schultz's have been traveling and entertaining the grandsons.
But with all that I have tried to maintain contact with my hockey family and keep in touch with what has been going on.
In Western New York we saw the resignation of two coaches. Jennifer Wilson has left Buffalo State women's team and to the shock of many Scott MacDonald resigned as coach of the RIT women's team.
Word from Buf State is that they are still in the search process with interviews scheduled; but the announcement is still about a month away.
A congratulations goes out to Brooke Krantz named the Unsung Hero for 2017-18; Caitie Horvaitits for Academic Excellence, Emily DeCock on the Leadership Award, Kayla Kopinski named Most Improved, Emma Ruggiero for an outstanding Breakout Season and Kira Herkey on receiving the Coaches Character Award. If you all notice, a lot of WNY girls!
Fifteen of the 105 Bengals named to the Commissioner's Academic Honor Roll were members of the women's ice hockey team including Bri Gawronski, Erin Gehen, Kayla Kopinswki, Brooke Krant, Emily DeCock, Christine HArris, Megan Reukauf, Kira Herkey, Emma Reggiero, Natasha Steinle, Catie Horvatits, Lila Toczez, Rachel Lenard, Bri Carroll.
The Bengals will open with four-straight on the road at SUNY Canton (Oct. 27 and 28) and Potsdam (Nov. 2 and 3) before hosting Oswego for a pair of NEWHL games on Nov. 9 and 10.  After a single game at Morrisville (Nov. 24), Buffalo State will close out the first semester with four home games against Cortland (Nov. 30 and Dec. 1) and Franklin Pierce (Dec. 7 and 8).
Buffalo State will open the New Year in Vermont at the St. Michael's Tournament on Jan. 4 and 5.  After a road set at Plattsburgh, the Bengals will host Potsdam on Jan. 18 and 19.  Three straight road weekend sets at Cortland, Oswego and William Smith will lead the Bengals into the final series of the regular season at home against Plattsburgh on Feb. 15 and 16.
Over at RIT we enjoyed a press conference on Wednesday (Aug. 22) announcing that Chad Davis will guide the Tigers back to a championship team. Davis comes after serving as head coach at Adrian College in Michigan. His full bio and the press conference story can be found here on our website.
RIT has added six newcomers to their roster. Up front, Hunter Barnett (Caledon, Ontario/Mississauga Jr. Chiefs), Abby Davies (Ashton, Ontario/Ottawa Lady Senators), McKinley Karpa (Ipswich, MA/The Taft School) and Venice Rasoulis (Naperville, IL/Chicago Mission) will look to compete for playing time right away. Defensemen Madison Itagaki (Glenview, IL/Chicago Mission) and Taylor Sims (Deep River, Ontario/Ontario Lady Senators) will also look to crack the lineup as first-year student-athletes.
Fourteen RIT women took CHA All-Academic Honors in 2017-18 including Taylor Baker, Claudia Black, Lauren Carroll, Kendall Cornine, Jenna de Jonge, Brittney Gout, Stella Haberman, Darcy Henderson, Terra Lanteigne, Ellie Larson, Jade Mancini, Jordan Marchese, Jessi O'Leary and Mallory Rushton.
The Tigers make their first road trip of the season out to Minnesota to take on St. Cloud University on Oct. 5-6. After a weekend off, RIT hosts ECAC foe Union College as part of Brick City Homecoming & Family Weekend, Oct. 19-20. The Tigers end October with a pair of non-conference road contests at Rensselaer on Oct. 26-27.
  RIT opens conference play on Nov. 2-3 at home against 2018 CHA regular season champion Robert Morris. The Tigers are scheduled to play five straight road games in a span of 12 days. After a two game series at Dartmouth College of the ECAC, RIT plays a single game at Syracuse on Nov. 16. The Tigers will head to Penn State to play a pair of rare mid-week games right before Thanksgiving, on Tuesday, Nov. 20, and Wednesday, Nov. 21.
RIT returns home to play four straight games to end fall semester at the Gene Polisseni Center. The Tigers take on CHA rival Lindenwood on Nov. 30-Dec. 1 and host perennial Hockey East contender Boston University, Dec. 7-8.
A Facebook note invited anyone wanting to play for the UB Bulls to contract the team as they begin their season with a team meeting the last week of August.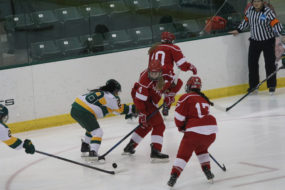 Let's head to the North Country where Clarkson has added T.T. Cianfarano from Oswego. Cianfarano played hockey at Quinnipiac and has come to Oswego as a graduate student. In 111 career games at Quinnipiac she graduated as one of the all-time lead scorers with 58 goals and 52 assists. In 2016 she received the ECAC Player of the Year Award as a sophomore. She is a graduate of the National Sports Academy.
Fifteen Golden Knights players were named to the ECAC Hockey All Academic Team including Katherine Beaumier, Katelyn Fournier, Savannah Harmon, Meaghan Hector, Avery Mitchell, Emma Keenan, Lauren Lefler, Rhyen McGill, Michaela Pejzlova, Kristy Pedgeon, Josiane Pozzebon, Ella Shelton, Shea Tiley, Amanda Titus and Taylor Turnquist.
The Golden Knights announced six newcomers to their roster including Cianfarano. Also named were Miranda Gaudet, Morgan Helgeson, Tayor Sawka, Marie-Pier Coulombe and Kassidy Sauve, all from Canada.
Clarkson opens their season at Bemidji State on September 28 and 29 and then opens at home on October 5 and 6 against Robert Morris.
Clarkson's women's team is coming off it's third National title in five years.
Look for some construction at Clarkson as they expand Cheel Arena.
Construction will also be taking place at St. Lawrence as they received a $10 million donation from Alumni Tom Dolan '74 and the Dolan Family Foundation.
Potsdam had nine players named to the SUNYAC Commissioner's Honor Roll including Allie Barnes, Alexis Clark, Delphine Leonard, Taylor Marcellus (Waddington NY), Rylie Murray, Alexa Pfeiffer, Shelbi Thacker, Samantha White and Brenna Wilson.
In addition Wilson, Marcellus, Murray, Pfeiffer and Leonard were named Krampade All American Scholars by the American Hockey Coaches Association. Also named were Allie Banas (Buffalo/Buffalo Bisons), White and Thacker.
The Bears will open with an exhibition game against St. Michaels on October 26 and 27 and then face Buffalo State College at home on November 2 and 3 as their regular season opener.
Six members of the Plattsburgh Women's Ice Hockey Team received Krampade All American Scholar status including Abby Brush, Kerri Corcoran, Erin McArdle, Lizzy Viola (Williamsville/Buffalo Bisons), Madison Walker and Brooke Wolejko.
In July Breanne Doyle '07 and Julie (Devereux) Kimball '08 were named to the Plattsburgh Athletic Hall of Fame. Induction ceremonies will be held October 12.
The Cardinals kick off their season on Saturday, Oct. 20, when they host SUNY Canton in an exhibition game on Fan Appreciation Day, and on Saturday, Oct. 27, Plattsburgh State entertains the Ottawa Lady 67's Intermediate AA team in its final exhibition contest of the year.
  Plattsburgh State begins its regular-season and Northeast Women's Hockey League (NEWHL) schedule from Friday-Saturday, Nov. 2-3, hosting SUNY Cortland in a pair of contests.
St. Lawrence had 19 women's ice hockey players named to the ECAC Hockey All-Academic Team this season. They were Michelle Alonardo, Jacquie Diffley, Nadine Edney, Dakota Golde, Kalie Grant (Potsdam/Nepean Jr, Wildcats), Lydia Grauer, Grace Harrison, Kennedy Marchment, Amanda McClure, Maggie McLaughlin, Hannah Miller, Kayla Nielsen, Charlea Pedersen, Skylar Podvey, Jessica Poirier, Justine Reyes, Sonjia Shelly, Kayla Vespa and Natalie Wozney.
Gina Kingsbury '04, who led the St. Lawrence women's team to a pair of NCAA Frozen Four appearances and won two Olympic gold medals as a player for Team Canada was selected to manage the Canadian women's national team.
The Saints will open in Canton at Appleton Arena with an exhibition game against the University of Ottawa on September 25. Their season will open at Robert Morris on September 28/29 and then they will host the University of New Hampshire in a home opener, doubleheader on October 5 and 6.
The Canton Kangaroos women's ice hockey team had six student-athletes named All-American Scholars by the AHCA. They included Kaylay Menchaca, Brittany Miner (Plattsburgh/Plattsburgh High School), Noelle Niemiec (Staten Island/New Jersey Rockets), Grace Page (Hamburg/Buffalo Regals), Jessica Pele and Alyssa Suzuki.
Twelve were named to the CHC All-Academic Team including Tess Adams, Hannah Brady, Tessa Dobson, Kaylay Menchaca, Jessica Pele, Emily Dolphin, Whitney Bernier, Alex Bloom, Brittany Miner, Noelle Niemiec, Grace Page and Brooke Susac.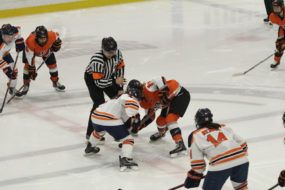 Moving to the Eastern part of New York, Union College has added a new video scoreboard to Messa Rink. According to the College this four-sided board will bring a state-of-the-art experience to the fans during hockey games. It will be named in honor of Union alumni Anthony R. Ianniello '65, Robert I. Knibb Jr. '81 and Frank L. Messa '73, whose generosity helped to make this project a reality.
The Dutchwomen will host Carleton University for an exhibition on Sept. 22, before kicking off the regular season on Sept. 28-29 with a series at Merrimack. Union will then host its home opener on Oct. 5-6 with a series against Lindenwood at Messa Rink.
Additionally nonconference opponents for the Dutchwomen include: Penn State at home (Oct. 12-13), at RIT (Oct. 19-20), Connecticut at home (Oct. 27), Mercyhurst at home (Nov. 26) and at Bemidji State (Jan 4-5).
The second annual women's Mayors Cup will be held on Jan. 19, with a 3 p.m. opening face off at the Times Union Center.
Union College had 30 student-athletes named to the ECAC Hockey All-Academic Team, nine of them are from the women's ice hockey team and include Coco Francis, Jess Haviland, Arianna Kosakowski, Helen Markovic, Makayla Mori, Katelynn Russ, Haley Shugart, Kate Spooner and Morrisville native Brandy Streeter.
Kosakowski was also named a Krampade All-American Scholar by the ACHA.
Over at RPI former women's ice hockey standout Whitney Renn '18 has signed to join the DEC Eagles of the Dameneishockey Bundesliga, Austria's women's hockey league for this season.
RPI has hired Marc Cavosie as an assistant women's ice hockey coach. He served as a volunteer assistant last season, as well as for the men's team from 2014-17. he played a 12-year professional career after being selected 99th overall in the 2000 NHL Entry Draft by Minnesota. He played three seasons with the Houston Aeros before joining the Philadelphia Phantoms in 2005-06. He has also played in Sweden and with the Albany River Rats and Binghamton Senators of the AHL.
He is a graduate of RPI and a native of Cohoes (NY).
Joining RPI along with a new assistant coach are players Mikayla Capelle, Lilli Friis-Hansen, Emma Hicks, Aliya Lance and Delaney Weiss.
Junior Captain Aly Trembly was named to the Commissioner's Top Scholar List. Fifteen players were named to the ECAC All-Academic Team including Kira Bombay, Madeleine Burnett, Kendra Farole, Jaimie Grigsby, Josefine Hansen, Kirsten Iwanski, Amanda Kimmerle, Sam Nolan, Marisa Raspa, Whitney Renn, Sabrina Repaci, Taylor Schwalbe, Lovisa Selander, Shayna Tomlinson and Aly Trembly.
After hosting the Carleton University in an exhibition game at the Houston Field House on September 23, RPI opens regular season play with its longest trip of the year – a flight to Minnesota State – Mankato for a pair of non-league games (Sept. 29-30). The Engineers then host Holy Cross in their home opener at the Houston Field House (Oct. 6).
The Manhattanville Valiants finished sixth in the UCHC standings last season, falling to Stevenson University in the first round of the conference tournament. Elmira College claimed the tournament championship last season, and came away with the regular-season title as well. Manhattanville will be looking to seniors Nicole Mensi (Mamaroneck, N.Y./Northwood School) and Rose Pijaca (Worcester, Mass./Worcester Academy), as well as junior Zoey Pellowitz (Arlington, Va./Washington Pride) to lead the way this season. The team is also welcoming six freshmen.
The team starts off its season with two games at Stevenson Nov. 3 and Nov. 4. Then, following nearly two weeks off, the Valiants play their first home games of the season Nov. 16 and 17 versus King's College (Pa.). The following week, the team heads to Boston for the Codfish Bowl Invitational. Manhattanville will play Bowdoin College Nov. 24 and either Wesleyan University or UMass-Boston Nov. 25.
Three Valiants were recognized by the ACHA with Krampade All-American Scholar status including Cassie Kent, Monika Molnar and Janet Xu.
Finally in Central New York.
Jackie Solomito was named Utica Women's Ice Hockey's first full-time assistant coach. She has been serving as an athletic assistant for the Pioneers. A 2012 graduate of Manhattanville College, she was a four-year member of the Valiants and served as assistant captain in her senior year. She has a wealth of coaching experience in both youth and collegiate settings after one year as an assistant at Cortland and coaching several New York State and USA Hockey evaluation camps. She is a native of Bellmore, NY; now residing in Utica.
Five Pioneers were named AHCA All-American Scholars including Kelly Critzer, Emily Holtshouser, Carlie Smith, Danielle Haasbeek and Kirsten Johnson.
The Pioneers finished last season 15-10-2 overall and took their 15th trip to the conference semi-finals. This season they open October 20 with an exhibition game against SUNY Canton at Canton and open their conference season at Becker College on October 27 and New England College on October 28. Their first home stance is November 9 and 10 against Chatham University at Adirondack Bank Center at the Utica Memorial Auditorium and Whitestown Community Center, respectively.
Sixteen Syracuse Orange women hockey players were named to the CHA All-Academic Team including Alysa Burriss, Stephanie Grossi, Abbey Miller, Megan Quinn, Brooke Avery, Lindsay Eastwood, Ady Cohen, Logan Hicks, Allie Olbnowich, Kelli Rowswell, Ronnie Callahan, Emma Polaski and Kristen Siermachesky.
Amanda Backebo, Grossi and Miller were named ACHA All-American Scholars.
The Orange will play an exhibition game on September 29 against the Universite du Quebec A Montreal and open at home against Mercyhurst on October 12 and 13.
Colgate is coming off its best season in program history in which they won a program-record 34 wins and reach the national championship game for the first time in program history. The Raiders also earned their first regular season championship as they tied the Golden Knights with an ECAC Hockey regular season conference record of 19-3-0.
  The Raiders start the year with an exhibition game vs. Guelph on Friday, Sept. 21 before welcoming the Penn State Nittany Lions to the Class of 1965 Arena for the first time in program history the following weekend to open the regular season.
Twenty Raiders were named to the ECAC All-Academic Team. Congratulations to Livia Altman, Bailey Bennett, Peri Donaldson, Chelsea Jacques, Coralie Larose, Jackie Leone, Shelby Perry, Julia Vandyk, Breanne Wilson-Bennett, Olivia Zafuto (Niagara Falls/Niagara Jr Purple Eagles/Nichols School), Liz Aubry, Ellie DeCaprio, Jessie Eldridge, Shae Labbe, Bailey Larson, Shannon Ormel, Kaila Pinkney, Kendall Williamson, Shelby Wood and Annika Zalewski (New Hartford/Buffalo Bisons/Nichols School).
In other honors Zafuto received a National Festival invitation; Malia Schneider was named to the Canadian Women's National Development Team, Schneider, Shae Labbe and Shelby Wood were invited to the Canadian Nationa Development Camp and Zalewski signed to play with the Buffalo Beauts of the NWHL.
Elmira College has named Mandy Montgomery as an assistant women's ice hockey coach. Montgomery most recently served as assistant coach with the Canton College Women's Ice Hockey Team. Prior to that she has been on the coaching staff at her alma mater Sacred Heart University and along side Greg Fargo at Colgate. She has also coached USA Hockey camps and spent one season as director of the U20 academy at the Hockey Training Institute in Ontario. Montgomery also played at St. Norbert College.
Elmira's Sarah Hughson '18 has been nominated as one of the record-setting 581 nominees for the NCAA Woman of the Year Award. She had a breakout season with 49 points in 30 games and received numerous awards. She is also a lacrosse player.  Hughson most recently signed with the Connecticut Whale of the NWHL.The award will be announced in October.
Oswego will open their season with an exhibition game on October 20 against London Jr. Devilettes followed by Kings and Wilkes at Wilkes-Barre on October 27 and 28. Their regular season opens in Buffalo against Buffalo State College November 9 and 10 and then at home vs Cortland on November 16.
SUNYAC recognized the following women with all-academic honors. Leah Czerwinski (Buffalo), Mikaela DiTonto (Orchard Park), Oliva Ellis, Lauren Martel, Aislinn McAleer, Katherine Miostek, Emma Morisette, Andrea Noss, Kate Randazzo, Victoria Rankin, Amber Samonek and Erin Stewart.
Cortland SUNYAC honorees include Charlie Calamari, Katelinn Cummings, Nadine di Nijs, Victoria Gibson, Emily King, Abbey Paduano, Emily Rose and Carly Weigold.
The Big Red of Cornell have added six to their team. They welcome Samantha Burke, Gillis Frechette, Bella Kang, Kaitlyn McKenzie, Taylor Pietrowski (Orchard Park/Nichols School) and Athena Song,
The Big Red finished last season with an overall record of 21-9-3, good enough for the No. 7 spot in the USCHO.com Poll. For the eighth time in the past nine seasons Cornell advanced to the ECAC Hockey semifinals.
  Cornell has two exhibition games slotted in mid-October. On Oct. 13, it will square off against the Toronto Junior Aeros, followed by the National Women's Hockey League's Buffalo Beauts on Oct. 14.
  Cornell opens its regular season with the first of two scheduled contests against Central New York foe Syracuse at 7 p.m. on Oct. 23. The following weekend, it welcomes Ivy League and ECAC Hockey opponents Harvard and Dartmouth on Oct. 26-27, respectively.
Hamilton College alum Sam Walther '18 (Gambrills, Md./The Gunnery [Conn.]) signed a contract on Tuesday, July 10 to play for the Connecticut Whale of the National Women's Hockey League.
Jade Alvillar received a scholar-athlete award.
Eight members of the William Smith College ice hockey team were named Krampade All-American Scholars by the American Hockey Coaches Association. Recognized were Sarah Garrett, Jules kennedy, Catherine Linehan, Gina Scibetta (Brewerton/Syracuse Nationals), Lizzy Weingast, Alison Weiss (Skaneateles/Syracuse Nationals) and Olivia Williams.
William Smith College Director of Athletics Deb Steward was recently appointed to the NCAA Division III Women's Ice Hockey Committee. Steward will serve a two-year term.
  The ice hockey committee conducts the sport's championship and develops policies and procedures to administer the championship in an effective and orderly manner. The committee reports directly to the NCAA Championships Committee, which helps direct and approve recommendations or policies and procedures. The sport committee oversees selections to national championships and serves as the NCAA representative during preliminary-round competition and championship finals.
  Steward oversaw the addition of ice hockey as William Smith's 12th varsity sport. The Herons began play in the ECAC West in the 2014-15 season. William Smith joined the United Collegiate Hockey Conference for the 2017-18 season. In just its fourth season, William Smith posted a 16-6-4 overall record and an 11-2-3 record in conference play, earning the No. 2 seed in the UCHC tournament.
  The Herons open against Salve Regina in an exhibition match-up on October 26 and 27. They then face UCHC rival Stevenson University at The Cooler on November 9 and 10.
Last but not least, Morrisville State University had four women named to the AHCA Honors List incuding Danielle Bunting, Maria deWilde, Megan Kirk (Breezy Point, NY) and Ciara Lark.
Morrisville also opens with an exhibition match-up at Castleton October 26 and 27. They then face-off against Nichols College November 2 and 3 before their home stance against Salve Regina on November 9 and 10.
Looks like we will all be busy this season. The other thing I noticed is all the Academic Honors going to players. I congratulate all of them on outstanding success on and off the ice.
I also want to apologize for overlooking anyone. I went through press materials from all of the colleges and tried to focus in on those players who are native to New York. Please keep sending all your New York Hockey Women's news to [email protected]
While we are no longer publishing the on-line magazine, we will be doing features on a regular basis on our website at www.nyhockeyonline.com.
Here's to 2018-19!