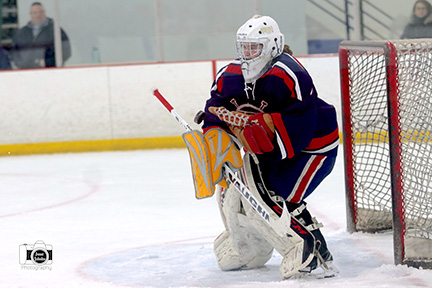 Photos and Story By Janet Schultz, NYHOL
The first half of the WNYGVIH Federation is in the books; standings are in place for the New Year and there is so much to look forward to.
The League managed to avoid weather postponements and close out their first half of the season on December 22.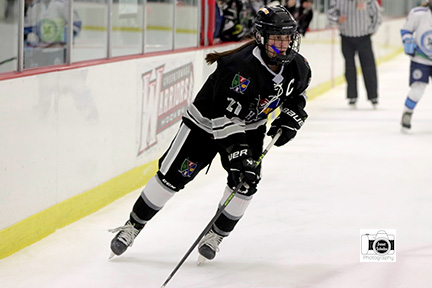 On Monday (Dec. 19) LIDA faced off against HHEWS in Cheektowaga. The game went into overtime with Sydney Radecki scoring the winning goal. Radecki managed to pull off all five goals with assists from Allie Marshall, Hailey Kenyon, Brynn Cafferty, Kayla Buczkowski and Emily Rodriguez. Riley Andzel had two goals for HHEWS, one unassisted and she also had one assist. Brynn Holland and Sophia Phillips added the other two goals, assists coming from Liliann Drzazgowski, Meghan Waszkielewicz and Tori Hart. Carley Irzycki stopped 20 of 24 shots for the W.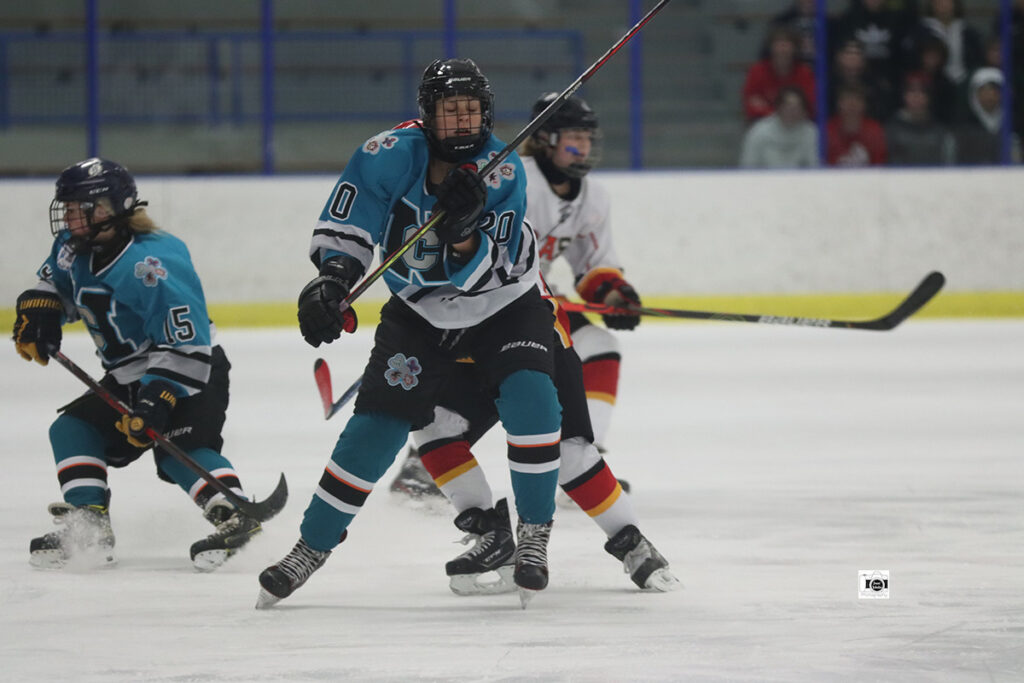 St. Mary's lost in a 7-0 shutout to Niagara County. Abby Zimmerman had the game-winning goal, along with two other goals for a hattrick. Sam Latini put in an unassisted goal followed by goals from Gabby Puff, Marina Mansfield and Paige Spatorico. Assisting with the goals were Mansfield, Spatorico, Maddie Remus, and Latini. In goal Mariela Mulready stopped all 11 shots. St. Mary's Betsy Accurso faced 22 shots.
Niagara County hit the road to Holiday Twin Rinks and took on LIDA on Tuesday night. They came away with a 4-2 victory after goals by Sam Draper, Zimmerman and Latini with the game winner plus one. Ruest stopped 11 of 13 SOG. For LIDA it was Radecki and Emily Lysiak scoring and Irzycki stopping 17 of 21.
FFLOP met KENGIL in the late game. KENGIL's C. Bourgeault came up with a shutout after stopping all 8 goals. Madison Flory had the game-winning goal with Emiliana Cassillo and Isabella Jayme adding to the scoreboard. Assists were given by Madeline Marzec, Teagan Willats and Flory. FFLOP's Kerrigan McCarthy faced 23 shots that evening, stopping 20.
Monsignor Martin traveled to Northtowns Arena to take on Williamsville. With Alexandria Franke (2) and Isabella Fedele scoring, MM walked out with a 3-2 victory. Kate Kelley faced 31 SOG and stopped 29 for the win. Williamsville's Sophia DePrima and Molly Martin scored, assisted by Victoria Burget, Allison Besancon and Molly Braunscheidel. Anna Meyer faced 24 shots.
The final three games of 2022 were Williamsville at CASH, Monsignor Martin at FFLOP and KENGIL at St. Mary's (played at LeCom Center).
Williamsville handed CASH a devastating 10-1 loss. Williamsville's scorers included Martin, Scarlet Canna (2 plus the winning goal), Meghan Donnelly (a hattrick), Burget, Annabelle Berke, Addison Stachura and Besancon. Martin, Burget and Berke had unassisted goals. Donnelly had two unassisted goals. Meyer got another win stopping 11 of 12 shots on goal. CASH's only goal was an unassisted one scored by Dylaney Dee. Melissa MacLeod stopped 24 of 34 SOG.
Next up was Monsignor Martin at FFLOP. FFLOP's Maura Langdon had the game-winner with added goals by Jordan Joyce, Emily Patton and Mya Dalton. Luci Bowen, Langdon, Jocelyn Smaczniak, Lauren Draszkiewicz had assists with Maya Griffin having three. Kerrigan McCarthy stopped 25 of 26. Erin Prendergast scored the only goal for MM, unassisted on the powerplay. In goal for MM was Desiderio. End result, FFLOP 4; MM 1.
KENGIL and St. Mary's traveled to the LeCom Center in Buffalo to play their game. KENGIL pulled out another shutout with a 7-0 victory over St. Mary's. Flory had the game winner followed by a powerplay goal and a third goal for her hattrick. Adding another hattrick was Cassillo, all three unassisted. Jayme added one, assisted by I.Bourgeault and Kopf. I. Bourgeault had four assists in the game, and Willats also added an assit. In goal Hofschneider stopped 9 of 9 for the win. KENGIL outshot St. Mary's 47 to 9.
The League ends the 2022 year with KENGIL in first place with 7 games played and a 7-0-0 record. They are followed by NICO with a 6-1-0 record.
In third place, HEWS followed by FFLOP, Williamsville, LIDA, CASH, Monsignor Martin and St. Mary's of Lancaster.
Scoring leaders include Radecki/LIDA with 15 goals and 1 assists for 16 points; Latini/NICO, 9 goals and 7 assists; Griffin/FFLOP, 6 goals/10 assists; Andzel/HHEWS, 10 goals/4 assists; Flory/KENGIL 9 goals/4 assists and Jayme/KENGIL, 5 goals/8 assists.
In goal C. Bourgeault/KENGIL has played 275 minutes and has a .99 save percentage, and 5 shutouts.
Buczynski has 3 shutouts, 271 minutes of game time and a .885 save percentage and Jordan Hofschneider has 2 shutouts with 209 minutes and a 1.00 save percentage.
What's up in 2023?
First LIDA and FFLOP will close out the Year with a Non-League Game series against Massena on Thursday December 29 at 8 p.m. at Riverworks and Friday, December 30 at 11 a.m. at Leisure Rinks, respectively.
This League doesn't rest. On Monday, January 2 FFLOP meets HHEWS at 7:20 p.m. in West Seneca and Monsignor Martin faces Niagara County at 8:30 p.m. at Hyde Park.
Tuesday, January 3 it will be CASH at LIDA at Holiday Twin at 4:15 and HHEWS at KENGIL, 8:30 p.m. at Lincoln.
Niagara County will play Williamsville at Northtowns on Wednesday, January 4 at 4:30 p.m.
It's a four-game set on Thursday, January 5 with:
KENGIL at Monsignor Martin, North Buffalo, 4:30 p.m.
NICO at FFLOP, Hamburg Nike, 4:30 p.m.
HHEWS at CASH, Northtowns, 4:30 p.m.
Williamsville at St. Mary's, LeCom (Harbor) Center, 8:30 p.m.
All games are open to the public free of charge.
As soon as we have notification of WNY Athletics streaming schedule, we will share that with you. WNY Athletics is trying to make sure each team gets a streaming opportunity. Many of them are done at Northtowns games due to the set up they need to broadcast. NYHOL's Randy Schultz is one of the play-by-play announcers. WNY Athletics is looking for sponsors to continue broadcasting games. These can be either sponsorship from the teams themselves or from local businesses or individuals.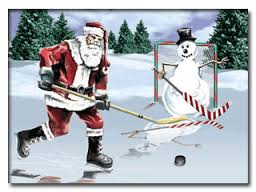 Randy and Janet of NYHOL wish all of you a Blessed Holiday and Happy New Year!