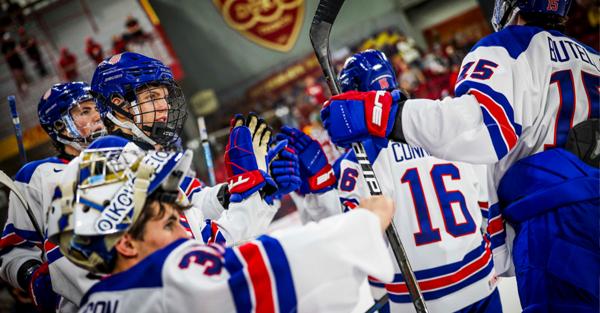 TRENČÍN, Slovakia – Trevor Connelly (Tustin, Calif.) and Will Zellers (Maple Grove, Minn.) each tallied a pair of points to help the U.S Under-18 Men's Select Team defeat Finland, 5-3, to claim third place at the 2023 Hlinka Gretzky Cup on Saturday at Pavol Demitra Ice Hockey Stadium.
"We are proud to bring the bronze medal home for our country," said Luke Strand (Eau Claire, Wis.), head coach of the 2023 U.S. Under-18 Men's Select Team. "Proud of our young players who will have successful journeys ahead of them, hopefully with some learning experiences provided with this event. We are grateful for USA Hockey extending this opportunity for the players, staff and families."
Team USA's third-place finish marks its highest finish at the Hlinka Gretzky Cup since 2016, when it placed second.
Just 13 seconds into the opening period, Mac Swanson (Anchorage, Alaska) gave the U.S. a 1-0 lead. Tory Pitner (El Cerrito, Calif.) fired a shot through traffic from the top of the circle. The Finnish goaltender made the initial save, but Swanson was able to sweep the rebound over the goal line.
William Felicio (Holden, Mass.) added to the U.S. lead with a power-play goal at the two-minute mark. He lined up a wrist shot and fired the puck into the top corner of the net off a cross from Connelly and Zellers.
Team USA then took a 3-0 lead after Connelly weaved through Finnish defensemen on a hard drive to the net and flipped the puck past the goaltender.
Finland got on the board at 4:24 in the second period with a shorthanded goal from Heikki Ruohonen. They got within one goal of the U.S. lead minutes later off a shot from Roope Vesterinen.
The U.S responded with a shorthanded goal of their own at the 18-minute mark of the second period. JJ Monteiro (Hudson, Mass.) poked the puck away from a Finish defenseman on the blueline and shot up the ice on a two-on-one with Chase Stefanek (Yorba Linda, Calif.) on his wing. He threaded a pass across the slot to Stefanek who slipped the puck in the net on his backhand to give Team USA a 4-2 lead heading into the final third.
Team USA restored its three-goal lead on the power play at 8:11 in the third period. Aidan Park (Playa Vista, Calif.) walked the puck in off that half wall and fired a shot from the top of the circle, assisted by Zellers and Alex Bales (East Amherst, N.Y.)
With a final score of 5-3, Team USA claimed third place in the 2023 Hlinka Gretzky Cup Tournament.
NOTES: Trevor Connelly (Tustin, Calif.) was named Team USA's player of the game.
(USA Hockey Photos)