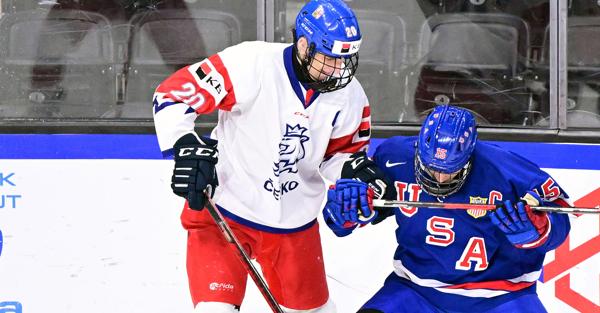 BŘECLAV, Czechia – The U.S Under-18 Men's Select Team fell 7-2 to Czechia in the opening match of the 2023 Hlinka Gretzky Cup at FOSFA Arena Břeclav on Monday.
Czechia got on the board first at 10:28 of the first period when Adam Titlbach fired a wrist shot past goaltender Caleb Heil (Victoria, Minn.) from the slot.
Team USA successfully killed off two penalties that resulted in a 5-on-3 advantage for Czechiain the first period.
The U.S evened the score at one with a power-play goal from Will Zellers (Maple Grove, Minn.)at 12:08 in the second period. Trevor Connelly (Tustin, Calif.) skated the puck through the top of the zone before threading a pass to Zellers on the edge of the crease to slide past Czechia's goaltender.
Czechia responded with two quick goals after a pair of U.S penalties resulted in a 5-on-3 advantage. Theo Kiss tapped in a rebound at 12:35 in the second period. A minute later, Alex Miroslav Zalešák scored on a cross-crease pass to give Czechia a 3-1 lead.
With 20 seconds remaining in the middle frame, Eero Butella (Chicago, Ill.) fired a wrist shot from the slot and beat Czechia's goaltender glove-side to put Team USA within one heading into the final period. Connelly and Mac Swanson (Anchorage, Alaska) drew assists on the play.
Czechia restored their two-goal lead 3:40 into the third period when Samuel Drančák scored on a two-on-one play.
Titlbach then notched his second goal of the game less than two minutes later to give Czechia a 5-2 lead.
Czechia added two more goals in the final period to bring the final score to 7-2.
NOTES: Mac Swanson (Anchorage, Alaska) was named Team USA's player of the game… Team USA is back in action against Sweden on Tuesday, Aug. 1st, at 9:30 a.m. ET on NHL Network.
(USA Hockey Photos)