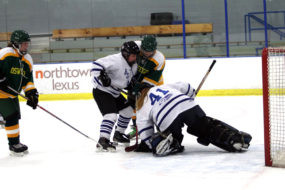 The University of Buffalo Lady Bulls hosted first-year ACHA contender Oswego University today (Sunday, Oct. 7) at the Northtowns Center.
In their winning fashion, the Lady Bulls came out flying scoring their first goal at 4:55 of the first period and dropping in the second at 8:14. Maddie Norton scored both goals with the second on the powerplay.
She had a hat trick after scoring the 5th goal of the day at 8:50 of the second period. That came after Brianna Purcio and Megan McCluskey scored taking the Bulls into the third with a 5-0 advantage.
Four minutes into the third and Norton had her fourth of the game followed by a goal at 6:06 by Megan Pofi and the eighth goal by Mamie Talty ending the game 8-0.
In goal for the Lady Bulls was Finley Vanhouten with Oswego starting with Kelly Rothschild and then putting Katerina Wehe in at the half-way mark.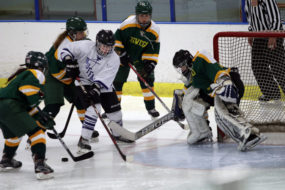 Oswego joined the ACHA this season under Head Coach Matt Kirkpatrick. The Bull's Head Coach, Mark  Lauber is in his second season with UB.
UB's roster has a number of New York State girls playing including Ann Malcolm, Wingdale, Lynn Copeland, Camillus; McCluskey, Buffalo; Pofi, Wheatfield; Alexis Peters, Buffalo; Hannah Latour,f Saranac Lake; Kimberly Corrie, Lancaster, Kelsey Bannister, Clayton; Brianna Purcio, Webster; Victoria Smith, Cheektowaga, Madeline Norton, Buffalo; Frangelica Bautz, Buffalo; Mia Feola, Irondequoit; Stephanie Pickard, West Falls; Makenna Walp, Buffalo and Finley VanHouten, Wallingford.
The entire Oswego roster is made up of New York natives including Skylar Senn, Shelby Township; Kristen Brzyski, Cheektowaga; Lauren Downen, Buffalo; Kendra Martin, Saranac Lake; Kimberly Hirsch, Peekskill; Cecily Kawejsza, Syracuse; Sara Rousell, Rochester; Tahirah Abdo, New York; Eve Murray, Akron; Meghan Groth, Mahopac; Christina Ravesi, Fulton; Taylor Rechichi, Rochester; Alicia Bailey, Rochester; Maddie Block, Ithaca; Morgan Frawley, Thiells; Katerina Wehe, Niskayuna; Julia Ahr, Buffalo; Rothschild, Ossining and Allyson Voerg,f Kingston.
For those who followed the WNY Girls Varsity Ice Hockey League a few of those names will be familiar including Maddie Norton who played for Lancaster; Frangelica Bautz and Stephanie Pickard, Frontier/Orchard Park and Mackenna Walp, Monsignor Martin.
UB hosts the University of Delaware on October 20.
Oswego travels to the West Chester University on October 13 and the U.S. Naval Academy on October 14 before returning home to the University of Delaware on October 21.