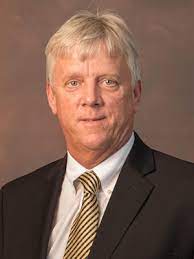 By Warren Kozireski —
Army's men's hockey team managed just two victories over their eight January games and just two others in December, so their 3-2 overtime road victory Friday night was unexpected for those reasons and others.
On three separate occasions early in Black Knights power play opportunities, they took offensive zone penalties to negate the man advantage. Then, during the three-on-three overtime sophomore forward Joey Baez lost his footing and fell to one knee while on the left-wing rush to seemingly throw away another scoring chance, but his backhand from his knees found the back of the net for the win.
"Seven years ago today, my dad (iconic hockey coach Jack Riley) died," 19th year Army head coach Brian Riley (see photo above) said. "When I woke up today—usually when you wake up on game day it's nerves, but there was just a calming and I just felt like he was watching over us and obviously he was.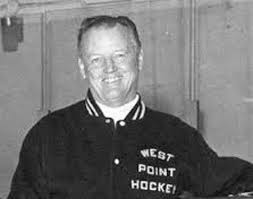 "That was a good college game back and forth. We got down twice, then we were able to come back and, overtime three-on-three anything can happen. Baez if falling down and throws something to the net and it goes in.
"It was disappointing how we managed the game at times and it's Feb. 2; you can't be making those type of mistakes, especially when every game is a playoff game and tonight, we made it harder than we needed too."
The win leapfrogged Army over Niagara in the Atlantic Hockey standings with 28 points—tied with Mercyhurst for fourth place and a first round bye pending the results of later games.
(Army/West Point Hockey Photo/USA Hockey Photo)