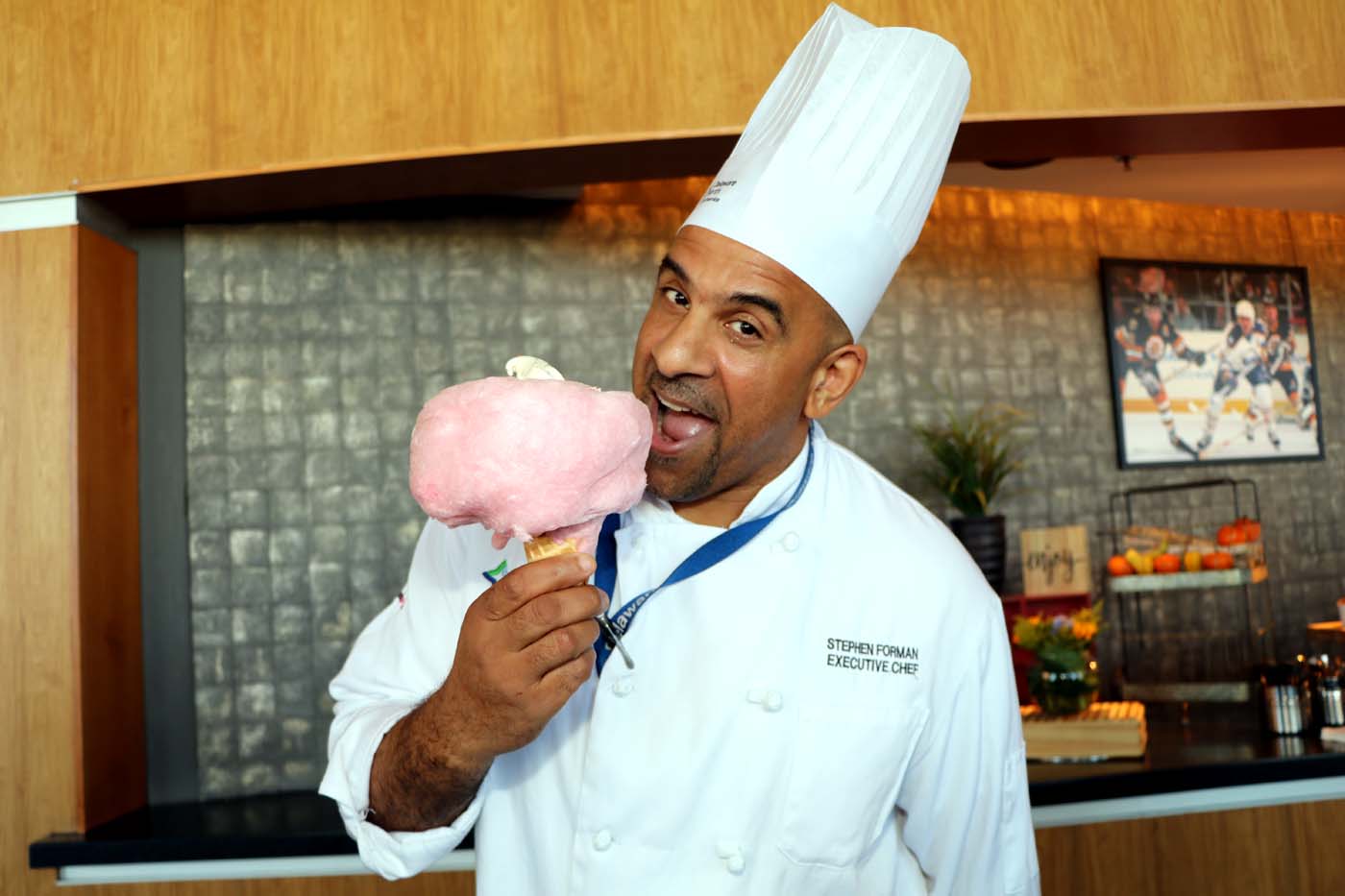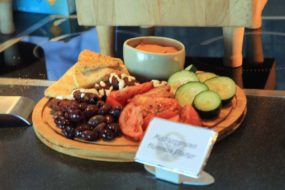 Delaware North Sportservice unveiled new menu items that will be served at KeyBank Center during the Buffalo Sabres games.
Media had a chance to view and taste the innovative menu items at a recent press conference.
First on a personal note Janet tried the Caprese Salad, which will be served at the KeyBank Club table service. It's made of heirloom tomatoes, fresh mozzarella, mixed greens, basil and balsamic vinaigrette. A new twist, the basil has been fried lightly. An amazing touch.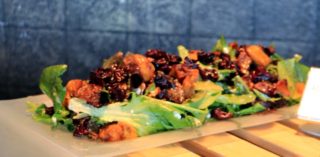 Next up was the Roasted Beet Salad, also a Keybank Club table service item. Made of beets, mixed greens, goat cheese, candied walnuts and a basil citrus vinaigrette, it was one of Janet's favorites.
Another salad at the Keybank Club table service is the Poached Pear Salad with wine-poached pears, mixed greens, candied walnuts, crumbled blue cheese and a champagne vinaigrette.
Any of these salads is tasty and filling while keeping the calories to a minimum.
Venturing into another realm was Mac-and-Cheese, Janet's version with BBQ pulled pork. It had a little kick of heat but was delicious. This will be one of the Mac-and-Cheese variations available at the new Mac-and-Cheese Stand at the regular concession stands. The other choice will be teriyaki meatballs, both finished with crushed Doritos.D
Delaware North has also come up with a Meatball Bar that will be available in the Suites. The BBQ and pesto were very good. A couple other items we tried that will be available in the Suites will be the Red Quinoa and Mango Salad, light and full of flavor; and the Tomahawk Ribeye Steak Carving Station, slices of ribeye with garlic mashed potatoes and a
To top off any meal you need dessert and the chef has come up with a "wow" factor in a Cotton Candy Waffle Cone filled with your choice of Perry's Ice Cream. The waffle cone is wrapped in Cotton Candy and then topped with Pop Rocks.
Other new concession stand items include The Enforcer (italian sausage topped with Buffalo Chicken, blue cheese slaw and anco bbq sauce), Nachos Supreme, Bologna Po Boy with Weber's mustard, Cowboy Burger, Moe's Hawaiian Burger, Texas Chili Dog, Burrito Stand, Stacks Stand, which is a Panini of the Game, and an Ice Cream Cookie Sandwich.
AT the Keybank Club Concessions will be Sahlen's Footlong Hot Dog topped your way; BBQ Pulled Chicken Sandwich, Chicken Wings, WNY Rotisserie Chicken, Warm Pretzel, Ru's Apple Pierogi with caramel stout drizzle and a rotation of Genesee Beer.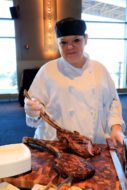 Other Keybank Club Table Service items include Mediterranean Hummus Platter of Hummus, cucumber, tomato, falafel, olives and pita; Bruschetta Burger, Banh Mi (sliced pork loin with pickled vegetable slaw topped with chili aioli).
There are a few other Suite items including Nonna's Zita Al Forno, house-made Apple Cobbler, Burgers N'Shakes Station and a Build-Your-Own-Sundae Station.
As always, the majority of these items are made with local ingredients and/or have some local connection, according to Executive Chef Stephen Forman.