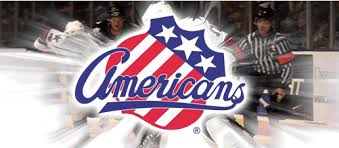 By Warren Kozireski —
One season removed from advancing to the American Hockey League North Division playoff finals, Rochester last season advanced to the Eastern Conference Final before their season was ended by eventual Calder Cup champion Hershey.
With around 15 players returning from last season's roster and the additional of several key veterans and four Buffalo draft picks to the mix, the Amerks are again hoping to make a deep run in the playoffs come April.
But first they need to develop the same team chemistry that carried them a year ago. And that should be made easier with all of the returners.
12 forwards are back including the top eight scorers in Lukas Rousek, Brandon Biro, Brett Murray, Linus Weissbach, Michael Mersch, Mason Jobst and rookie sensations Juri Kulich and Isak Rosen.
And the core of the defense is also back in Ethan Prow, Joseph Cecconi, Jeremy Davies along with Kyle Clague and Zach Metsa, who both played portions of the season in the red, white and blue.
Add to that solid core 2022 third round pick Viktor Neuchev and 2021 fourth round selection Oliver Nadeau up front plus 2019 first rounder Ryan Johnson and 2021 sixth round selection Nikita Novikov on the blueline along with new veteran forwards Juston Richards and Justin Slaggert plus returners Filip Cedarqvist, Brendan Warren, Aleksandr Kisakov and Tyson Kozak and you have the makings of a deep squad.
"Something we believe we have this year is good depth," head coach Seth Appert said. "I think we have a lot of guys on our team that two or three years ago would have made Buffalo, but Buffalo is very good right now and it's a harder roster to make, so we've got those guys back.
"And we're very intentional with the veterans that we surround our young players with. Winning players that do things the right way…which is what we want our young players to emulate."
In goal, veteran Dustin Tokarski was battling an injury in training camp, so Michael Houser and former University of Denver goaltender Devin Cooley may both be active opening night.
"Not looking too far ahead, we just need t make sure that we learn and build on the experiences that we had last year…using that to help us win games in the short term is important," Mersch said.
"And just because we did well last year doesn't mean we're going to do well this year. It's a whole different year, there are new guys and a fresh sheet. We'll try to build team camaraderie so once we start the season, we're going to hit the ground running."
Fri. October 13th, Rochester opens the regular season by first raising the North Division champion banner to the Blue Cross Arena rafters and then hosting the Bridgeport Islanders.
"There's a lot of history here and been a lot of good teams that have raised banners in this arena and done some special things here, so for us to be in that category…to accomplish something and have a banner up there is pretty special," Mersch said.